Frontpage
Nigeria to step-down reliance on U.S. dollar for imports from Asia as CBN starts auctioning Chinese yuan
June 8, 20181.2K views0 comments
Nigeria's central bank will start to auction the Chinese yuan within the next month at an exchange rate to be set via book building, the bank official said Thursday.
This, according to the official, is to reduce the country's reliance on the U.S. currency for imports from Asia. The dollar is Nigeria's main trade currency.
The Central Bank of Nigeria last month signed a $2.5 billion currency swap agreement with the People's Bank of China to facilitate trade between the two countries and enhance foreign reserve management.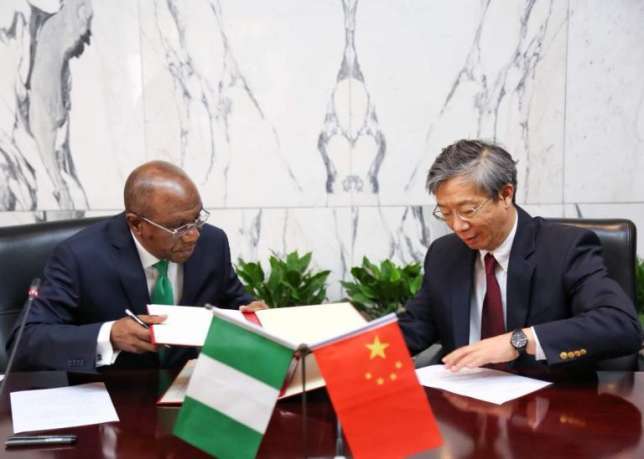 China is one of Nigeria's trading partners and the government in Abuja wants to finance deals in the local currency of trade to reduce its reliance on the dollar. More than a fifth of its imports of 2.52 trillion naira was from China in the first quarter, according to the National Bureau of Statistics.
Nigeria is Africa's biggest country in terms of population but it has a limited manufacturing capacity. As a result, it imports most of what it consumes and markets are full of Chinese products.
The central bank said in a circular on Thursday that the auctions will hold every two weeks.
The OPEC member suffered severe dollar shortages after the price of crude oil, its top export and the main source of FX, plunged in late 2014, prompting it to introduce capital controls in 2015.
It now has multiple exchange rates against the U.S. currency and has been selling the dollar on the interbank market to boost liquidity after floating the naira for investors.
The naira was quoted at 362 to the dollar for investors on Thursday while it was quoted at 305.95 on the official market, supported by central bank's regular intervention.
In February, Britain's export finance agency said it will add the naira to its list of "pre-approved currencies", allowing it to provide financing for transactions with Nigerian businesses denominated in the local currency.
The central bank said the renminbi would only be used to finance trades with China and that local lenders have 72-hours to utilize the funds or return it to the central bank.