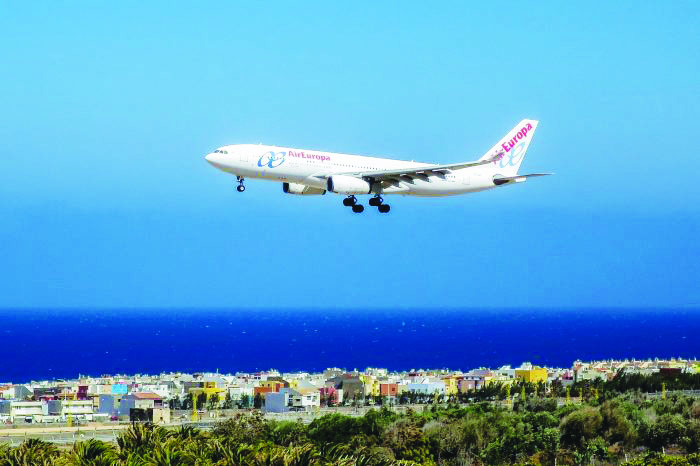 Virtually all Nigerian airlines, Arik Air and Dana Airline, Aero Contractors, Azman and Max Air have all suspended scheduled commercial flight operations, despite claims by the Federal Airports Authority (FAAN) that local flights could continue unhindered.
FAAN had in a statement indicated that Nigerians could still travel within the country by air after all international flight operations were suspended, but all local airlines have now suspended scheduled operations with some local airports, especially the Port Harcourt Airport and Asaba and Warri airports in Delta State closed by the state governors.
Arik Air on Wednesday announced a temporarily suspension of all scheduled commercial flight operations effective 23:00hrs on Friday, March 27, 2020.
The management of the airline took this decision in order to mitigate the risk of the spread of Coronavirus (COVID-19) to its valued customers and staff, and hopes to resume services as soon as feasible.
Customers who have confirmed tickets were advised that they could still use their tickets when the airline resumes flight operations. Such tickets could also be modified at no extra charge.
Roy Iloegbu, CEO, Arik Air, said, "The safety and well-being of our valued customers is paramount at this period of health emergency. We implore everyone to keep safe and abide by all directives issued by governmental authorities.
"We sincerely regret any inconvenience this suspension may have caused our customers."
Captain Ilegbodu added that Arik Air would be available to support government emergency, humanitarian and charter flight requests during the period of suspension of air transport operation.
Also, Dana Airline said it closed down operation temporarily in "response to the recent developments on Covid-19,  and the need to support the efforts of the government to stem the further spread of the Covid-19 in our dear country."
It said the airline had suspended flight operations for the next 14 days effective midnight 25th March 2020.
" Recently, there has been a huge decline  in the passenger figures as a result of the Covid-19 pandemic and considering the need to avoid piling unnecessary costs at this difficult time, we had to take this huge decision in the interest of the industry, staff , customers and our nation.
"While we apologise and regret any inconvenience this decision may cause customers on affected flights, we wish to reassure our guests that we will be available on all our channels to ensure seamless updates and communication," the airline stated.
Azman Air in a statement also said it was suspending flights on the midnight of the 27th March, which is Friday.
The airlines statement read, "The Management of Azman Air regrets to inform our esteemed customers and the general public that all our flight operations will be suspended for the period of two weeks starting from midnight of Friday 27th March, 2020 to 11th April, 2020.
"This consensus was reached after a detailed consultation with stakeholders in the Nigerian aviation industry and in a bid to support the Federal Government efforts in curtailing the spread of the corona virus and to ensure its eventual eradication."
Max Air in a letter titled, "Suspension of Operation," gave the same reason but stated that their suspension will commence from March 28, 2020.
The letter signed by Bello Ramalan, station manager,  read, "Due to the global pandemic COVID-19 also known as coronavirus currently affecting the country, I am directed to inform you that Max Air has suspended its operation from 28th of March 2020 to 11th of April 2020. We look forward to inform you the next action taken."
Local airports, land borders shut
Meanwhile, some state governors have taken steps to block or shut down local airports after the Federal Government had shut down all international airports.
Ifeanyi Okowa, Delta State governor, while briefing residents on Thursday said he had decided to shut down the Asaba and Warri.
He said after a meeting with the Central Committee on Managing/Containing the Coronavirus Pandemic headed by him, several far-reaching decisions were made, which included that "Asaba airport is to close to traffic effective from Friday, March 27, 2020 by 6pm.
"All land borders into and out of Delta are to be shut effective 6am, Sunday, March 29, 2020."
Rivers governor, Nyesom Wike had also directed the access to and from the Port Harcourt Airport be blocked. He said the State Security Council met Tuesday and reviewed measures already put in place and decided that there was urgent need to adopt stringent measures to protect those living and doing business in the state from the virus.
"The Council has therefore taken the following painful decisions:
"With effect from 6 p.m on Thursday, March 26th, 2020, the Port Harcourt International Airport,  Omagwa will not be open to air traffic. While we may not have the right to stop flights from entering Port Harcourt, we cannot allow anybody coming from the airport to enter our State. We are confident that the Federal Airports Authority of Nigeria, FAAN, and other federal agencies will cooperate with us.
"All Land and Sea Borders will be closed. Vehicular movements in an out of the state have been banned. These measures are to remain in force until further notice," he said.