Commodities
Frontpage
Nigeria's agro-commodities projected for global export market dominance
February 9, 2021638 views0 comments
By Onome Amuge
Nigeria, according to international trade analysts, is undoubtedly one of Africa's largest producers of exportable agricultural commodities, with enough potential to become one of the highest revenue generating agriculture exporting countries in the world if its major exportable agricultural commodities are properly exploited.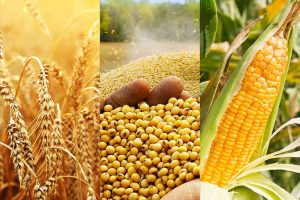 The submission was made during a virtual Town Hall meeting hosted by the Network of Practicing Non-oil Exporters of Nigeria (NPNEN) with the theme: "Good, Bad and Ugly Sides of Export in Nigeria".
BamideleAyemibo,lead consultant, 3T Impex Trade Academy, who was one of the speakers at the event, noted that Nigerian agricultural produce is capable of generating revenue through export, particularly through maximising the opportunity presented by the African Continental Free Trade Agreement (AfCFTA).
He stressed that cassava, soybean, cashew, yam, maize, tomatoes, cow skin, cocoa, among others, made the list of commodities with untapped potential in the international market.
Presenting an infographic report, Ayemibo showed the revenue potential of each crop, ranging from cashew which is pegged at $58.1 billion, to banana at $13.1 billion and palm oil which stood at $33.2 billion.
Ayemibo further noted that Nigeria has managed to retain its top position in sub-Saharan Africa despite several challenges ranging from inflation to slow rate of agricultural mechanisation, post-harvest losses and infrastructural deficit, stating that these challenges need to be addressed promptly to propel Nigeria's agricultural might.
Prince Alum, another panelist at the event, suggested the use of national carriers to export fresh produce across borders. This,he said, will equally reduce the expenses incurred during transportation.
"Most times, when we ship our goods from Nigeria, it first goes to Turkey or Ethiopia. Sometimes, they get lost in transit but if we had a national carrier that could bring things to England or Rome, that would help reduce the cost of bringing in goods," he stated
SadaLadanBaki,another speaker, recalled the era of State Commodity Boards for agricultural produce monitoring which, according to him, is a key requirement the country currently lacks.
"We have scrapped state produce and commodity inspection agents. When we were exporting cocoa, groundnut and the likes, we had agriculture produce inspectors who go to do the certifications and it was the duty of the regulatory agencies to get the regulatory requirements for the importing countries," he stated.
ChiomaChudi-Anaukwu, a representative of the Standards Organisation of Nigeria (SON), enjoined non-oil exporters to contact the organisation for export requirements of their products.
"At the national enquiry point, we are connected to all the national enquiry points of all the countries as far as the World Trade Organisation (WTO) is concerned. We have platforms where you can get information on the requirements, via a chat without logging in or sending in an official mail to that enquiry point," she explained.
On the challenges encountered, particularly that of infrastructure, the panelists proffered solutions ranging from proper pricing to total industrialisation and economic orientation for export regulatory bodies.
The Network of Practicing Non-oil Exporters of Nigeria was launched in 2020 with the mandate of seeking to achieve a globally competitive non-oil trading system in the country.