By Onome Amuge
The cocoa sector, despite encountering supply and demand shortfalls in 2020 as a result of the covid-19 pandemic, fetched Nigeria N135 billion from export trading in the global market, Patrick Adebola, executive director, Cocoa Research Institute of Nigeria (CRIN) has disclosed.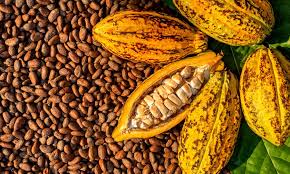 Adebola said in his Abuja office that the cash crop majorly used in the production of chocolates, is one of the key foreign exchange earners for the country.
According to him, the cocoa business is poised towards a more lucrative business for producers and other stakeholders in the value chain as a tonne of cocoa has now risen to $2,500.
He assured farmers of constant training in the application of modern techniques and agricultural practices including the operation of collapsible solar dryers which will be useful in terms of mini processing of cocoa after harvesting.
Commenting on why Nigeria's productivity level still lags way behind those of Coted'voire, Ghana and Indonesia, he noted that most of the cocoa farms in the country are more than 40-50 years old and some have become moribund, leading to a decline in their productivity. He assured that farmers who own farms under that category will be trained on how to carry out structural rehabilitation that will bring back the moribund farms into full productivity while improved seedlings will also be provided at subsidised rates.
Adebola recounted that the research institute supported cocoa farmers in 2020 to alleviate the effect of the covid-19 pandemic on production and exports, while also playing an active role in the production of improved varieties that were distributed to farmers.
"We distributed more than three hundred thousand seedlings of cocoa to farmers, and likewise, we distributed the seedlings of improved varieties of kola, coffee, cashew and tea to farmers," he added.
The global cocoa and chocolate market size, according to market insights, was valued at $44.35 billion in 2019 and is expected to reach $61.34 billion by 2027, considering the progressive growth of the global chocolate confectionery industry.
Nigerian trade experts asserted that the country's cocoa exports have the potential to generate higher revenues in the global market if better policies are implemented, one of which is the establishment of state commodity boards to monitor cocoa production, a key requirement the country currently lacks.