Frontpage
Nigeria's naira lost 99.7% value in 44 years
June 2, 20173.3K views0 comments
The Nigerian currency, the naira, has historically lost value of up to 99.7 percent relative to the United States dollar since it was introduced in 1973, 44 years ago, according to researchers at Proshare Nigeria in a tweet Friday.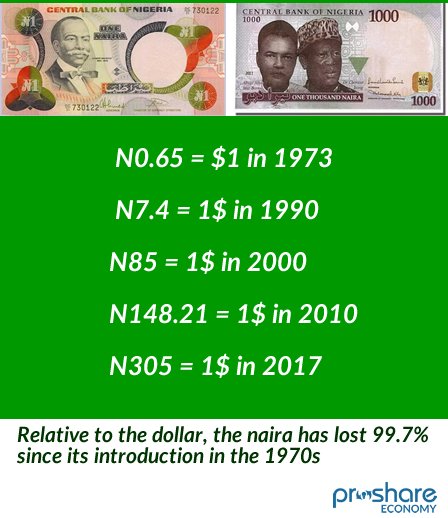 Proshare indicated that from historical data, the naira exchanged at N0.65 to the dollar in 1973, falling steeply to N305 in 2017, representing 99.7 percent loss in value.
The naira remain relatively stable until the coming of the military in 1984 when the change of currency brought some disruption, which continued in the Babangida administration when a wholesale devaluation plunged the naira to exchange at N7.4 to the dollar in 1990.
During the Abacha administration, its value was variously pegged at between N15 and N21 to the dollar in what was referred to as the dual exchange rate regime.
Since then the naira has been on a free fall, exchanging at N85 to the dollar in 2000 and N148.21 in 2010. In 2016 and early 2017, the naira's value plunged to N500 to the dollar at the parallel market before regaining value and closing at N305 recently.
---
 By Business a.m. live staff