Equities
NSE records N4bn marginal loss as index dips 0.03%
February 26, 2020507 views0 comments
By Omobayo Azeez
The Nigerian equity market closed Tuesday's session on a negative note as the composite index which measures movement of share prices in the market dipped marginally by 0.03 per cent, amounting to N4 billion loss for investors.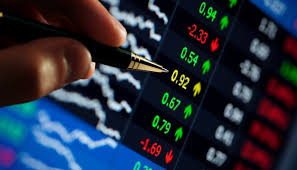 Consequently, the index closed lower at 27,033.10 basis points and market capialisation followed suit to close lower at N14.083 trillion as against 27,041.03 points and N14.087 trillion they closed the previous session respectively.
Analysis of trading statistics obtained from the Nigerian Stock Exchange (NSE) further showed that the negative outlook of the day cuts across other performance metrics in the market.
For instance, level of activities on the floor of the domestic bourse suffered decline as volume and value of trade shrank by 43.59 per cent and 51.3 per cent respectively, indicating erosion of investors' appetite to participate.
Similarly, market breadth for the session was terminated in the red region as the declining stocks more than double outnumbered their gaining counterpart in ration 22 to 8, while 12 other stocks closed on flat prices.
The gainers' chart was topped by Cadbury with N0.80 profit to close at N9 while AFRIPRUD trailed with a gain of N0.21 to close at N5.11 per share.
Other advancing stocks of the day include Access Bank, First Bank of Nigeria Holdings (FBNH) and Glaxosmithkline, gaining N0.21, N0.15 and N0.10 to close at N9, N5.45 and N46.01 per share respectively.
On the flip side, SFSREIT led 21 other decliners as it shed N7.65 to close at N69.30 per share. Nigerian Breweries followed with a loss of N1 to close at N46 while UPDREIT, CAVERTON and SKYAVN lost N0.30, N0.25 and N0.23 to close at N3.15, N2.70 and N2.13 per share respectively.
Investors ended the session by trading 242 million shares valued at N3.554 billion that exchanged hands in 4,456 transactions in contrast with 429 million shares worth N7.29 billion that were traded in 4,533 deals in the previous session.