Frontpage
Oil prices heading for third week of losses as OPEC struggles to clear global surplus
June 9, 20171.7K views0 comments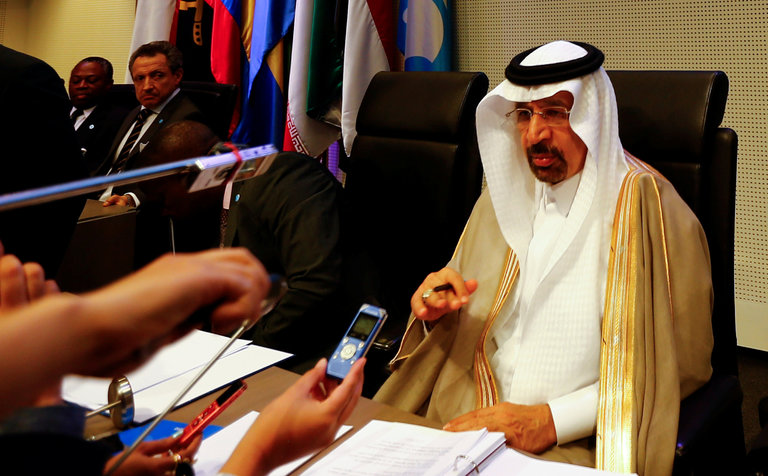 ---
Global oil prices are seen to be heading for a third consecutive week of losses as rising supplies from the US and Nigeria may compound Organization of Petroleum Exporting Countries' (OPEC's) efforts to clear a surfeit of the product in the international markets, businessamlive has gathered from various reports on the market.
Global oil price has slipped below $50 a barrel in the past two weeks despite a pledge by the world's largest exporters to extend an existing cut in production of 1.8 million barrels per day (bpd) into next year in an effort to reduce bulging global inventories.
Oil prices have largely given up its gains after the OPEC and its allies including Russia agreed late last year to curb output. However, the glut has refused to abate amid a 548,000 barrel-a-day increase in U.S. production this year, which has kept prices under pressure.
This week, the oversupply has kept oil prices in check even amid turmoil in the Middle East, the world's largest producing region, as a Saudi Arabia-Qatar diplomatic feud flared and suicide bombers struck Iran's capital Tehran.
Futures prices were little changed in New York, down 3.9 percent this week, and close to the levels traded when OPEC agreed output curbs in November. U.S data released Wednesday showed oil and fuel stockpiles rose, going against expectations of further declines, reports Bloomberg.
West Texas Intermediate for July delivery was at $45.80 a barrel on the New York Mercantile Exchange, up 16 cents, at 9:42 a.m. in London. Total volume traded was about 30 percent above the 100-day average. Prices lost 8 cents to close at $45.64 on Thursday, the lowest since May 4, 2017.
Brent for August settlement rose 16 cents to $48.02 a barrel on the London-based ICE Futures Europe exchange. Prices are down 3.9 percent this week. The global benchmark crude traded at a premium of $1.97 to WTI for August.
Amid the oversupply concerns, especially from the US, Royal Dutch Shell on Wednesday lifted a force majeure on exports of Nigeria's Forcados crude, bringing all the country's crude grades fully online for the first time in 16 months.
The market has also come under pressure from news of rising output from Libya, which together with Nigeria is exempt from the production cut made by the Organization of the Petroleum Exporting Countries and its 11 partners.
Libya resumed production at the Sharara oil field, the nation's biggest, and output will reach normal levels within three days, National Oil Co. said on its website. It closed Wednesday after a protest by workers, according to a person with direct knowledge of the matter.
American crude output is also seen surging in 2018 to a record above 10 million barrels a day.
"The short-term outlook is not much brighter for oil," Jens Naervig Pedersen, a senior analyst at Danske Bank A/S in Copenhagen told Bloomberg, adding that "Crude stocks are done adjusting lower, demand looks weak, the market is ignoring geopolitical tensions in the Middle East. Fundamentally we are approaching a natural floor for prices though, where shale producers will have to start scaling back on plans to raise output further."