Frontpage
Oil prices steady as markets await Trump, Kim Singapore meeting outcome
June 12, 20181.1K views0 comments
Oil prices were little changed in early Asian trading Tuesday as markets awaited the outcome of a summit between U.S. President Donald Trump and North Korean leader Kim Jong Un in Singapore.
Traders, according report seen by business a.m, also said they were reluctant to take on large new positions ahead of a meeting between producer cartel OPEC and some of its allies on June 22.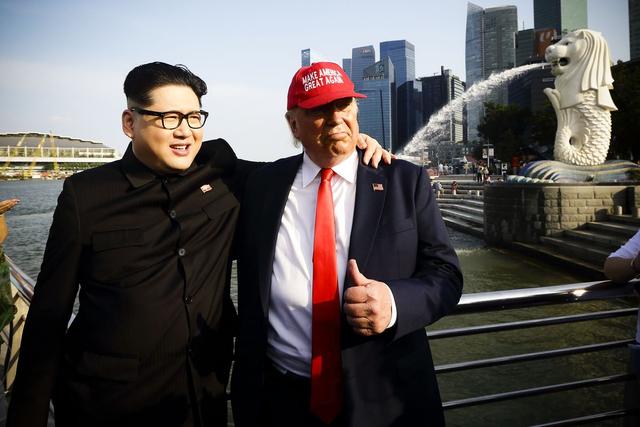 Brent crude futures, the international benchmark for oil prices, were trading at $76.41 per barrel at 0055, down 5 cents from their last close.
U.S. West Texas Intermediate (WTI) crude futures were at $66.09 a barrel, down 1 cent from their last settlement.
Crude has been supported by healthy demand and voluntary production cuts led by the Organization of the Petroleum Exporting Countries (OPEC), but analysts said oil markets were also currently heavily driven by public policy events and statements.
Trump and Kim have arrived at the Singapore-venue where the two will hold a summit on Tuesday, with the goal to narrow differences over how to end a nuclear standoff on the Korean peninsula.
"A positive resolution from Singapore is bullish for stocks," said Greg McKenna, chief market strategist at futures brokerage AxiTrader, and several oil traders said crude futures could also get a lift from such an outcome.
In oil market fundamentals, however, not all things point to higher prices, with output from the three biggest producers, Russia, the United States and Saudi Arabia on the rise.
Russian production has reportedly risen from below 11 million barrels per day (bpd) to 11.1 million bpd in early June.
In the United States, production has risen by almost a third in the last two years, to a U.S. record of 10.8 million bpd.
"The deluge of U.S. crude production continues to hold the top-side in check," said Stephen Innes, head of trading at futures brokerage OANDA.
Now, top exporter Saudi Arabia – which has so far led OPEC's efforts to withhold supplies – is also showing signs of upping production.
Saudi Arabia has told OPEC that it raised oil output to a little more than 10 million bpd in May, up from 9.9 million bpd in April.
"This fits with the theory that the Saudis and Russians are subtly moving toward a change to the agreement at this month's meeting," McKenna said.
OPEC, together with some non-OPEC producers including Russia, started withholding output in 2017 to end a global supply overhang and prop up prices.
OPEC and its partners are due to meet on June 22 at the cartel's headquarters in Vienna, Austria, to discuss policy.
"Expect more of the same whippy markets driven by rumors and innuendos ahead of June 22 Vienna OPEC meeting," Innes said.