Comments
Oil's surge mainly about demand, not OPEC
April 24, 20181K views0 comments
By Jason Schenker
---
U.S. President Donald Trump took to Twitter late last week to seemingly blame OPEC for making oil prices "artificially Very High." The reality is that the reason the price of a barrel of oil is flirting with the $70 level is less about OPEC and more about demand.
There is one rule about commodities that people forget, which is that they are bought and not sold. The next moves in crude prices are equally unlikely to be forged by the hands of OPEC but instead will probably hinge on the strength of U.S. consumers and the health of the global economy. The recent surge in oil prices follows a trend pattern of rising prices since early 2016, which was driven by global growth dynamics. The manufacturing recession in China pummeled crude from late 2014 through early 2016. What followed was a global economic expansion accompanied by a rise in oil demand and prices.
The oil market has had two supply narratives to contend with against the more critical leitmotiv of demand increases. The bullish narrative has focused on the OPEC/non-OPEC agreement to reduce oil production in a way that pushes global inventories — which ballooned during the Chinese manufacturing recession — lower toward the five-year average. The bearish narrative focused on U.S. shale supplies, which are easily brought to market,  even though shale oil well production can decline swiftly.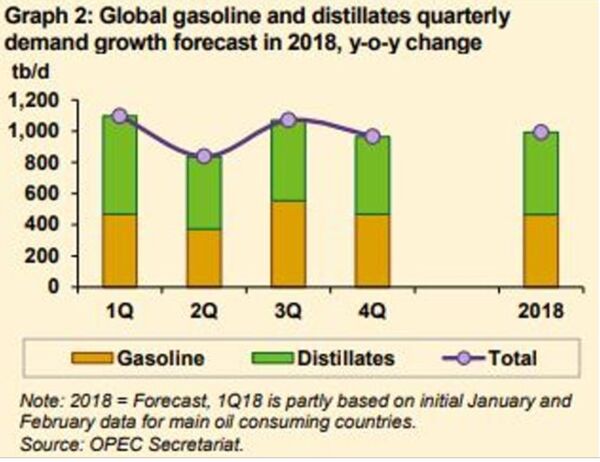 Although price gains in oil have been more modest than for other commodity prices, that's largely because of the high inventory situation. What's important now is that the recent trend has been higher. Now, the U.S. summer driving season is about to provide an additional pop in demand, while the global outlook for growth — at least as measured by the International Monetary Fund — looks strong, notwithstanding the trade risks.
Despite higher prices, U.S. demand for gasoline is likely to be strong given that unemployment is low at 4.1 percent and wages are rising. Although there is a debate about whether higher oil prices are inflationary or deflationary, when they are driven by demand in a growing economy they are primarily inflationary, not deflationary. The thing to remember is that oil prices are still relatively low compared to high levels seen  as recently as 2014, when oil prices exceeded $100 a barrel.
Still, it isn't difficult to see how demand could support oil and gasoline prices and engender more U.S. inflation, putting further pressure on the Federal Reserve to raise interest rates. Those same inflationary pressures also threaten corporate profits by way of higher borrowing costs brought on by the Fed's rate increases. The downside to higher oil prices come later in the credit cycle, when growth is more at risk from trade or higher interest rates. After all, the recent drop in oil prices in February was correlated with the selloff in equities, bonds and industrial metals that was itself fueled by fears of higher interest rates.
In the grand scheme of oil-market dynamics, OPEC's supply-curtailing moves have been an effective counterweight to rising shale production with global oil inventories falling toward the five-year average. But the health of the global economy will drive the trend of oil forward.
---