Interview
Owerri airport is aiding growth of Imo's hotel and hospitality industry, GM, Christagon Suites
December 31, 2020723 views0 comments
TINA EGEGE is the General Manager of CHRISTAGON SUITES LTD‭, ‬a hotel that boast of real standard facilities‭. ‬In this interview with DIKACHI FRANLIN‭, ‬she says that Christagon Suites has whatever is needed to pamper a guest and that the hotel sector in Imo is‭ ‬flourishing as a result of the Sam Mbakwe International Cargo Airport‭, ‬among other things‭. ‬
Could you please tell us about Christagon Suites Limited, Owerri?
Well, Christagon Suites is a new hotel, just barely two months old and is a very beautiful one indeed. We have 23 rooms here, and they are just portable rooms, with standard facilities, infrastructure, and everything is here.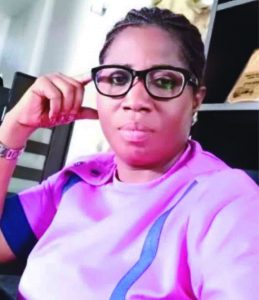 Have you had the experience of managing a hotel of this standard before?
Yes, this is the third.  I have managed Crisp Royal Hotel at Works Layout, close to Imo State University junction. I have also managed Maranatha Suites Limited, Port Harcourt Road and now am the manager of Christagon Suites Limited.
Here in the state, most of the general managers of hotels of this standard are men, could you tell us your experiences and how you feel being a woman general manager among them?
Yes, most managers are men but let me say that nowadays, it is the women that are trending in the hotel and hospitality industry. Most of the hotel owners now prefer to work with women as their general managers. It is said that a hotel is a home away from home. That is what we are trying to create; a situation where we have our guests feel at home as if they are in their own homes that is why we say it's a home away from home.
So right now, the women are really trending because they are managers in their homes and they manage homes perfectly well. And some people have tried to work with women as managers and it worked well for them and it is still working.
You lived in Dubai for about seven years, did you work in the hotel sector and could you share your experiences gathered there?
When I was in Dubai, I did not work in the hotel sector, I worked with an airline. It was a private airline owned by a Nigerian there, Trinity Airline, which was into cargo. But for the fact that you have seen the hotels abroad, you have gone into the hotels abroad and you have mingled with people outside the country, it's a whole lot of exposure and experience.  It was a very good experience, but when I came back here I did not go into the airline industry but a production factory.  We were into PVC, pipes etc, it was a very big production company in Uyo and I was the company's secretary.
It really gave me that experience of being in the management because I happened to be the only Lady in the management team, whereas others were men, factory managers, engineers and the owners of the factory. So, I really gathered more of management tactics, experiences from that place.
I have worked in other places. I have worked in Abuja before I left for Dubai. I worked as a customer relations officer, Multi Vision Print, so many places, but the fact is that this was pure management. When I left that place, I went to Uyo, and then came back to my base here, where I read Education Economics, in Imo State University.
When I came back to this place and I went to the hotel industry straight as a manager, it was a very good experience and I still thank the director of Crisp Royal Hotel who gave me the opportunity to manage his hotel. So, I really gathered a lot of experience. Like being a 24- hour in-house manager; resident manager, I was really exposed to a lot of things. That was where I gathered my experience and then I left for Maranatha Suites. So you keep on learning as I told you, you don't stop learning.
As I also said, a hotel is like a home away from home but what goes in your home is not exactly what goes in the other person's home. I had the opportunity of learning from this home, learning from the other home, it had been all so good.
Madam, having had the experience of managing material and human resources, could you tell us your relationship with your present staff?
My relationship with the staff has been very, very cordial. When I came here, even in the former places I worked, I made them to understand one fact, 'let us work like a family'. When I said we are like a home, it also means that I should work like a family.
Now, when we work like a family, I use to tell them that as a human being you have the head, you have the legs, the nose and all parts of the body, when every part of the body functions  well  the body  will be okay.
Now, the nose will not say I'm the tiny part and let me not do my work it will affect the whole body. If the nose has catarrh it will affect the whole body and the whole body will suffer it, and that is how it goes in the hotel and leisure industry.
There are certain factors that will enhance or promote the efficiency of labour, like welfare. How do you care for their welfare?
Apart from the normal salary we pay, you know you will pay your workers, but you will always advocate that the salary be paid early enough. We are all human beings, we pay transport to come to work, we give all our best and at the end of the month we pay them well.
Then there is also what we call the staff meal, in most hotels I have worked there was staff meal. This staff meal goes a long way to ensure that they eat while at work. People eat and then give their best efficiently and everything moves on well.
And as a manager you motivate them, everything must not be money, most times we give award to the best worker at the end of the month to make them feel happy, and encourage them. Appreciate them when they do something good.
Can you please walk us through the bar and the kitchen?
We have our out-bar, and also our in-bar, and we also have the restaurant and then in the kitchen we have a good chef. The meals are good, we have good wine, spirits, beer, soft drinks and we make sure that we satisfy our customers with whatever they request.
We prepare national dishes, continental; just make your request or your choice, breakfast, dinner, launch, anything you want.  Some people just come here to eat, they might like to eat isi-ewu, nkwobi, fresh fish, paper soup with rice, why? Because they know we cook good food.
You said Christagon Suites has 23 rooms, do you go by classification or categorization of the rooms, like most hotels do?
When you enter into our rooms, you will see that they are very, very good. This hotel was built with a design from overseas, where the owner got it from. He saw what he wanted and he came down here to Owerri and gave exactly what he saw over there.
We have the Pale Rooms, which are the standard rooms, we have our Deluxe Rooms, and we have the Senatorial, where you will even live like a Senator. Then we have what we call Presidential Wing. These are on the last floor where you and your family, aides, etc, can stay. It has also a sitting room; may be, if you do not like to come to the sitting room with your guests, they have the bar there where you give them what they want, very beautifully made. We are doing promo rates in all the rooms.
Christagon Suites is new in Owerri where hotels of international standards are, and as a new entrant you have to compete, snatch or poach guests and costumers, how are you competing with them?
Owerri is a city known for good hotels of international standards, where everybody wants to visit. So the hotel and hospitality industry is truly driving the city and growing the economy of the state.
So, there are many hotels and as a result you will really make sure that you retain your costumers and guests through what is known as retainership. You don't only go for marketing but you do retainership and make sure that 99 per cent of the people that visit you come back.
Whenever they are in Owerri, even if you take them to another hotel, they will say no, I want this place, this is where I want to go because starting from when they drive in and come to the reception you give them a good welcome and they are happy.
Then you take them to the rooms and what they see is pleasant, your meal is also good, and all services perfect and when they are going, they will be happy. If your guest is leaving and is happy that means he will come back to the hotel next time.
What can you say are the general challenges facing the hotel sector in the state?
As a manager we have been to so many hotels, some hotels face challenges from the owners. Some owners want to interfere in the management of the hotels so much, and such interventions in the management affect the hotel. That is one of the things managers face. It is not that you don't know that it is their hotel they can tell you what they want and all the rest.
But some owners can have that trust in you and allow you to run the hotel and also discuss with you and know or ask, should we do it this way or that way or which perfect way should we do it and that is good.
Another challenge is managing human beings and as managers you have to devise ways, use wisdom to manage human beings in your workforce. You have people, aged 30, 40, 50, as the case may be; so no matter the work force you have, manage them well. Settle their problems and let them be able to talk to you and tell you their problems and handle them well as much as you can.
Then when it comes to the outside, we have the government that is with their own multiple taxation, which is really affecting the hotels.
We have bad roads, people would want to come and patronize you and your road is not accessible, they will not come.
We talk about electricity, people will leave their homes for the hotel, they want to enjoy your air-conditioning system and other facilities and because of this the light has to be on 24 hours. And in this case you are burning your diesel.
If government can supply power, build good roads and maintain them, the industry will thrive. People want to leave their own states and come to Owerri and experience these hotels we have, but because the roads are bad, they will not.
We have an airport here and that makes the hotel sector in Owerri to thrive. People want a place that when they fly into a town they will just take a cab to the hotel, which is why we have good advantage in Imo State.  And this is why you see so many hotels in Owerri because people want to take advantage of the airport very close to the town.
Finally, let the government ensure security, because the security provided by hotels is not enough.  We need patrol teams day and night.
And from Christagon Suites, I can say to the public come let us pamper you, come and have the best of your stay and we will pamper you.