Oil and Gas
Persistent fuel crisis further squeezes Nigerians' pockets
December 5, 2022267 views0 comments
By Innocent Obasi
Waking up as early as 4 a.m. to rush down to a petrol station in order to be among the first on the queue has become a routine for many motorists across Nigerian cities. But even that is not a guarantee that they would get petrol to keep their cars on the road or, when the petrol is available, that they would get it at a reasonable price. But it is often worth the stress. The alternative is buying the product from the black market at an outrageous price without the guarantee of quality.
Nigeria, Africa's top oil producer, has been in the throes of a recurring petrol crisis occasioned fundamentally by the failure of successive governments to keep the country's refineries up and running and the current administration's headiness in the face of sound economic arguments for discontinuation of a highly inefficient and corruption-riddled petrol subsidy regime.
From Lagos, Nigeria's commercial hub, to Abuja, the federal capital, to the oil-rich states of the Niger Delta and other cities across the country, the product is scarcely available and when it is, it is sold at an exorbitant price.
Business A.M. checks showed that pump price of petrol differs from city to city across Nigeria. While NNPC retail outlets maintain the official rate of N169 per litre, prices in Lagos range from N175 to N250 depending on location. In Owerri, Port Harcourt, Abuja, Lafia, Uyo, Asaba, and Enugu, our checks showed that most petrol stations sell the product at an average price of N250.
The situation is further squeezing the finances of Nigerians who are already under severe pressure from an economy battered by a weak naira, inflation at over 21 percent, and other negative indices. It has translated into higher cost of transportation, which invariably means higher cost of goods and services. Businesses, in the face of epileptic power supply, are running additional cost to keep their machines on and, to stay afloat, are passing the cost on to the final consumer.
A cross-section of Nigerians who spoke to Business A.M. lamented that the situation has become unbearable for them.
"The petrol crisis has adverse impact on my salary. I used to spend between N10,000 and N12,000 in a month on transport to work. Now, I spend between N15,000 and N18,000 of my salary to transport myself to work," Shedrack Abochi, a resident of Maccoba, Port Harcourt, said.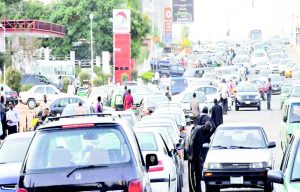 Enobong Umoren, who resides at Nwaniba Road in Uyo, Akwa Ibom State capital, said, "Petrol crisis has a direct relationship with consumer goods and services, which means we buy things and pay for services at a rate commensurate to the present price of fuel which has a direct influence on transportation costs and also bears heavily on the general cost of living.
"Summarily, this means my salary is no longer able to cater for everything it could take care of in the past. And I am having to make a lot of opportunity costs just to continue staying above water."
A resident of Karu, Abuja, who spoke on condition of anonymity in line with government rules, said the petrol crisis has affected his salary in the area of transportation and the high cost of goods.
"Due to fuel price increase, purchasing power of Nigerians has been eroded as the cost of other goods increases which the fixed salary will not be enough to cater for," Alex Aleke, an Enugu resident, said.
Yousuf Usman, a resident of Lafia, Nasarawa State, told Business A.M. that the fuel crisis has led to an increase in the cost of goods, squeezing his income and leaving him with weak purchasing power.
"Well, petrol crisis has affected my salary because the cost of transportation has increased immensely, the prices of food commodities in the market have soared higher. For example, a 50kg bag of rice is over N40,000 which is far above the minimum wage, so you can imagine what people are actually going through this period," a resident of Okpanam, Delta State, said on condition of anonymity.
Christopher Ikosa, who resides in Ikotun area of Lagos, said the petrol crisis has affected every other aspect of life.
"Before I usually bought 10 litres of petrol at the rate of N1,500, but recently, I bought the same quantity at the rate of N2,500," Ikosa said.
He said apart from that, there is also an increase in transport fare.
"Before the crisis, I used to board a bus from Okerube to Ikotun is N100 now is 200, Ikotun to Canoe for N200, but now it is N400 – that is a 100 percent increase. Commercial transporters are taking advantage of it. I think the government should look into it," he said.