By Samson Echenim
A merger of French-Italian automobile group, PSA Peugeot and American Fiat-Chrysler is expected to create world's fourth largest automobile manufacturer with $50 billion asset stake.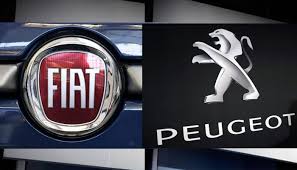 Fiat Chrysler has confirmed it is in talks with PSA Peugeot over a deal that would create a new giant in the car industry. The merger will bring together some of the world's best-known motoring brands including Jeep, Alfa Romeo, Vauxhall, Citroen, Dodge, Lancia, Maserati, Opel and Peugeot.
Commenting on the merger which brings one large automaker to both Europe and American markets, David Leggett, automotive analyst at GlobalData, a leading data and analytics company, said the new firm would sell 8.5 million units of cars in both markets, making one of the world's largest seller in a year.
"This news is not unexpected, given that both companies have been actively exploring tie-ups with others to yield cost savings and other synergistic benefits. FCA had proposed a merger with PSA rival Renault earlier this year, but the discussions hit political obstacles and FCA subsequently withdrew its proposal.
"In 2018, FCA sold 4.8 million vehicles while PSA sold 3.9 million, suggesting a combined company could be selling in the region of 8.5 million units a year – making it one of the largest players in the industry.The merger would create a $46-$50bnautomotive giant featuringsome of the most popular automotive brands, including Chrysler, Fiat, Peugeot, Alfa Romeo, Jeep, Dodge, Maserati, Citroen and Ram," he said.
According to him, there are a number of drivers pushing the auto industry towards greater collaboration and concentration. In particular, huge investments in advanced technologies such as automated driving and electrification can be shared.
He noted that scale economies and reduced costs are becoming increasingly attractive as companies look to position themselves for slower demand growth – or market contraction – in major global automotive markets such as China and the US.
"Peugeot could potentially leverage the network of Fiat-Chrysler to create a presence in the US, and Fiat Chrysler would achieve greater exposure and scale in Europe, benefitting from PSA's technology to tackle CO2. Both can share the burden of investments in future technologies and jointly design electric, autonomous and connected vehicles. One big question is the manufacturing footprint, especially in Europe, where capacity utilisation levels and plant-product mix can be reviewed further down the line.
"If this major industrial consolidation succeeds, it will raise questions concerning other automotive companies – Ford and General Motors, for example – who are faced with the same challenges as PSA and FCA and for which new strategic steps to address future scale and structure will become increasingly pressing," he noted.