Asia
Saudi-led boycott takes toll on Qatar's growth prospects
August 17, 20171.1K views0 comments
Qatar's economy will expand this year at the slowest pace since 1995, according to economists as the impact of a Saudi Arabia-led boycott is felt on trade and investor confidence.
In the analysis surveyed and reported by Bloomberg, gross domestic product is expected to grow 2.5 percent in 2017 and 3.2 percent next year, compared with 3.1 percent and 3.2 percent respectively in the previous survey conducted in June. Economists now expect a budget deficit of 5.1 percent of GDP this year, up from 4.6 percent, while the forecast for inflation dropped to 2.2 percent from 2.5 percent.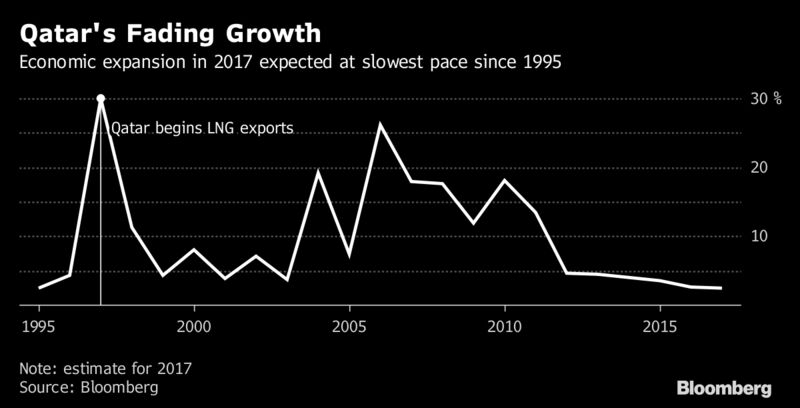 Saudi Arabia, the United Arab Emirates, Bahrain and Egypt cut ties with Qatar on June 5, accusing the nation of 2.7 million people of destabilizing the region through its ties to Islamist extremists — a charge Qatar has repeatedly denied. Imports and foreign deposits have plummeted and interest rates soared, exacerbating a broader slowdown due to lower global energy prices.
After almost two decades of rapid growth driven by a sevenfold increase in the production of oil and gas, Qatar's energy boom has waned this decade as projects were completed and focus shifted to promoting non-oil growth as crude prices fell. The world's biggest producer of liquefied natural gas is spending $200 billion to upgrade infrastructure ahead of the 2022 soccer World Cup and has aspirations to be a regional tourism and services hub.
"Even before the diplomatic crisis with regional powers, it looked like Qatar's non-energy economy would slow," said William Jackson, senior economist for emerging markets at Capital Economics. "The early signs are that the sanctions dealt a damaging blow to Qatar's economy in June. The impact appears to be temporary, but it will still result in weaker growth."
Qatar's energy exports weren't affected by the boycott and disruptions to imports were temporary, Sheikh Saif Al Thani, director of Qatar's Government Communications Office, said in a statement.
"The illegal actions of our neighbors have been the catalyst for us to accelerate our economic plans and renew our commitment to diversification and sustained growth," he said. "We fully expect to see a strong return of the Qatari economy this year and growth over the years to come."
Qatar Petroleum has also said it plans to increase its energy output by about a million barrels of oil equivalent per day in five to seven years.
Positive Outlook
Qatar's optimism is reflected in the Bloomberg survey. Expectations for higher growth in 2018 are independent of whether the boycott on Qatar is lifted, said both Jackson at Capital Economics and Farouk Soussa, London-based chief economist for the Middle East at Citigroup Inc.
"We expect the disruptive impact of the boycott to have evaporated by next year," Soussa said. "Trade routes will have been fully reconfigured, confidence will have been restored, the building will recommence — all possibly against a backdrop of a continued boycott, but one that the economy has adapted to."
There's also a silver lining for Qatar. Despite facing the slowest growth in more than two decades in 2017, its economy is still forecast to expand the most in the six-nation Gulf Cooperation Council — ahead of Saudi Arabia at 0.5 percent and the U.A.E. at 2 percent, according to the latest surveys.
Key Takeaways
Survey of 10 economists conducted from Aug. 6 to Aug. 10
2017 CPI forecast at +2.2% y/y versus +2.5% in the previous survey
See graph for GDP forecasts
---
Report courtesy Bloomberg