Agency
SON issues clearance certificates to 11 Nigerian manufacturers
August 3, 20171.7K views0 comments
The Standards Organisation of Nigeria (SON) Thursday, issued clearance certificates of Mandatory Conformity Assessment Programme (MANCAP) to 11 indigenous manufacturers in Sokoto and Zamfara states, NAN reports.
Presenting the documents, Osita Aboloma, SON's Director-General, urged the manufacturers to sustain their quality productions for the nation's growth.
In a statement made on behalf of the director-general, Dauda Yakubu, SON Northwest Regional Coordinator, said that "MANCAP scheme ensures that all manufactured products conform to the relevant Nigerian Industrial Standards (NIS), prior to sale in the markets or for exports."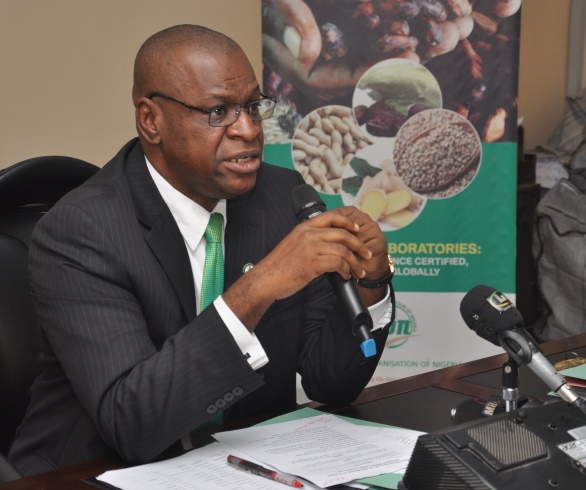 He further said that the scheme was aimed at protecting genuine manufacturers against unhealthy practices and other unfair competition in trade, as it provided consumers with enough confidence that the products manufactured in Nigeria were fit, safe and have met the intended standards of use.
Yakubu described the awards as important and timely, in recognition of diversification drive of the Federal Government which needed all sectors to key into the strategy.
According to him, SON is committed to supporting the competitiveness of Nigerian products and services through a focus on the development of market driven standards in conformity with assessment processes.
"I urge the Organised Private Sector (OPS) and non-governmental organiations to embark on a voluntary check on standards in their businesses in line with global best practices.
See also: OPEC hopeful of near rebalance, stability in oil market, prices
"SON subsidises processes to 50 per cent of all industrial standards sold to Micro, Small and Medium Entrepreneurs (MSME) in addition to getting their products certified free or at token within the time frame of two months.''
He urged state governments to patronise goods produced in the state in their purchase contracts, to encourage local industries and boost employment opportunity.
He said the agency partnered with strategic organizations such as Sokoto State Small and Medium Enterprises Development Agency (SOSMEDA), noting that entrepreneurs had advantages on leather and agro-allied products.
Sani Bosso, Director, SON, Sokoto State, said the agency enjoyed cordial relationship with manufacturers and urged them to sustain the efforts on quality production as well as others to approach the organisation and relevant agencies such as NAFDAC, Corporate Affairs Commission and other regulatory bodies.
Hajia A'isha Hassan, DG, SOSMEDA,  said the certification was part of proceeds of MSE's clinic launched by Yemi Osinbajo, Nigeria's Acting President, in March 2017.
Hassan said 17 manufacturers were selected to enjoy more attention by the Federal Government in the state and urged indigenous entrepreneurs to utilise the advantages given by the present administration to prepare the products for exports and markets in the country.
According to her, the Federal Government has awarded N30 million contracts for producing 3,000 pairs of shoes to National Leather Institute Sokoto, to encourage indigenous producers.
Alhaji Tambari Ahmad, Chairman of National Association of Small Scale Industries, appealed to governments at all levels to patronise locally made goods such as textile materials, furniture, metal materials and other varieties produced by members.
Alhaji Faruk Rima, Chairman of Foam Manufacturers Association in Sokoto, expressed appreciation over the achievement and assured the government of increased commitment to producing quality materials.
Rima said the members faced enormous challenges and urged the government to increase its commitments in harnessing local production as it contributed to economic growth and employment for the population.
Companies that received certificates were Rima Foam, Lattex Foam, Gusau Sweets Factory, BG Tea Gusau, Destiny Foam, Chiza Kilishi (dry meat), Legend Foam, Concord Foam, Maina Concept Ltd, Betta Foam and Spaco Foam.
The event was attended by officials from Federal Inland Revenue Service, Nigerian Customs Service, NAFDAC, National Technology Incubation Centre, Police and the Civil Defence Corps.