Equities
Stocks drop, gold leads Storm Haven rally on Korea fears
August 29, 20171.2K views0 comments
Headwinds stacked up for global markets on Tuesday, with stocks slumping across Europe and Asia and havens including gold jumping after North Korea fired a ballistic missile over Japan. Gasoline slipped even as energy companies braced for another hit from Tropical Storm Harvey.
From London to Sydney equities retreated and volatility rose amid classic risk-off moves, with U.S. stock futures also tumbling. Gold surged to the highest this year, while the Swiss franc and the yen were the best-performing major currencies. Most European bonds followed Treasuries higher, while the euro climbed above $1.20 for the first time since 2015, providing yet another drag on the region's stocks. Gasoline reversed an increase after five days rising, even as Harvey picked up strength again after inundating refineries along the Texas coast.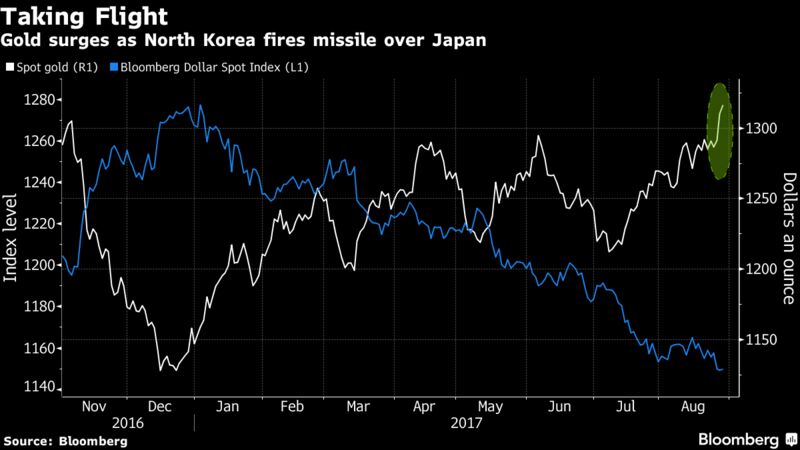 Japan called Kim Jong Un's latest provocation an "unprecedented, grave and serious threat," and asked the United Nations Security Council to hold an emergency meeting. The missile seems likely to reignite the simmering tension between North Korea and the U.S. just days after Secretary of State Rex Tillerson praised the nation for its "restraint."
"Some observers had thought the U.S. and North Korea were pursuing discussions behind closed doors, but it turns out North Korea continues to pursue missile development," said Chihiro Ohta, a Tokyo-based senior strategist at SMBC Nikko Securities. "The risk-off stance is likely to continue even if the U.S. responds calmly."
Terminal subscribers can read more on our Markets Live blog.
Among other key events looming this week:
The U.S. Conference Board releases its monthly consumer confidence index for August.
Inflation data from the euro zone's largest economies this week may show prices nudged up in August.
Japan releases figures for the industry on Wednesday.
Australia is due to publish data on Wednesday detailing construction work done.
The U.S. updates second-quarter GDP and core price data on Wednesday, and reports on August payrolls on Friday.
And here are the main moves in markets:
Stocks
The Stoxx Europe 600 Index sank 1.3 percent as of 10:58 a.m. in London, the lowest in almost seven months.
The U.K.'s FTSE 100 Index declined 1.3 percent to the lowest in 16 weeks on a closing basis.
Germany's DAX Index dipped 1.7 percent to the lowest in more than five months.
Futures on the S&P 500 Index fell 0.7 percent to the lowest in seven weeks.
Currencies
The Bloomberg Dollar Spot Index dipped 0.3 percent to the lowest in more than two years.
The euro gained 0.5 percent to $1.204, the strongest in almost three years.
The British pound climbed 0.3 percent to $1.2968, the strongest in more than two weeks.
The Swiss franc increased 1.1 percent to $0.9449, the strongest in about two years on the biggest increase in two months.
Bonds
The yield on 10-year Treasuries dipped five basis points to 2.11 percent, the lowest in almost 10 months.
Germany's 10-year yield decreased five basis points to 0.33 percent, the lowest in two months.
Britain's 10-year yield declined five basis points to 1.002 percent, the lowest in 10 weeks.
Commodities
West Texas Intermediate crude climbed 0.2 percent to $46.64 a barrel.
Gold increased 0.9 percent to $1,320.17 an ounce, the strongest in 11 months.
Gasoline for September delivery fell 0.3 percent to $1.7068 a gallon after climbing 2.7 percent on Monday.
Asia
Japan's Topix index closed 0.2 percent lower after falling as much as 0.7 percent, while South Korea's Kospi index lost 0.2 percent, paring a drop of as much as 1.6 percent. The S&P/ASX 200 Index in Sydney declined 0.7 percent. Hong Kong's Hang Seng Index fell 0.4 percent, while the Shanghai Composite Index fluctuated before edging higher.
Thailand's SET Index bucked the main trend, rising 1.8 percent. Concern about political violence has eased, according to CLSA.
The yen advanced 0.7 percent to 108.60 per dollar.
The won weakened 0.6 percent, the most in two weeks.
---
Market report courtesy Bloomberg