Commodities
Strengthening economic value of Nigeria's cashew market
October 5, 2021599 views0 comments
Global industry expected to hit‭ $‬6.932bn by 2025
Cashew, an edible and drought resistant crop that thrives in tropical climates, is considered as one of the most lucrative crops in the world due to its high value and increasing demand in the global market, relative ease of production, processing and storage compared to other cash crops which makes it more attractive to stakeholders in the value chain, according to market researchers.  The crop is also renowned for its substantial by-product potential such as cashew butter from broken nuts, cashew nut shell liquid (CNSL) for industrial and medicinal purposes, additive in the confectionery and beverage industries, among other uses.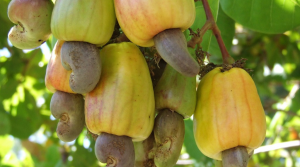 According to Research and Markets, the world's largest market research store, the global cashew kernel market is expected to grow from $5.394 billion in 2019 to $6.932 billion in 2025 at a compound annual growth rate (CAGR) of 4.27 per cent.
Cashew is cultivated and thrives in many parts of Nigeria and some of the major producing states like Abia, Anambra, Enugu, Kaduna, Kogi, Kwara, Enugu, Imo, Niger, Osun, Oyo. Kogi is ranked the highest cashew producing state, accounting for over 50 per cent of the country's total output. However, Ogbomoso, a town in Oyo State, is rated as Nigeria's most valuable cashew destination due to the unique quality, high kernel output ratio (KOR), which makes cashew from the area to possess better commercial value and higher profitability compared to other regions in the country.
Commenting on the quality of cashew produced in Ogbomosho, Olayinka Olabode, a crop production professor in the department of agronomy, Ladoke Akintola University of technology (LAUTECH) Oyo State, said Ogbomoso cashew is one of the highest in demand globally due to its renowned quality that is supported by the unique tropical climate that specifically favours cashew production.
Samuel Owolabi, a commodity dealer in Ogbomosho, disclosed that the area has the largest concentration of output and export in the country with an estimated 50,000 tonnes of cashew exports per season.
According to the National Bureau of Statistics (NBS), cashew is Nigeria's third largest agricultural export after sesame seeds and cocoa beans and in the first quarter of 2021 (Q1 2021), fetched the country N13.71 billion.
In its assessment of the cashew industry, Nigeria's leading commodities market player, AFEX, asserted that cashew nut is a major commodity with a fast growing market demand and high potential to generate foreign exchange and create massive income and employment opportunities for Nigerians engaged in its value chain.
The report, titled "Commodity Focus: raw cashew nuts.", added that cashew is an important industrial raw material with rising demand in the confectioneries, food, and beverage industries globally with a high potential to contribute to Nigeria's non-oil export value and FX earnings from non-oil exports.
"Amid slow-paced GDP growth and declining GDP per capita, value addition in the cashew value chain has a direct impact on achieving poverty reduction – one critical SDG," it said.
Nigeria missing economic potentials of processed cashew
The United Nations Conference on Trade and Development (UNCTAD) in one of its  recent reports titled; "Commodities at a Glance: Special issue on cashew nuts" stressed
that the leading cashew producing countries of Africa including Nigeria,Ivory Coast,Ghana and the rest, rarely process the crop at a significant scale, retaining only a small share of the value created as the nut travels from the farm to store. This, it noted, has made the cashew producing countries in the region unable to leverage on processing capacities due to the negligible number of industries, missing opportunities offered by rising global demand.
Researches on cashew production in Nigeria stated that cashew nuts exported out of the country are in their raw forms and only about five per cent of the country's total output are fully processed. This was attributed to the lack of required machinery and presence of a few cashew processing companies in the country which is said to have largely reduced prospective income for the  country as processed cashew nuts have higher costs considering the value added to the crop.
Market reports show that Vietnam, because of its remarkable cashew processing capacity, is one of the leading exporters of processed cashew and generates more wealth in the cashew value chain compared to Nigeria, despite being the largest buyer of Nigeria's raw cashew nuts.
AFEX bemoaned that while Nigeria grows most of the world's raw cashews, the country only processes a fraction of them, missing opportunities offered by rising global demand.
Increasing cashew's market value through value addition
According to the United Nations Conference on Trade and Development, Africa produces more than half of the world's raw cashew and the producing countries in the region can dominate the world market if substantial efforts are made towards creating processing industries and facilities to boost value addition.
To ensure the region's dominance of the cashew global market, UNCTAD  called for a policy environment that enables cashew processors to operate with competitive transformation costs and facilitate access to the main export markets, facilitation of researches that would help identify agricultural practices and technologies that function best in local environmental and economic conditions, improving rural infrastructure, including secondary roads, to better connect cashew farms and processing sites, facilitating market entry through technical skills development and better access to market information, strengthening capacity among cashew processors to meet quality standards in prospective foreign markets, and promoting the development of cashew by-products, such as beverages based on cashew apples, which are normally discarded as waste.
UNCTAD also recommended policies that would strengthen productive capacities, which include; ensuring farmers have access to quality seedlings and technological expertise, increasing training for farmers on entrepreneurship and farm management, supporting research that helps identify agricultural practices and technologies that work best in local environmental conditions and improving rural infrastructure.
It further stressed that the traceability, transparency and sustainability of food supply chains is becoming increasingly important for consumers and suppliers globally, noting that this could benefit African processors who source their nuts locally rather than through long supply chains.
On its part, AFEX called on the federal government to increase the country's processing capacity in order to fix the huge imbalance between the amount of cashew exported out of the country and the amount processed in locally and ultimately, increase the value gained from the cashew.