Frontpage
Sub-Saharan Africa accounts for 57% of world's active mobile money accounts
November 16, 20173K views0 comments
57 percent of world's active mobile money accounts are domiciled in Africa in 2016, according to analysts at Ecobank Research in infographics released Thursday's on Africanchat monitored on Twitter.
The researchers noted that more and more Africans are using mobile money to transfer cash, pay bills, top up airtime, remit and pay in shops.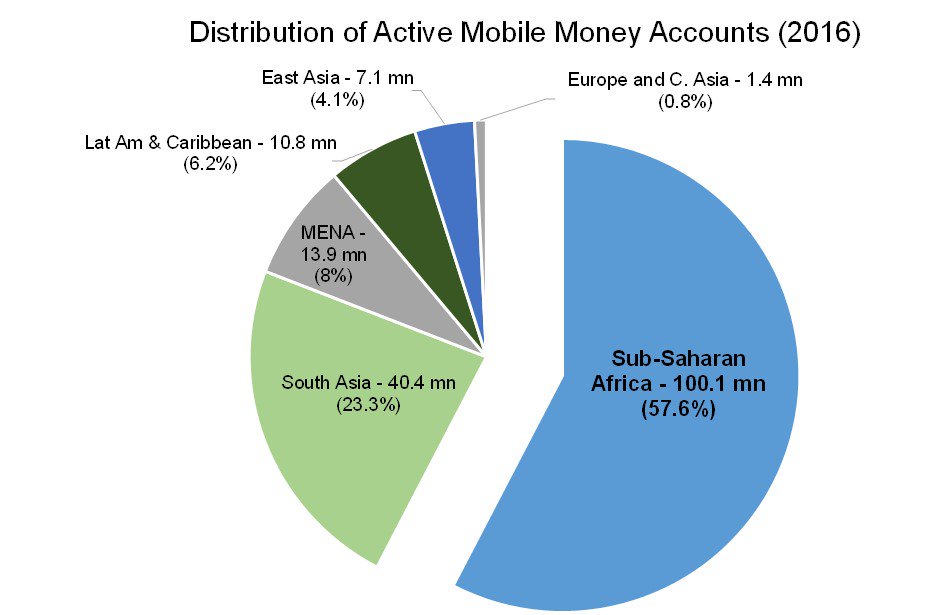 The infographic indicated that Africa has 100.1 million accounts or 57.6 percent of global mobile money accounts, distantly followed by South Asia with 40.4 million or 23.3 percent.
The Middle East and North Africa (MENA) region occupied the third position with 13.9 million accounts, representing 8 percent of world mobile money accounts.
The other region and their size of mobile money accounts are Latin America and the Caribbean 10.8 million (6.2%), East Asia 7.1 million (4.1%) and Europe and Central Asia 1.4 million or (0.8%).
Mobile money penetration on the continent is however extremely varied with countries like Kenya and Ghana leading the way, and countries like South Sudan and the Central African Republic falling behind.
Read Also: Nigeria's central bank, NCC sign pact to push mobile money, financial inclusion
The growing mobile money accounts is on the fact that access to credit cards on the continent is limited unlike Europe and other advanced regions and it is equally aided by a growing smartphone penetration.