Finance
Investment
Tony Elumelu woos Indian investors on investment opportunities in Nigeria
September 8, 2023179 views0 comments
Tony Elumelu Tells Indian Investors: "This is the Best Time to Invest in Nigeria"
Investment pledges amounting to nearly $14 billion U.S. dollars were committed during the Nigeria-India Presidential Roundtable and Conference in New Delhi convened by  President Bola Ahmed Tinubu.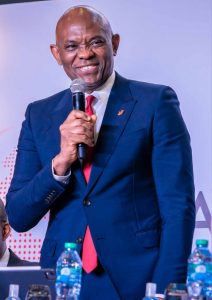 Tony O. Elumelu, Heirs Holdings Group chairman, has urged the Indian private sector to take hold of the opportunities present in Nigeria's  rapidly evolving economy to seal mutually beneficial  investments.
Elumelu stated this during the Nigeria India Presidential Roundtable and Conference,held recently in New Delhi, India, jointly organised by the High Commission of Nigeria to India, the Confederation of Indian Industry (CII) and the Nigeria-India Business Council (NIBC).
Elumelu, who has built pan African financial service businesses and now controls significant power and natural resources operations, all focused on value creation in Africa, was in Delhi for the G20 Summit, both as an invitee of the President Bola Tinubu, and as co-chair of the Business 20 (B20) Action Council focusing on African economic integration, the private sector counterpart to the G20.
Established in 2010 within the G20, the B20 comprises corporate business enterprises and organisations and serves as the official platform for dialogue between the G20 and the global business community.
During his keynote address, Elumelu invited Indian private sector leaders to join him and other global investors in accessing the rapidly evolving Nigerian economy,which is home to 20 per cent of Africans and one of the largest consumer populations globally.
"This is the time to invest in Nigeria. I speak as a private sector investor in Nigeria, the companies in our Group's investment portfolio demonstrate the opportunity. I believe you also can take advantage of our track record and success," he said.
According to Elumelu, Nigeria is a huge market that has over 200 million people with the largest economy on the continent, making it an exciting prospect for investors.
"We have a cohort of young people who are there to consume, and we also have people who are intelligent, energetic, hardworking, who provide the human capital that investors need to drive their businesses," he added.
At the Presidential roundtable, Indian investors pledged investments of nearly $14 billion to Nigeria, following the Nigerian president's commitment to create the enabling environment for foreign investments to thrive.