Capital Markets
U.S. stocks slump, bonds rally amid Trump turmoil: Markets wrap
May 17, 20171.1K views0 comments
Risk off sentiment grips markets with Washington on edge

Stocks fall as volatility indexes, bonds gain; oil rises

Assessing President Trump's Fallout on the Markets
The turmoil engulfing President Donald Trump's administration spilled into financial markets as U.S. stocks fell the most since March, measures of volatility spiked higher and Treasuries rallied with gold.
The Dow Jones Industrial Average lost 250 points, shattering the calm that gripped markets in the past month as the crisis threatened to derail the policy agenda that helped push equities to records as recently as Monday. The dollar dropped a sixth day, while Treasury 10-year yields tumbled to 2.25 percent. The spread between 10-year and two-year yields narrowed to below 1 percentage point, the flattest since before the U.S. Election. Emerging-market equities halted a seven-day rally. Crude rose after U.S. inventory data.
"If he's preoccupied defending himself and if it goes a lot further, then any hope of his legislative agenda coming to the fore is going to be reduced," John Stopford, the London-based head of fixed-income at Investec Asset Management Ltd., said in an interview with Bloomberg TV. "Clearly at the margin it's a negative. At the moment there's a classic environment for yields to rally a bit further and for the dollar to sell off."
Stopford discusses the impact of the Trump news on markets.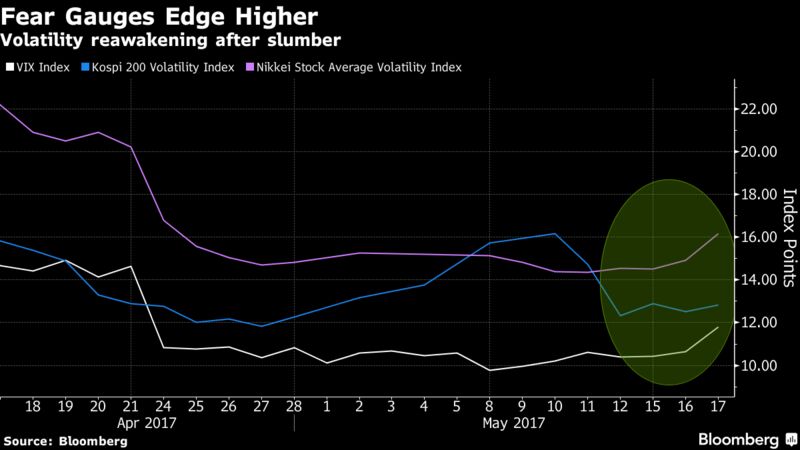 After a protracted period of dormancy, financial markets are beginning to react to developments in Washington in a more unified manner. With stock and bond volatility muted, investors have looked for a clearer reaction to the political din in currency markets. The U.S. currency now sits at its lowest level since the day of Trump's shock win, a retracement some blame on perceptions his legislative agenda faces deeper challenges.
Even here, though, traders have been divided on what is moving the U.S. currency, with some seeing catalysts beyond politics. One explanation for the retreat might be weaker-than-expected readings on U.S. inflation and economic growth in the past month, data that have coincided with easing perceptions of political and economic risks in Europe. While traders continue to price in two interest rate increases by the Federal Reserve this year, speculation is rising that European counterparts are preparing to withdraw their own stimulus measures.
"The only political calibration the Fed has is how much Trumponomics we were going to get that they can't see yet," Neil Dwane, global strategist at Allianz Global Investors, said in an interview with Bloomberg TV. Even so, U.S. policymakers "are in the mindset to raise as long as the markets are prepared for it," he said.
Here are some key events coming up:
OPEC's internal Economic Commission Board meets in Vienna to discuss the market in preparation for the group's formal meeting on May 25. The U.S. Energy Information Administration is projected to report that crude stockpiles declined by 2.67 million barrels in the week ended May 12, according to a Bloomberg survey of analysts.
Data from Japan on Thursday will likely show the economy accelerated in the first three months of the year, posting a fifth straight quarter of expansion. That would be the longest consecutive period of growth since 2005-2006.
Here are the main moves in markets:
Stocks
The S&P 500 Index fell 1.1 percent to 2,374.83 at 11:50 a.m. in New York. The measure touched an all-time high Tuesday.
Bank shares led the retreat with a 2.2 percent slide. Real-estate and utilities were the only of 11 groups in the S&P 500 to advance.
The Stoxx Europe 600 Index fell 1.2 percent, after ending little changed in the previous session.
The MSCI All-Country World Index lost 0.8 percent from a record, with banks having the biggest impact across all regions.
A volatility gauge on the S&P 500 climbed 10 percent after jumping 2.2 percent on Tuesday.
Currencies
The Bloomberg Dollar Spot Index dropped 0.4 percent, trading at the lowest level since Nov. 8. The yen rose 1.5 percent to 111.47 per dollar, after climbing 0.6 percent on Tuesday.
The euro added 0.3 percent to $1.1117, extending Tuesday's 1 percent surge and heading for the highest since Nov. 4.
Bonds
The yield on 10-year Treasuries dropped nine basis points to 2.24 percent after losing two basis points Tuesday.
Benchmark yields in France lost five basis points to 0.84 percent, while those in Germany declined five basis points to 0.382 percent.
Commodities
Gold futures rose 1.7 percent to $1,257.60 an ounce, extending gains to a fifth day.
Crude futures added 1.2 percent in New York, reversing an earlier 1.3 percent loss, with gains accelerating after the release of U.S. government data on inventories.
Asia
Japan's Nikkei 225 Stock Average slid 0.5 percent, a day after the equities benchmark came within 2 points of topping 20,000.
Australia's S&P/ASX 200 Index lost 1.1 percent, and Chinese shares traded in Hong Kong fell 0.5 percent.
---
Courtesy Bloomberg