Company
Uber CEO Travis Kalanick resigns as controversies rock tech company
June 21, 20171.2K views0 comments
Travis Kalanick, Chief Executive Officer of Uber Technologies Inc. has resigned following series of controversies that rocked the world's largest technology startup, exposing deep problems with its male-dominated culture, Bloomberg reports.
The man most closely identified with the ride-hailing giant's meteoric global ascent said he was ceding to investors' wishes that he step aside, in part to avoid yet another conflict. Uber's been dogged by scandal after scandal this year, from allegations of sexual harassment and the use of "Greyball" software to bypass regulators to the mishandling of a 2014 Indian rape case.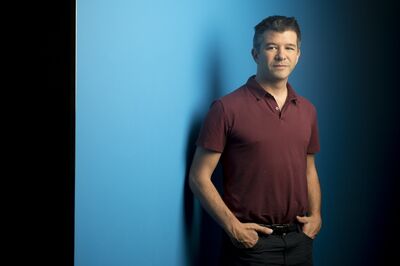 The outgoing CEO joins a string of departures, including head of business Emil Michael and President Jeff Jones. Kalanick admitted his own leadership failings after Bloomberg posted a video of the executive arguing with an Uber driver over pay, an incident that helped stoke simmering resentment among its chauffeurs. His departure comes weeks after the death of his mother in a boating accident.
"I love Uber more than anything in the world and at this difficult moment in my personal life I have accepted the investors request to step aside so that Uber can go back to building rather than be distracted with another fight," Kalanick said in a statement. He will remain on the board of directors, Uber said separately.
Kalanick's exit comes after five of Uber's major investors, including Benchmark Capital, wrote him a letter demanding his immediate resignation, the New York Times reported, citing people with knowledge of the situation. Kalanick then consulted with at least one Uber board member, and agreed to step down after hours of discussions with some of those investors, the newspaper reported.
On Tuesday, Benchmark partner Bill Gurley was quick to point out Kalanick's accomplishments. "'Very few entrepreneurs have had such a lasting impact on the world," he tweeted.
As Uber's public face, Kalanick has embodied the startup's success. Earlier this month, he told staff of plans for a leave of absence, leaving the company to be run by a management committee.
This month, the company shared the recommendations of an investigation it commissioned into workplace culture problems by the law firm of former U.S. Attorney General Eric Holder. More than 20 people were fired as part of a separate probe by another firm.
Despite recent turmoil, Uber's business is growing. Revenue increased to $3.4 billion in the first quarter, while losses narrowed — though they remain substantial at $708 million. Kalanick remains a billionaire given his stake in the company, with a net worth of $6.7 billion according to the Bloomberg Billionaire's Index. Uber itself has been valued at $69 billion.
The company has sought to head off a defection of drivers by adding a function to its app that lets customers provide tips, a feature long offered by U.S. rival Lyft Inc. The company also said it would start compensating drivers for trips canceled more than two minutes after booking, and offer new insurance plans. Garrett Camp, an Uber founder and board member, wrote an email to employees Tuesday, trying to shore up morale.
Kalanick's departure is sure to cause a stir within employee ranks. Uber's board of directors acknowledged the move Tuesday.
"This is a bold decision and a sign of his devotion and love for Uber," the board said in an emailed statement. "By stepping away, he's taking the time to heal from his personal tragedy while giving the company room to fully embrace this new chapter in Uber's history."
---
Courtesy Bloomberg