People & Places
Warren Buffett now America's no. 2 real-estate broker
April 1, 20181.4K views0 comments
Warren Buffett's Berkshire Hathaway is swallowing up market share in a business that Buffett said he "hardly noticed" when the company first acquired it in 2000.
In light of the paucity of deals Berkshire struck last year, Buffett devoted ample space in this year's annual report to touting the success of Berkshire's HomeServices of America, which Buffett lauded for its rapid, if long overlooked, expansion over the past decade…
"I have told you several times about HomeServices, our growing real estate brokerage operation. Berkshire backed into this business in 2000 when we acquired a majority interest in MidAmerican Energy (now named BerkshireHathaway Energy). MidAmerican's activities were then largely in the electric utility field, and I originally paid littleattention to HomeServices.
"But, year-by-year, the company added brokers and, by the end of 2016, HomeServices was the second-largest brokerage operation in the country – still ranking, though, far behind the leader, Realogy. In 2017, however, HomeServices' growth exploded.
"We acquired the industry's third-largest operator, Long and Foster; number 12, Houlihan Lawrence; and Gloria Nilson. With those purchases we added 12,300 agents, raising our total to 40,950. HomeServices is now close toleading the country in home sales, having participated (including our three acquisitions pro-forma) in $127 billion of "sides" during 2017.
"To explain that term, there are two "sides" to every transaction; if we represent both buyer and seller, the dollar value of the transaction is counted twice.
"Despite its recent acquisitions, HomeServices is on track to do only about 3% of the country's home- brokerage business in 2018. That leaves 97% to go. Given sensible prices, we will keep adding brokers in this mostfundamental of businesses."
Unfortunately for Buffett, limited supply and inflated valuations are beginning to weigh on purchases, with pending sales down more than 4% year-over-year.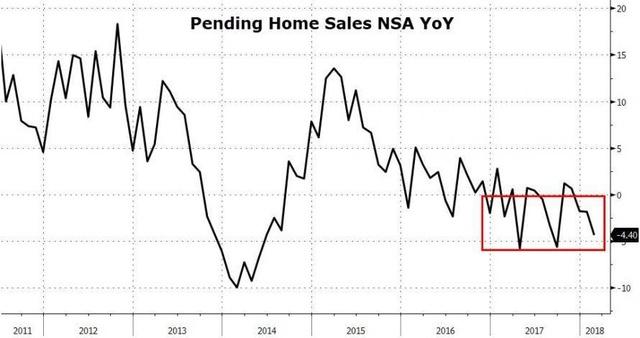 And mortgage applications tumbling as rates rise.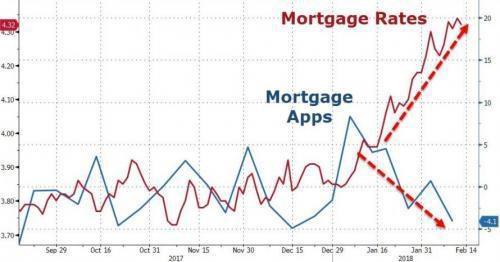 One factor contributing to this trend could be the lackluster growth in wages when compared with home valuations.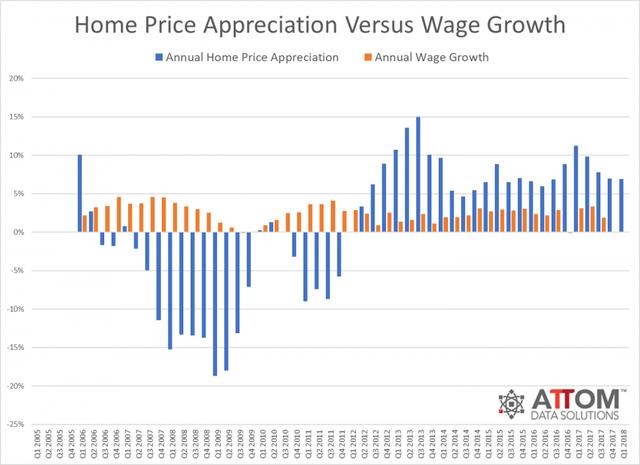 The broker buyouts were some of the only deals he touted in his letter to shareholders. The deals increased HomeServices transaction volume by 34%.
And given the $100 billion cash pile burning a hole in Buffett's pocket, we wouldn't be surprised to see HomeServices continue absorbing its competitors – the only reliable growth strategy in a market as fractious as the real-estate brokerage business, according to Bloomberg.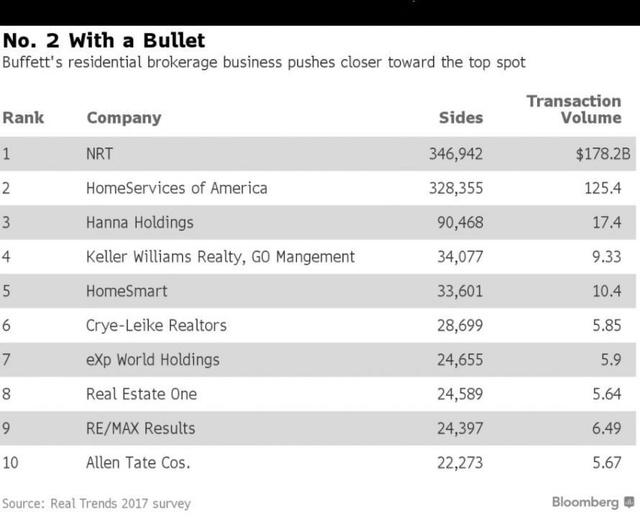 The firm is expected to have only 3 percent market share in 2018. That leaves ample room for growth.