Interview
We should create more indigenous oil, gas companies for jobs, economic expansion – Bank-Anthony
I am a reporter for Businessamlive. Email: andy.nssien@businessamlive.com
Follow Andy
February 5, 20181.3K views0 comments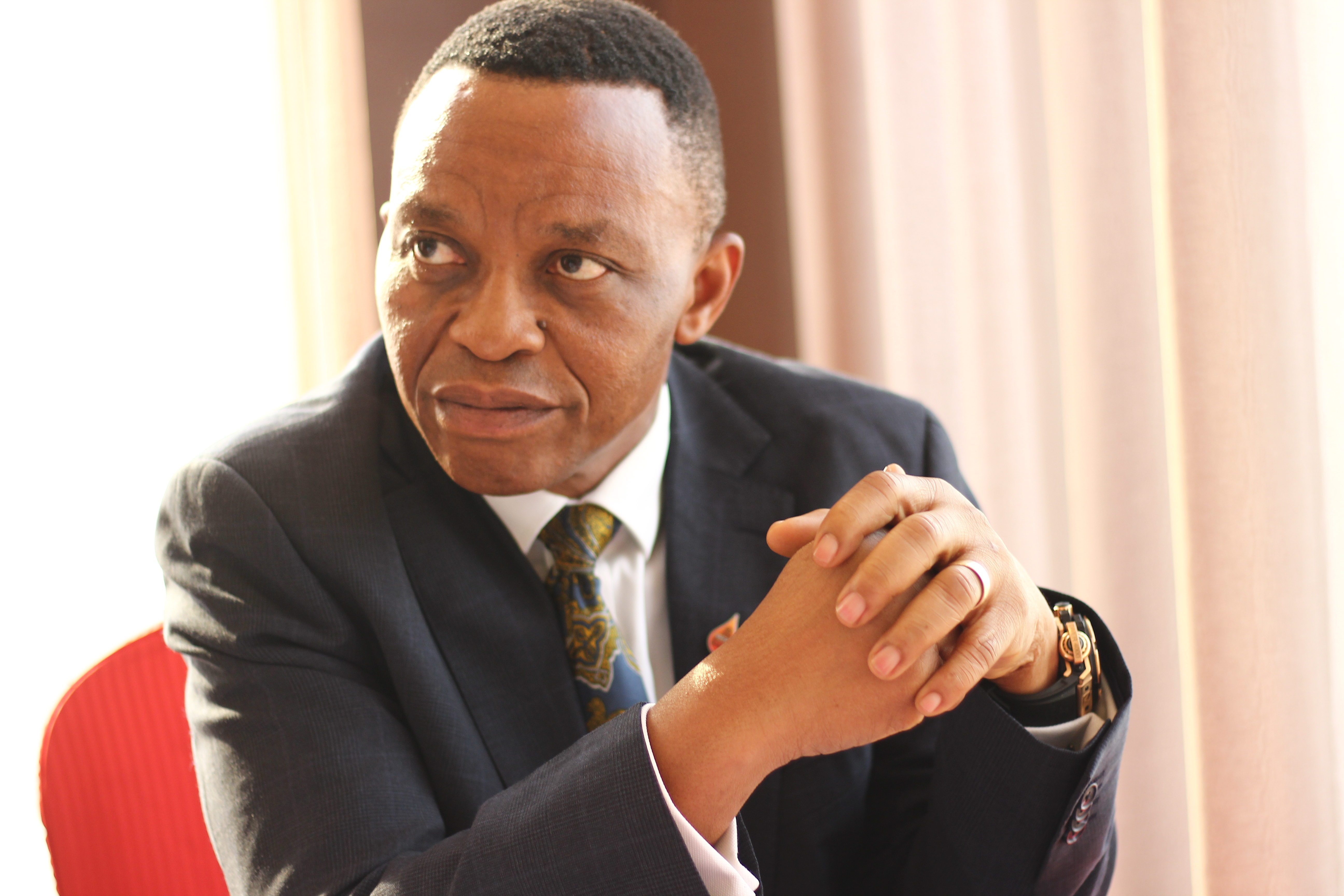 ---
Bank-Anthony Okoroafor, the chief executive officer of Vherbarge International Limited and President of Petroleum and Technology Association of Nigeria (PETAN),in this interview with Andy Nssen and Ajose Sehindemi bares his mind on a  number of burning issues including how genuine change from Nigeria's government can solve the agitations in the restive Niger Delta and how government policies can create over a million jobs in the oil sector. He also speaks on opportunities for West African nations at this year's West African International Petroleum and Exhibition Conference (WAIPEC 2018) holding in February in Lagos, Nigeria
---
What is WAIPEC about, can you tell us more about it?
Yes, WAIPEC (West African International Petroleum and Exhibition Conference) was formed to ensure that all participants in the Nigerian oil & gas community can continue to share views, develop partnership and attract investment.  So, it is basically focused on high-level strategic sessions and discussions on game-changing solutions for the oil & gas industry. The strategy is to deliver better programme every year and add value to the industry. It is an integral platform combining plenary conference programmes with a series of solutions and an international exhibition to ensure that all participants in the Nigerian oil and gas community can continue to share views, develop partnerships and attract investments.
I guess it is an annual event?
Yes, and it was held
in Lagos last year
.
Has it gone outside Nigeria?

It has not gone outside Nigeria.
Is it because you are operating from Nigeria?
No! We packaged WAIPEC as a regional conference to target Africa. And most of the speakers you are going to see will cover the key oil & gas sector, finance and government people from all of Africa.
Concerning the speakers, how were you able to get most of the industry's heavyweights to agree to attend the conference and what do they stand to benefit?

That is a very good question. You know as I said, it is focused on high-level strategic sections and discussions on game-changing solutions for the oil & gas industry. We have been able to get the Group General Manager of NAPIMS, he is coming. We have been able to get one of the COOs of NNPC, he is coming. . We have been able to get the executive secretary, Nigeria Content Monitoring Board, Simbi Wabote, she is coming. We have been able to get the guy in charge of gas for the whole federation, he is coming. And from the banking sector, the MD of Standard Chartered Bank for Nigeria and West Africa, he is coming. We have been able to get many of the key oil & gas top figures in Africa, they are all coming.
 Looking at the conference you have been holding over time, can we know how it has impacted on the nation's economy over time?

You know, the idea is to promote the region's oil & gas, seek industry's best practices, explore new technology and develop commercial opportunities for business and international investments. And if you watch, that is the key thing going on right now. You see the oil price is inching up gradually; many of the companies are still recovering from the drop in the oil price. This gives them a lot of opportunities to seek solutions in this depressed oil market, you understand? Seek solutions, seek best practices and seek what they can apply to reduce their cost and still be profitable in this challenging environment.
Can you talk briefly about your own company? Tell us about yourself?
My name is Bank-Anthony Okoroafor and I run three companies, CB Geophysical solutions, into the seismic acquisition, seismic processing, seismic interpretation and integrated reservoir studies. Another company called Vhebarge International Limited which is into early production facilities, pipeline, flow line repairs and I have been in the oil and gas industry for 28 years and still going.
Fuel scarcity is always an issue. Now that it has become a sour point in Nigeria, how can Nigeria come out of this problem?
One, the government should stay away from refining and leave the private sector to run it. As long as, the government continues to run the refineries, problems will abound because the government runs like a social service but when you hand over to the private sector, what do you think will happen? It will be working. Like now, most of the refineries are not working to 20 percent capacity.
What do you think government can do to the refineries to get to full capacity?

There are two things we need to do: one, deregulate and allow the market forces. Deregulate fully the downstream and allow the economics of demand and supply to determine the price, and you discover at the end of the day, prices will come down and the product will be available. The government has no business in determining the price.
As long as refineries are not run by private people, we are going to have a lot of problems.
What are the oil and gas global policies that Nigeria and West African countries can tap into for their own benefits?
Like the local content we implemented in Nigeria, the best practices can be shared.  In a forum, people come up with best practice, like funding. Which creative funding scheme are they using in other countries? Those things that can be shared in a forum like ours are; what mechanisms are they using in other countries, what is the best mechanism for drilling that reduces cost, improves and save drilling times. What is the best way for operating in the deep offshore?  In a conference, all these can be shared.
Out of these practices in your reports have been adopted by the government and the private sector?
All recommendations are based on communiqués released after conferences. Many things have been implemented, for example, gas commercialization, flared down to zero was from a conference held, local content started at a conference from (PETAN) Petroleum and Technology Association of Nigeria. So, a lot has happened, Nigerians owning vessels and rigs and  Nigerians are now handling jobs on land and swamps. So, from our conferences, people build partnerships and learn and implement. As practitioners, we see the changes and people are also seeing it.
The Niger Delta is always an issue with one crisis or the other. How can it be resolved and controlled once and for all?
For us to have genuine peace in the Niger Delta, we have to be sincere about what we want to do, we must create sustainable development and empowerment there, it is key. Why can't we convert the Niger Delta to modular refinery belt? Why can't we have 24hrs power supply in Niger Delta using the gas there? Why can't we have the coastal rails or roads system? When people see genuine development, the change starts from their hearts and it would be sustainable.
The local content issue with Shell winning the award several times, why do private companies fail to implement the local content policy?
Local content is now a law, so every company must abide with it, else they face stiff penalties if they fail to do so.  Unless there is no capable Nigerian with capacity around, that is when they can disregard the policy. Whether, it is Shell, Agip or any other company, we want the genuine capacity building and content building.
Do you monitor the implementation of the local content policy in Nigeria and what's the penalty for those that don't practice it?
 If you see anyone not practising the law, let us know, we will follow it up. People can report and we go to check and it is not true. As long as there is capability and capacity in the country then there is a problem, but if there is no capability and capacity and somebody  complains, because we don't want people to be five 'per centers'. We want genuine capacity building, genuine local content.
Looking at other member countries, how can you compare the extent of implementation of the local content policy with what obtains in Nigeria.
We do much better than most countries and also when compared to others. Go to Kenya, the level of awareness is not much, Ghana has taken our local content Act, Uganda has copied our local content Act too, so the drive is there. Just look at America when President  Trump said you must buy made in America, is that not local content act?   So it is what is going on all over the world.
Now that you mention America, is there anything the government can do to encourage the implementation of the local content policy?
The only thing government can do is to ensure that the act is properly enforced, monitored and sanctions applied where necessary.
Even with government policies, it seems to most Nigerian's that Nigerian companies have not been able to be at par with the international oil companies (IOC's)  in the affairs of the energy and oil sector. What has been the special thing about IOC's? How come they are dominant in the oil sector?
You should understand that this business was started by them, the Shell, the Chevron, they started this business and along the line many of us worked with the multi-nationals, learnt some of the few things and came back and started on our own. So, it will also take some time to build to the extent of leveling up with them.
What can we use to jumpstart it,  instead of taking time, say 5,10 years for our local people to meet up with them and develop the sector in the country? What can be done to quickly grow the sector?
We can jumpstart it with policy. The government can come now and say, all FPSO's must be built in Nigeria. That is the policy statement, it will get the Samsung, the Kempels, the biggest ship players in the world to come and set up here and that can generate more than a million jobs. That is policy statement, if the policy statement says now that all the drilling rigs to be used in Nigeria must be built in Nigeria, all FPSOs, floating, production and storage vessels must be built in Nigeria, You will start seeing the biggest shipping companies all over the world setting up here in our coast and that is where you create a lot of  employment opportunities, quality jobs in Nigeria. So, policy statements can change everything. That was what Brazil did. Brazil says any FPSOs to be used in their country must be built in Brazil, they took that decision 15 years ago and till today, everything is built in Brazil.
What has your association done to influence the government into adopting those positions?
You know we are an advocacy group, we continue talking but at the end of the day, decisions are made by the government. So, our duty is to continue to talk, continue to advocate, educate but we are not the ones to take the decisions.
The government said oil majors should relocate their headquarters to the areas of their operation. What's your take on it?
 I don't want to get involved with that because I think we should, first of all, create an enabling environment. Once you create an enabling environment where business will operate freely, you don't need to beg anybody to relocate. So, let the government first create an enabling environment where nobody will be kidnapped, where the sanctity of life and property is protected, companies will generally move there, it's a natural phenomenon. You don't create things by force. lt's just like Foreign Direct Investment (FDI). If you want people to invest in your country, you create an enabling environment. The issue of forcing people to relocate is not the way of doing things. You create an enabling environment so that businesses will move.
The Liquified Natural Gas sub-sector is still a buyer's market as reliance on renewable energy gains tractions. What's the outlook for the LNG market?
No. LNG is still there, the market is still there. The only thing we need to do as a country is to lock in key buyers because people are setting up LNGs all over the world, so we should try and lock in a lot of key buyers. You know LNG markets, you can sign contracts for 15 years, the buyers can sign a contract for 15 years, 20 years.
How can the local market improve?
We want activities because if there are no projects, there are no jobs. We want the equipment people to be working, we want to create employment, A lot of Nigerians to be empowered. If you watch, after Egina FPSO, the vessel that just arrived, if there is no other projects, most of the capacities and capabilities already built will be lying fallow and that would be disastrous. We need as a country continuously sustainable activities. There have to project, the rig count in the country is very low, and we are not drilling enough. We must keep the people busy and when we keep people busy, it would affect everybody. If Nigeria is producing 4 million barrels per day, we would generate a lot of income.  lf we have a lot more reserve, our credit rating would be higher. We need to create a lot of indigenous oil and gas producing companies, we need to create a lot of oil and gas service companies to create millions of employment and that is at the heart of  PETAN because we are wasting a lot of opportunities. There are no opportunities for youths and for a country like Nigeria that has produced crude oil for 50 years and still imports petrol, does it make sense? Is it rocket science, no.  We need to make changes.
What is the future of PETAN, what do you visualize in 5 to 10 years' time for the Nigerian oil and gas industry?
I visualize a situation where 50 per cent of the Nigerian production is going to come from indigenous companies, l visualize  a future where our FPSO would be made and fabricated in the country, a country where we would never have fuel scarcity, a country where we would not import petrol or diesel, a country with 24 hrs power supply, self-sufficiency in energy, a country where what we make in the oil and gas sector is used to develop other sectors properly, get the educational system working well, equip our universities, secondary schools, primary schools, have excellent centers for research. I want a future that is very bright for our children where they would have quality education with quality jobs waiting for them after school.
---
Interview by Andy Nssien and Ajose Sehindemi