Special Investigations
Where is the transparency? Accounting for road projects in Lagos State
Adesola Afolabi is  Businessamlive Reporter.
You can contact her on adesola.afolabi@businessamlive.com with stories and commentary.
December 15, 20181.6K views0 comments
"Do you want to pay for it?"
Growing up, this was the sardonic reply I got from my mom whenever I asked her for the price of items she had recently bought. Years passed, things changed, and now she tells me exactly how much goods and services are worth and even gives me tactics to beat prices down so that I can get a fair bargain. While I deeply appreciate how prudent her help has made me become, I still wonder why she hid such information in the first place.
This experience is strangely similar to what is happening in Lagos today. It is well known that the State government, both past and present, consistently strives to improve living conditions for residents through its myriad of capital-intensive projects. However, useful information about these projects is not easy to find. Though the State's fiscal framework shows that capital expenditure constitutes a major share of the total budget, details of expenditure on individual projects are left vague or completely concealed.
Perhaps, like my mom, this information will be revealed at some point in the future. But by then, would it not be too late? Wouldn't Lagosians have already been irredeemably starved of the experience of true democracy?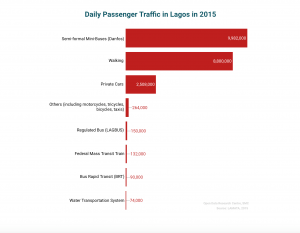 According to the Lagos Metropolitan Area Transport Authority (LAMATA), there are approximately 7000 people per square kilometre in the city. To cater for this density, it is unsurprising that transportation infrastructure continues to take top priority in Lagos since people are in constant motion. Indeed, with the expanding population, transporting oneself around the megacity is becoming increasingly difficult as a result of traffic and congestion.
In 2015, behavioural patterns tracked by LAMATA indicated that almost over 12 million people commute by road in Lagos (including the various bus systems for public transport, private cars, semi-formal mini-buses and federal mass transit train). This large and growing number of residents is likely to have adversely affected existing physical infrastructure, some of which were built to support not more than six million people. The increasing strain over the years warranted the planning and implementation of efficient urban transportation systems by the State's past administrations, especially since 2007.
Today, the continual construction of road infrastructure across the state is obviously designed to withstand the daily deluge of immigrants from other parts of the country and strengthen the State's status as a megacity. The construction of the Lekki-Ikoyi toll gate in 2014, for example, really helped commuters to travel faster to the mainland. Also, the completion of Mobil Road, Lekki Scheme II project in 2013, connecting the different local communities to the major road, was seen by many as a landmark improvement. Not least of all was the rehabilitation of Road 3, Lekki Scheme II that opened up residential development particularly in that area.
The more recent constructions of flyovers at Ajah and Agege, notorious for their near-impervious gridlocks, have also made life easier for people who travel through those roads regularly. My journey to and fro work which erstwhile took eight and sometimes ten hours has reduced significantly to a maximum of six hours.Yet, even though I have personally benefited from the construction of those flyovers, there is still something about them that leaves me disconcerted.
Roadblock
While an appreciable breakdown of information about projects carried out between 2013 and 2014 was made available to the public, there has been no data nor useful detail about projects such as the Ajah and Agege flyovers which were completed in 2017.
My engagement with these fellow Lagosians on the availability of information about infrastructure projects suggested they were mostly indifferent. Whether schools were being built or roads were being constructed, most of them couldn't care less about how public funds were being spent because they had become numbed by the persistent silence of the government. "This government will never tell you how much they spend on anything, so why bother?" one young man said after agreeing that the projects were laudable. On some days, the discussions I started on the commute to work would escalate and the whole bus would join in. But while the conversations were robust, what I discovered was quite unnerving. Even though people are open to information about how public funds are used, they have become too weary to care about its relevance to them – as though the hopes of appreciative citizens, whose cooperation is fundamental in achieving rapid development and good governance, have been irreparably dashed.