By Ben Eguzozie & Kelechi Nwaucha, in Port Harcourt
No bread, no livelihood for his people  
Mounting unemployment @ 43.7%
Domestic; foreign debts – N225.50bn; $140.18m
This morning, 29 May, Nyesom Wike's eight years rule ended in Rivers State. While he called the shots, he built and inaugurated 11 flyover bridges and about 1,500 km of roads across the state. The 12th flyover bridge was awarded a few weeks back. All the flyover bridges are built by German construction firm, Julius Berger, in Port Harcourt, the state capital. Though much of other roads are strewn in the hinterland, including the Opobo Unity Road connecting the island by land after 150 years. The outgoing governor equally inaugurated the N26 billion cancer hospital in Port Harcourt. 
According to figures from official state government sources, each flyover cost between N15 billion and N30 billion, amounting to N180 billion – N360 billion spent on flyovers alone in the last eight years.
Many adduce to Wike setting a development record in providing upscale infrastructure projects in the state – Port Harcourt and Obi/Akpor LGAs in particular. 
Splendour flyovers without human capital 
But development experts who spoke with Business A.M. in the state described Wike's plethora of projects as "splendour projects," which have neglected the "human capital" which should lay the foundation for sustained prosperity. The absence of human capital building will limit how much the oil-rich state can grow, according to the analysts. One policy analyst likened Wike to the late Josef Stalin of former USSR (1924 —1953) who gave Russians armoured tanks and bullets — but failed to provide them bread and butter. The USSR was rich, but ordinary Russians were poor and hungry. Rivers State is exquisite with infrastructure, but Rivers people lack jobs, no income, no livelihoods, the analyst told Business A.M.
"Wike is building very expensive flyovers and multi-lane city roads while public hospitals and schools are in tatters. The citizens lack access to things as basic as public water supply and drivable inner streets, while billions (were) sunk into these flyovers. How many homes have access to public water supply in the whole of Rivers State? Perhaps, less than one percent. Please, visit some public hospitals in Rivers State, and you will weep for this state. Communities in Tai, Ogu/Bolo, Oyigbo and many other local government areas are gasping for breath," wrote one development expert in a published note.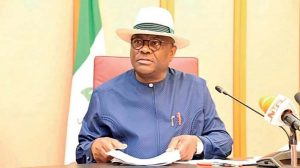 For some civil society actors in the state, Wike's administration's infrastructural development went at huge cost to the people and the state. Ken Henshaw, executive director of 'We the People', quickly pointed at the high unemployment rate and attendant poverty index in the state.
These development experts pointed at the former governor's shameful neglect of education – especially at primary and secondary. Sampler: Okrika Grammar School, Okrika LGA; Government Comprehensive Secondary School, Nkoro, Opobo Nkoro LGA, and Community Secondary School, Kalibiama, Opobo Nkoro LGA. Others are: Joinkrama Grammar School, Ahoada West LGA. This school appears dead and begging for revival. The Kalabari Girls High School, Buguma, Asari Toru LGA and the Sports Institute of Rivers State (former Sea School) in Isaka, Okrika LGA were not impacted by Wike.
No intermodal transportation 
Though Wike built roads, he however failed to provide an intermodal transportation system for the littoral state just like Lagos – water, rail, air. For instance, the governor failed to touch the N150 billion monorail project left unfinished by his predecessor and kinsman, Rotimi Amaechi. Many development experts have been advocating for multimodal transportation for Rivers – an oil and gas hub, with a subnational GDP of more than $25 billion. Daily traffic snarls are the people's experience, especially in Port Harcourt. The state remains largely a one-city state – Port Harcourt – without easy ability to connect to nearby towns like Oyigbo, Etche, Eleme, Ahoada, among others. 
Mounting debts 
Punching at the data: Rivers, under Wike, has the third highest unemployment rate of 43.7% after Akwa Ibom (45.2% and Imo (48.7%) respectively. The state has been high on the debt platform – domestic and foreign alike. Data by the Debt Management Office (DMO) indicates that Rivers is the fourth biggest debtor subnational, with a debt stock of N225.505 billion as of September 2021. The 2022 figure was not available, as no reason was given for the refusal of the South-South state to update its debt profile over a year ago. 
On the foreign debt stock, oil-rich Rivers owes $140.18 million (N91.117 billion as of June 2022), rising from $86.37 million in June 2021.