By Business AM
A $500 million agricultural industrial park is being planned for construction in Abia State from January 2023.
To be built by Power Construction Corporation of China (PowerChina), a Chinese Government-owned Global Fortune 500 Company, the project is being facilitated by Orji Uzor Kalu, a former governor of Abia State and a senator, through SWIBER Africa, a company he founded before joining the federal parliament.
The agro-industrial park, to be called United Integrated Agro-industrial Park, will sit on about 11,000 hectares of land cutting across five Abia communities
of 
Alayi, Igbere, Ozu Item, Abiriba and Ukwueke.
The plan is to build an agriculture industrial zone, which will include crops planting and processing plants for rice, cassava, cashew nut and related products, Diego Tian, chief representative of PowerChina in Nigeria, said during the agreement signing ceremony between PowerChina and SWIBER in Abuja.
Tian said the industrial park will create new industries around agriculture and generate at least 20,000 job opportunities.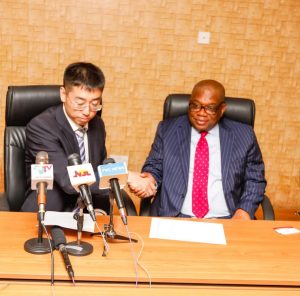 It will have processing plants for cassava and cashew nuts and warehousing for them. Ethanol and starch will be produced from the cassava section, he said.
Tian said a year or two after take-off, the project would boost Nigeria's food sufficiency to its citizens.
The park will have a staff housing and administration building standing on one hectare of land and power supply is planned around solar energy.
"A sewage treatment plant is factored into the project. This will address processing and treatment of discharge and effluent in an environmentally safe way" he said.
PowerChina in 2021 generated revenue of about $100 billion and ranks No. 100 in the Global Fortune 500 List, Tian said.
Earlier, Kalu said he would be involved in the project only in an advisory capacity, having left SWIBER to join politics.
He said the $500 million project cost would be borne jointly by PowerChina and SWIBER.
"Everything produced in the industrial park will go to feed Nigerians and for export," Kalu said.
He appealed to the federal government to come to the aid of the communities that will host the industrial park, promising that "the industrial zone will create jobs, generate income and trigger other economic activities".
The agro-industrial park project, he said, had become necessary in the face of diminishing oil fortunes.
"It is a private initiative project but the state government is aware and in support of it," he said.
Emeka Ebo, chairman, SWIBER Africa, said the funding for the project will be jointly executed by both SWIBER and PowerChina on a counterpart funding basis and thereafter, "as the project progresses, the equity stake will be defined".