Africa
AfDB scales up industrialization pace on the continent, delivers improved business access to finance, skills, energy
Adesola Afolabi was a businessamlive reporter and Head of Financial desk.
May 24, 201811.1K views0 comments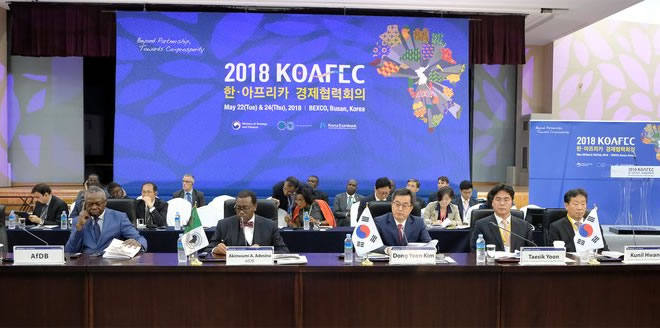 ---
The African Development Bank (AfDB) said it has scaled up industrialization pace on the continent as it has delivered improved business access to transport, energy and skills in the past year.
The development bank made the disclosure Thursday in its Annual Development Effectiveness Review (ADER) released at the Bank's annual meetings in Busan, South Korea.
"In 2017, companies had improved access to transport, energy, and skills, which expanded their ability to do business across the continent," the AfDB noted, adding that it contributed to these improvements by providing 14 million people with access to transport – well above its target, building or rehabilitating 2,500 km of roads in 2017 and also helped 210,000 small and micro businesses access finance, which benefitted 2.6 million people.
It said its efforts to accelerate the pace of industrialization were equally supported by its presence in 38 countries as well as timely and quality operations.
Every year, ADER scrutinizes the Bank's operational effectiveness and its organizational efficiency, using the Bank's results measurement framework for 2016-2025. It brings together evidence of strengths and weaknesses to provide management with a clear understanding of what has worked well and what the Bank must do better to achieve its High 5 development goals.
"The report shows that the African Development Bank is delivering on its commitment to help Africa achieve the Bank's High 5 priorities," said Charles Boamah, Senior Vice-President, adding: "The Bank continues to strengthen its effectiveness as an organization, while scaling up its operations."
This year's ADER has a special focus on industrializing Africa.
"There are good reasons to be optimistic that industrialization is achievable in the coming years. Africa is open for business, with stable economies and supportive business environments," said Akinwumi Adesina, AfDB president.
"It has a young and growing workforce that is increasingly global in outlook. Urbanization and the rise of the African middle class are opening up new consumer markets, which act as a magnet for investors."
"This level of performance is promising, but we must continue driving operational delivery and impact," said Simon Mizrahi, Bank Director for Delivery, Performance Management, and Results.