Coronavirus
ATCON donates medical supplies to Lagos health ministry as lockdown eases
May 5, 2020789 views0 comments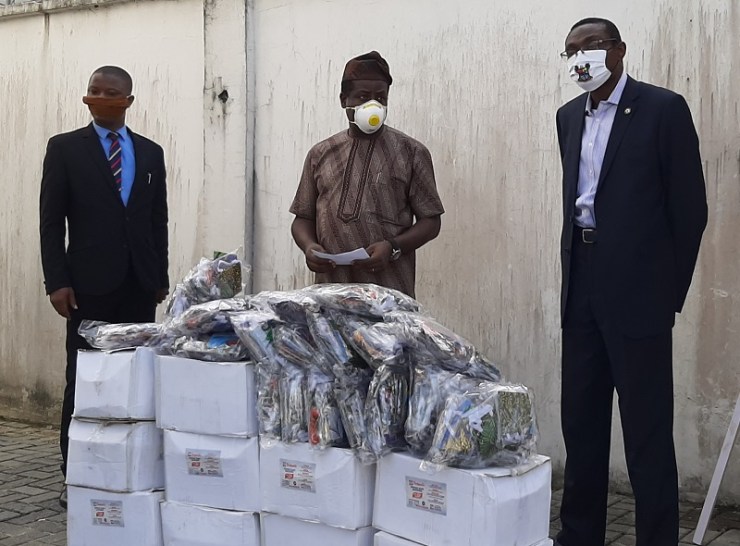 By Omobayo Azeez
The Association of Telecommunications Companies of Nigeria (ATCON) Tuesday donated medical supplies to the Lagos Ministry of Health, following eased lockdown in the state.
Olusola Teniola, ATCON president, said being the second day after the lockdown in the state, the telecoms operators intended to present the medical supplies to curb further spread of coronavirus the country's most populated state.
While handing over the supplies to Professor Akin Abayomi, honourable commissioner, Lagos State Ministry of Health, Teniola lauded Babajide Sanwo-Olu, the state governor for his notable efforts at curbing the spread of Coronavirus outbreak in Lagos through Lagos Ministry of Health.
"Aside from our physical appearance today, our members have supported and still providing quality support to all Isolation Centres in the state by the provision of free internet service at all the centres and subscribers were given the opportunity of sending messages to their loved ones without paying for them.
"In an attempt to further express our solidarity and support for the good work the state and your ministry have been doing to stop the further spread of COVID-19 in Lagos, our members have put together some medical supplies like locally made Facemask of 2,000 pieces which is to support the initiative of MaskLagos by Mr. Babajide Sanwo-Olu, Executive Governor of Lagos State and 18 dozens of 500ml Alcohol Hand Sanitizer," Teniola said.
He further stated reiterated operators' "unflinching support to your ministry in the fight against COVID-19 in Lagos and in the entire nation".
While receiving the medical supplies, Akin Abayomi, the health commissioner, appreciated ATCON for its magnanimity and sense of responsibility to join force in the collective war against the deadly disease.
He emphasised the commitment of the state government to contain the situation on effectively as necessary, stressing that Mr Sanwo-Olu is mobilising resources and various initiatives to phase out coronavirus cases in the state.
Recall that despite the lockdown, Mr Sanwo-Olu had, despite the eased lockdown by the Federal Government, said: "We do not want people to rush out  and see the easing of the lockdown as an attempt to believe that the spread of the pandemic is all over."