Commodities
Bearish cocoa? Here are five reasons the worst may be over
June 1, 20171.4K views0 comments
If you thought Ivory Coast's record cocoa crop was enough to keep the bear run going, you may need to rethink.
Cocoa futures almost halved from July to April on expectations that a bumper crop in top producer Ivory Coast would add to a global glut. But prices have since rebounded 15 percent, with the July contract surging by a record on Tuesday. And there are other signs the recovery may continue.
With processing margins at the highest in more than a decade, factories will likely buy more beans to make cocoa butter and powder used in chocolate products. At the same time, bigger-than-expected forward sales from Ivory Coast mean there might not be much more left to offload. Lower prices and higher input costs could also prompt farmers in West Africa to curb production.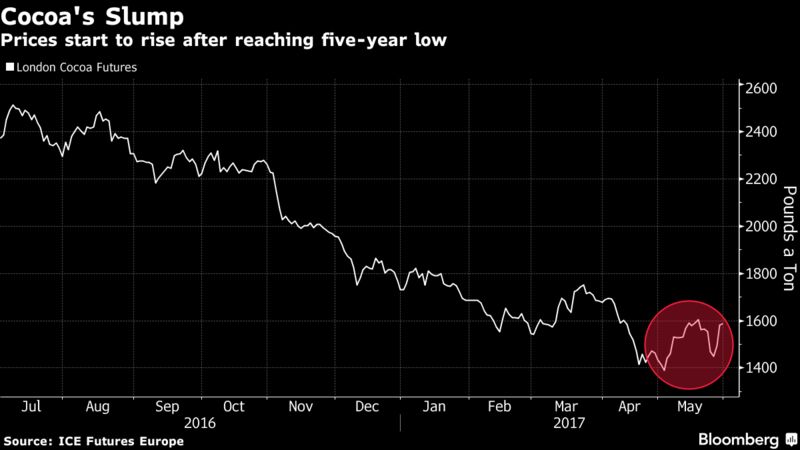 "With time, low prices will eventually trickle down into the market, encouraging consumption and discouraging production," Eric Bergman, a commodities broker at Jenkins Sugar Group Inc., said by phone Tuesday.
Here are five reasons to be a bit more positive on prices:
Processing Margins
The price slump since mid-2016 is helping grinders to earn more money making cocoa products. The so-called combined ratio, a measure of profitability, last week reached the highest since 2005, according to KnowledgeCharts, a unit of Commodities Risk Analysis.
That will probably help processing to rise 3 percent this year, Bergman said.
Forward Sales
Ivory Coast has already sold 950,000 metric tons of cocoa from the bigger of two annual harvests that starts in October, a person familiar with the matter said. That's more than the 800,000 tons most traders had expected, said Eric Sivry, head of agriculture options brokerage at Marex Spectron Group Ltd.
"The number surprised and traders may have translated it into something along the lines of 'There is much less origin selling left around'," he said.
Future Production
Farmers are under pressure. Ivory Coast has cut the price paid to growers by a third for the smaller of two annual crops. In No. 2 producer Ghana, the industry regulator said it would end the supply of free fertilizers to farmers. Starting this month, growers have to pay 70 percent of those costs.
"Low prices are the best cure for low prices," Judy Ganes-Chase, president of J. Ganes Consulting, said in a report earlier this month. "Farmers will be cutting back on inputs and this will cause production to ease again and reduce the potential for back-to-back large surpluses."
Speculative Position
While hedge funds aren't as bearish as they were at the start of May, they've been betting on lower prices since November, reversing a bullish outlook that had stretched back to 2012. That could trigger a short-covering rally should there be more signs of tighter supply.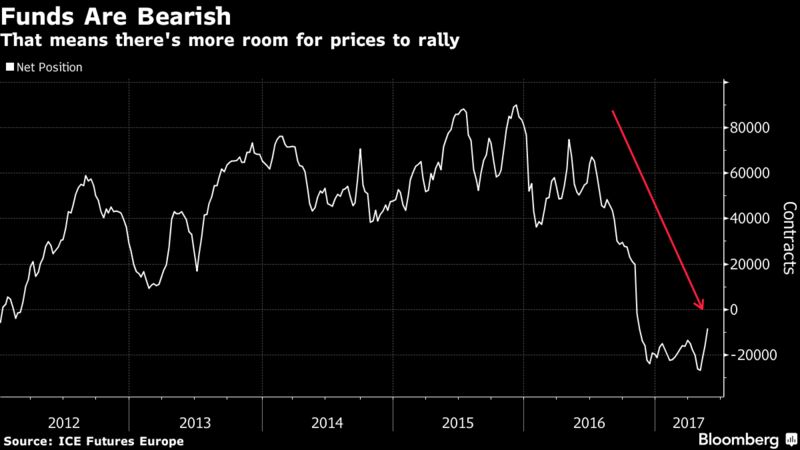 "The bloated speculative short position led to covering over the past month, causing a rally in the outright price," JSG's Bergman said.
Chocolate Sales
After two years of declines, global chocolate sales will expand by 0.6 percent this year, according to Euromonitor International. Demand growth will accelerate to 1.1 percent next year and 1.4 percent in 2019, according to the London-based consumer research firm.
---
Courtesy Bloomberg