Interview
Business, entrepreneurship in the beautiful art of ceramic
February 8, 2021813 views0 comments
Ceramic art has a long history in virtually all developed cultures around the world and is revered as one of the noble professions that celebrate the cultural heritage of a society. Cultures such as the Chinese, Greek, Persians, Japanese, Mayan are revered for the cultural impacts of ceramic art which, in many cases, have become national artefacts.
Ceramic art in Nigeria, according to historical and archaeological evidence, had been in existence over 3,000 years ago, evidently in the extinct Nok culture and till today, continues to be a respected art form. Little wonder, the late Ladi Kwali, a renowned ceramic artist (pottery) has her name and picture immortalised on Nigeria's currency (N20 note), the only Nigerian woman to be accorded such honour.
However, ceramic art as a business and entrepreneurial craft has not been able to generate the anticipated financial support and patronage needed to boost its sustenance in the Nigerian market. This was made known by ESTHER AGBOLADE, ceramics coordinator, Oshodi Art Gallery, Lagos, during an interview with Business A.M.'s ONOME AMUGE. Excerpts:
Can you give us a glimpse of what ceramics art entails?
Ceramic arts are generally made by taking mixtures of clay and water, shaping them into desired forms. Once the ceramic has been shaped, it will then be heated in a high temperature oven known as a kiln. Often, ceramics are covered in decorative, waterproof, paint-like substances known as glazes. The glaze has a special, shiny effect on the ware (ornament, plate, cup, pottery etc.) being produced and it is the final production stage of the ceramic work.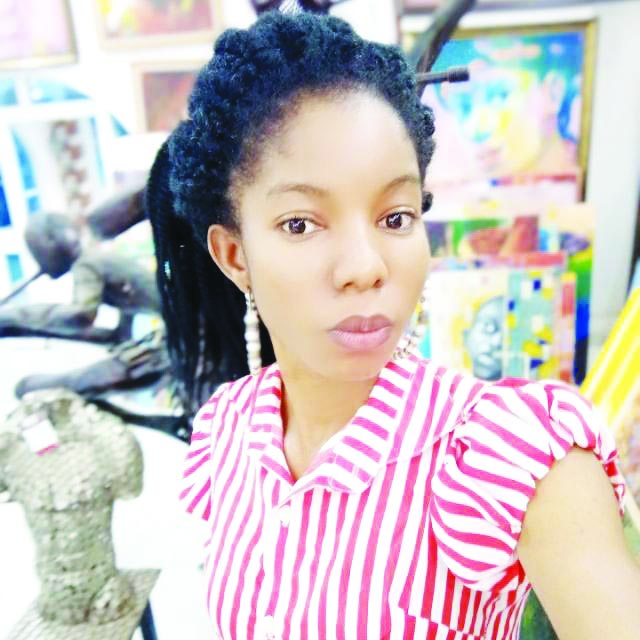 What inspired your decision to become a ceramic artist and how has the experience been?
Initially, I wasn't an art student. I was a science student aspiring to study Nursing at Ladoke Akintola University of Technology (LAUTECH). However, I was shocked to see Fine and Applied Art on my admission slip. I was left with no other option due to the fact I had been seeking admission for long, hoping I would change my course later to Nursing. Interestingly, I discovered fine art to be much better than anticipated. The course had specialisations that included ceramics, sculpting, painting, textile and graphics. I developed an interest in ceramics. My interest grew by the day and I began to enjoy working with clay and its resultant transformation. I began making money from ceramics while still in school and after graduation, I decided to make it a career business and it is working fine for me. I also train people on ceramic art as well.
What have been your challenges and accomplishments so far?
My major challenge is that people do not really appreciate art work over here compared to developed parts of the world. Many who patronise us do not really understand the monetary value of the works and offer to buy them at ridiculous prices. More so, the government has not been helping matters because they have not been encouraging ceramic artists. For instance, many of the made-in-China ceramic plates, jugs and the likes are what we can produce in this country but since local producers are not appreciated, it makes us feel undervalued. I am grateful that there are still some Nigerians who appreciate what we offer to the world and love to patronise us. Ceramic art has enabled me to travel to many places to exhibit my works, connect with people and generate sustainable revenue. It has also offered me the chance to be independent and in return, train people who aspire to engage in the business.
What is your assessment of the economic relevance of ceramics art?
Ceramic art is more than just a craft. It is a financially buoyant and sustainable business if the right measures are put in place. As ceramic artists, we make a lot of sales on a good day. Aside from the production of ornamental and aesthetic wares which people decorate their homes with, we deal in the production of household wares such as cups, plates, pots, etc which are indispensable items in every home.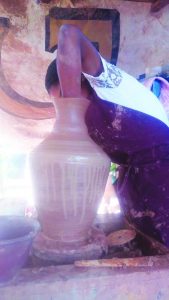 Do you belong to any ceramic art-related association?
Yes, I belong to two associations. One is Vision in Clay Association and the other is the Nigeria Potters Guild, a national association.
What are the roles and objectives of these associations towards the development of ceramic art?
In these associations, we develop skills and technical abilities on how to make what we do a business rather than just an art. We also organise exhibitions where artists can sell their works at good prices and project their works to the outside world. The associations also help develop upcoming ceramic artists.
In what ways do you think the government can support ceramic artists and also expand the business?
The government should show more interest in what we do. At least, they should give us the opportunity and an enabling environment for us to show what we can do. Rather than importing many of these ceramic products, they should patronise us and also encourage Nigerians to patronise us as well. Another thing is the provision of glaze materials at subsidised rates. At present, it is difficult to get quality glaze materials for our works. Most often, we order them from other countries, which is very expensive. If the government can help with this, we won't have much of a problem.
Has any corporate body or financial institution shown interest in supporting ceramic artists in Nigeria?
Maybe in the past but I am yet to see any support since I became a certified ceramic artist.
In what way do you think they can support ceramic artists?
They can do this by granting easy access to loans and sponsorships because ceramic art is a capital intensive profession and needs financial backing to maintain relevance.
What is your advice for those interested in taking up ceramic art as a business?
Ceramic business demands dedication and determination. It covers a wide scope ranging from sourcing of raw materials to machinery and equipment. The beginning may not be rosy but if taken seriously, one will surely make a breakthrough.