China and the United States have agreed to keep talking about their trade dispute, the Chinese government said on Tuesday, as U.S. President Donald Trump said he thought recent discussions in Beijing would be successful.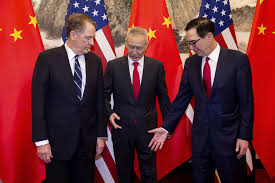 The slightly more optimistic comments came after both sides ramped up their trade war, with China announcing details of new tariffs against U.S. imports on Monday, following a U.S. move last week to target Chinese imports.
The U.S. Trade Representative's office said it planned to hold a public hearing next month on the possibility of imposing duties of up to 25 percent on a further $300 billion worth of imports from China. Cellphones and laptops would be included in that list but pharmaceuticals would be excluded, the office said.
The prospect of the global economy being derailed by the United States and China sliding into a fiercer, more protracted dispute has rattled investors and sparked a sharp selloff on equities markets in the past week.