Oyeleye
Crisis hotspots and Africa's security (7)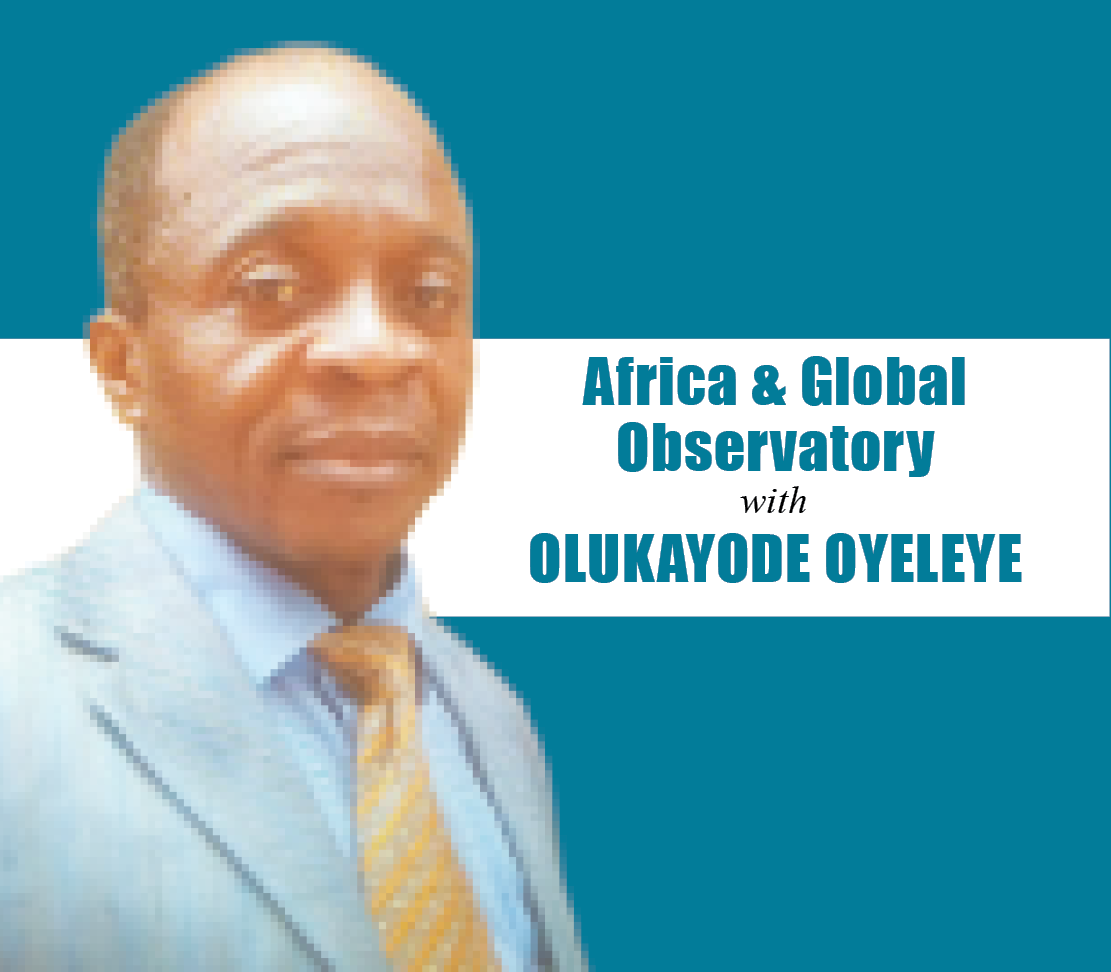 Dr. Oyeleye, a consultant, journalist and policy analyst, can be reached via:
oyeson2@yahoo.co.uk
Twitter: @OlukayodeOyele1
December 5, 2022276 views0 comments
WEST AFRICAN SUB-REGION is undergoing some security challenges that began insidiously, but are now burgeoning to existential crisis. In the past decade and a half, the sub-region has become a hotbed of insecurity, with the unprecedented rise in cases of terrorism, in various forms, involving the death of hundreds of people, displacement of millions of people as well as destruction of public and private properties. The future of the sub-region is therefore dreary and dreadful, except something urgent and drastic is done to halt the drift. The Economic Community of West African States (ECOWAS) has historical and contemporary relevance on governance issues within the sub-region. But experiences in the recent past do not appear reassuring as terrorists steadily and easily expand their spheres of influence, with increasing affirmation of their authorities in territories under helpless formal governments. The inability of ECOWAS to respond effectively to sub-regional security challenges is worrisome.
With the rate at which security situation in West Africa is deteriorating, it is logical to ask whether member states are really committed to a regional approach to counter-terrorism. Nearly three years after adopting an action plan to 'eradicate' terrorism in ECOWAS, and despite expressions of support by member states, the sub-region has made little progress. Yet, the security challenges facing the regional body continue to develop. Available statistics are troubling. The Global Terrorism Index report for 2022 revealed that almost half of all terrorism deaths globally occurred in Sub-Saharan Africa. Within the Sub-Saharan Africa, half of the Sahel region that is home to most deadly terrorists in the continent is in West Africa. The terrorism threat initially confined to the Sahel region has now spread eastward and southward towards coastal countries.
Recently, Amina Mohammed, speaking on behalf of Secretary-General António Guterres, was quoted as saying that nowhere has terrorism been felt more keenly than in Africa, noting that terrorists and violent extremists, including Da'esh, Al-Qaida and their affiliates have exploited instability and conflict to increase their activities and intensify attacks across the continent. "In today's hyperconnected world," she added, "the spread of terrorism in Africa is not a concern for African Member States alone. The challenge belongs to us all." The spread in terror did not happen in isolation. Environmental crisis, local hostilities and poor standard of living are contributory. The effective multilateral responses needed to address concurrent and converging threats – such as the worsening climate crisis, armed conflicts, poverty and inequality as well as legal loopholes in the cyberspace – seem lacking in West Africa.
It seems unlikely that anything drastic will be done by the sub-regional body anytime soon, going by historical antecedents. Since 2013, the same ECOWAS that passed a regional counter-terrorism strategy and implementation plan has never implemented it. Although ECOWAS adopted the 2020 to 2024 Action Plan in 2019, on a planned budget of $2.3 billion, the seeming lack of enthusiasm for the latest action plan raises doubts about its prospects for success. The growing concerns about the traceability and transparency of financial flows in the West Africa region show the level of seriousness of terrorism in the sub-region. It could be that the various national leaders and sub-regional technocrats are just complacent, too comfortable or are yet to grasp the profundity and wider dimensions of the terror crisis. It may be worth emphasising that terrorism thrives under a circumstance of easy flow of money, and West African states seem just too conducive to their operations, especially since terrorists cannot maintain their operations without a regular flow of funds.
Some intellectual underpinnings may be necessary to contextualise the subject, especially for government officials of various sovereign states and representatives of governments as terrorist incursions are weakening such national sovereignties in many countries. Terrorism, according to late Kofi Anan, is "any action that is intended to cause death or serious bodily harm to civilians or non-combatants, with the purpose of intimidating a population or compelling a government or international organisation to do something or not to do something." This should provide a clear understanding for individuals and nations, in which case those in authorities would know the trouble and challenges facing the helpless populace.  Combatting cross-border terrorism financing poses numerous challenges and obstacles, including finding a balance between implementing strict regulations while ensuring that enterprises and non-profit organisations (NPOs) receive support to carry out their work.
Countering international terrorism within and outside the West Africa requires a good knowledge of, and insight into, the financing of Terrorism in the sub-region. It is therefore important to identify priorities to prevent and counter terrorism and violent extremism. Earlier in June this year, the Global Counter-Terrorism Forum West Africa Working Group (GCTF WAWG), co-chaired by Germany and Algeria, held their fourth plenary meeting in Accra, Ghana. The meeting supported financially and organised by the United Nations Office on Drugs and Crime's (UNODC's) Terrorism Prevention branch in the regional office for West and Central Africa had more than 100 representatives of West African countries, GCTF member states, and regional and international partner organizations such as G5 Sahel, ECOWAS, INTERPOL, the Accra Initiative, the International Academy for Countering Terrorism, United Nations agencies, the Intergovernmental Action Group against Money-Laundering in West Africa, and the Integrated Development Authority of the Liptako-Gourma states.
Specific identified areas considered relevant for future actions include border security management, the strengthening of law enforcement cooperation, countering terrorism financing, preventing the acquisition of weapons and improvised explosive devices' components by terrorist groups, and ensuring the integration of the gender dimension in counterterrorism and prevention of radicalisation responses. It is hoped that this synergy will lead to more efficient counter terrorism efforts." Accra Initiative to prevent terrorism was originally launched in 2017 by five countries, namely Benin, Burkina Faso, Côte d'Ivoire, Ghana and Togo) to deal with the spillover of terrorism from the Sahel region. The members became seven after Mali and Niger joined in 2019, first as observers, given their proximity to coastal states and their experience in countering violent extremism. This is different from the G5 Sahel group in which Mali, Niger and Burkina Faso are also members.
It is interesting, however, that Nigeria, a coastal country with one part bordering on the Sahel, and with the biggest population in Africa has been hosting terrorists within the past 13 years despite its military strength and financial might. It has thus failed to lead the effort, with all the military might and financial might. The Accra Initiative, seen as a cooperative and collaborative security mechanism, is anchored on three pillars: information and intelligence sharing; training of security and intelligence personnel; and conducting joint cross-border military operations to sustain border security. The Accra Initiative was described as "a cooperative and collaborative security mechanism between seven West African countries as they face increasing threats and attacks from Islamist militants across their northern borders in Burkina Faso and Niger."
Although member countries disclosed that their "assessment points to the fact that support from members of international community will be needed," they nonetheless promised to "remain firm in our commitment to shoulder a greater part of the responsibility required while engaging international partners who are willing to respect our status as a home-grown initiative." How far they can go in fulfilling their promises is a matter of conjecture, specifically as funds from the member countries are in short supply on sub-regional security while Western nations such as Britain, France and Germany are withdrawing from peacekeeping operations in Mali, a situation likely to exacerbate the porous security situation in West Africa. Another major worrisome development is the filling of vacuum created by the withdrawal forces from Western Europe by Russia. West African countries are therefore now faced with the onerous task of providing adequate and timely funding for regional security.
Ghana's President Nana Akufo-Addo may have been expressing his deep concerns during his address at the maiden high-level counter terrorism conference of the Accra Initiative in November, as he said "it has become imperative for member states to collaborate to counter rising levels of terrorism." His worries may have informed his idea that, "today, the terrorist groups emboldened by their apparent success in the region are seeking new operational grounds, a development that has triggered the southward drift of the menace from the Sahel to coastal West Africa." The goal of the Accra Initiative, he said, is to curb that spread of terrorism. He added that member states will still require their foreign partners to support them. This alone calls to question what the Accra Initiative or G5 Sahel could achieve without external funding support, especially when some of those terrorists are funded heavily from external sources, particularly their foreign allies.
The Accra Initiative is no longer a new thing. It was launched in September 2017 by Benin, Burkina Faso, Côte d'Ivoire, Ghana and Togo in response to growing insecurity linked to violent extremism in the region, according to the Institute for Security Studies. Burkina Faso was considered a buffer against the spread of violent extremism to coastal states.  International interest in preventing regional instability is growing, but two years after the Accra Initiative was launched, little is known about it and its prospects for success. And, although little is known about the initiative, it has significant potential for individual states and the region if properly utilised. Any counter terrorism endeavours in Africa requires preventive approach, which is still capital intensive, even if it is cheaper than fighting with an already established terrorist group. It will require reliable and sustainable supply of funds since earlier regional military interventions to ensure peace and safety did not last.
Before the coming of terrorism, ECOWAS countries relied on the regional military monitoring group (ECOMOG) for peace keeping. This, in essence, entailed political interventions within specific territorial boundaries as ECOMOG's intervention succeeded in temporarily stopping the bloodshed and ethnic killing in those cases. However, ECOMOG was later accused of atrocities and egregious crimes of human rights abuse in Liberia and Sierra Leone over 30 years ago, to which there was no accountability even after formal peacekeeping role ended. What then happened this time to the same regional body that could provide trained men and military hardware during ECOMOG's time? It is no longer in doubt that terror groups are making attempts to gain a foothold in the northern borders of coastal states. But how can they be repelled and defeated?
Realising that, of recent, these terrorists are aiming beyond merely infiltrating into countries with jihadism, West African countries' leaders need to guard against legal and political vacuums that the terrorists often exploit to advantage, and should block them. Afghanistan's Taliban's operations provide an example. The aim of some of these terror gangs could be state capture, in which case they could make attempts to overthrow the governments of some of the small countries within West Africa and foist their own beliefs and cultures over the populace. The presence of these terrorists in any one country is a potential threat to any other contiguous country. National leaders who rely on, or are currently benefitting from donor support in finance should be acutely aware of donor fatigue, in which case the donors could scale down or discontinue their funding support for a variety of reasons. West African countries should make countersecurity a top priority and must be ready to take up the bills while considering external help as just mere additions, not the core sources of funds.
Successive weak governments characterised by corruption, impunity, and ineptitude have failed to provide security for vast lands and large proportions of the population they governed. The people are thus vulnerable to brutal attacks from hardened criminals. Within the Sahel, the military forces are often poorly trained, poorly equipped soldiers and are often not paid on time by corrupt officers, leading the unpaid troops into rampaging or deserting, as reported in Nigeria. A proper overhaul of regional security apparatus will therefore require beginning from individual host countries. Without these, the prospects of West Africa's security remain rather gloomy. It is hoped that the sub-region will not be soon overrun by terrorists while those in political offices sit idly and watch. It is only hope which, without efforts, may fail.