Agency
Companies
Markets
Dangote Cement sees Q3 revenue rise 34.2% as 9-months' in at N761.4bn
November 11, 20201.3K views0 comments
By Charles Abuede
Dangote Cement Plc, a subsidiary of the Dangote Group and the largest cement manufacturer in Africa, has reported a 34.2 per cent year-on-year growth in its revenue to N284.59 billion for the three months ended September 2020 from N212.06 billion recorded during the same period in 2019, it stated in its consolidated financial statements filed at The Nigerian Stock Exchange (NSE).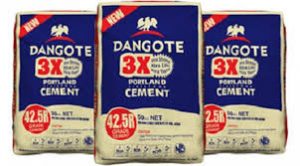 An examination of the company's financials shows that on a 9-month operational period, the group revenue surged 12 per cent from N679.79 billion in 2019 to N761.44 billion by the close of 9 months in 2020. The report further revealed that there was a 36.2 per cent increase in the profit after tax (PAT) to N208.68 billion from N154.35 billion in 2019 while its profit before tax (PBT) saw a 37.6 per cent uptick from N197.68 billion in 2019 to N271.96 billion after 9 months in 2020.
In an investor presentation accessed by Business A.M, the group stated that in the third quarter of 2020, the efficient production ramp-up and marketing efforts enabled the company to seize the strong market demand and pull-effect created by the National Consumer Promo (Bag of Goodies Season 2), the reduced rains, which have supported the construction sector massively, a low-interest-rate environment, which drove strong demand and  increasing real-estate activities,combined to drive the revenue growth in the Nigerian cement market during the third quarter; while its Pan-African operations increased, following the relaxation of COVID-19 restriction measures.
Also, the cement manufacturing giant's resilient performance can be attributed to the positive impact of cash and cost optimisationprogrammes launched in Q2, with the group's net cash flow from operating activities increasing by 27.9 per cent year-on-year. Thus, group sales volumes rose by 6.6 per cent to 19.2 metric tonnes despite the significant impact of COVID-19 in Q2; while the Nigeria sales volumes were up 10.2 per cent.
It said the company successfully seized the strong demand in Q3 and met customers' expectations across all states.
However, despite the COVID-19 impact and the closed land borders for over a year, Dangote's domestic cement saw a 13 per cent growth in its cement export as exports by road to ECOWAS resumed after 10 months, but with restricted volumes, while cement exports by the sea are being explored. Consequently, the increase in domestic and export volumes have resulted in stronger fixed cost absorption.
On the pan-African scene, the group recorded high earnings before interest, tax, depreciation and amortization (EBITDA) margin of 22.4 per cent while it recorded a 37.9 per cent increase in EBITDA to N52.1 billion despite the lockdowns and restrictions in the second quarter of 2020. Thus, sales volumes advanced 3.7 per cent at7.5 metric tonnes, while revenues from countries of operation saw an uptick of 9.1 per cent to N232.6 billion, supported by higher prices and volume growth.
At the same time, sales volume growth and cost improvement in six of the group's nine operations saw Ethiopia, Congo and Cameroon recording strong growth, as well as continued strong performance in Senegal.