Oil and Gas
Dangote Refinery to employ over 250,000 Nigerians
November 19, 2020949 views0 comments
Dangote Refinery and Petrochemicals, an industry established by Aliko Dangote, president of Dangote Group, is targeting employing over 250,000 Nigerians when it commences operations next year.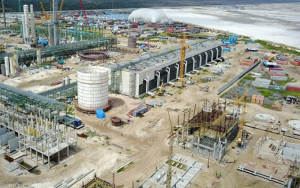 Devakumar Edwin, executive director, Strategy and Capital Projects, Dangote Industries Limited, made the disclosure during an inspection of the site in Lekki, Lagos State.
According to him, Dangote Industries Limited is the highest employer of labour outside the federal government and the 650,000 barrels per day project has the potential to turn around Nigeria's economy with the employment of thousands of Nigerians for direct and indirect jobs.
Speaking further, he stressed that the huge unemployment rate of Nigerian youths and the need to make the country self-reliant in fuel consumption and attract much needed foreign exchange through export of the products were major factors that motivated Dangote to venture into manufacturing.
In the same vein, Edwin also assured that Dangote Fertilizer plant's products will hit the market this month with the conglomerate already recruiting youths into its various agricultural schemes and other subsidiaries
He assured that Dangote Fertilizer Limited has a well-equipped fertiliser soil testing laboratory to ensure efficiency of the product for farmers. He also explained that the goal of the company's soil testing is to provide an accurate assessment of the soil's fertility to make fertiliser recommendations for farmers.
Edwin maintained that Dangote Fertilizer would make Nigeria become self-sufficient in fertilizer production with the capacity to export the products to other African countries.
Speaking on Dangote Refinery's employment generation capacity, Olawale Timothy, director-general at Nigeria Employers' Consultative Association (NECA), commended the promotion of the refinery stating that the potential to create 250,000 direct and indirect jobs on completion will greatly reduce crime and poverty in Nigeria.
He also stated that the kind gesture by Dangote Refinery will greatly reduce the menace of insecurity, which he noted, has become a major issue in the country.