Oyeleye
Ending conflicts and food crisis in Africa (3)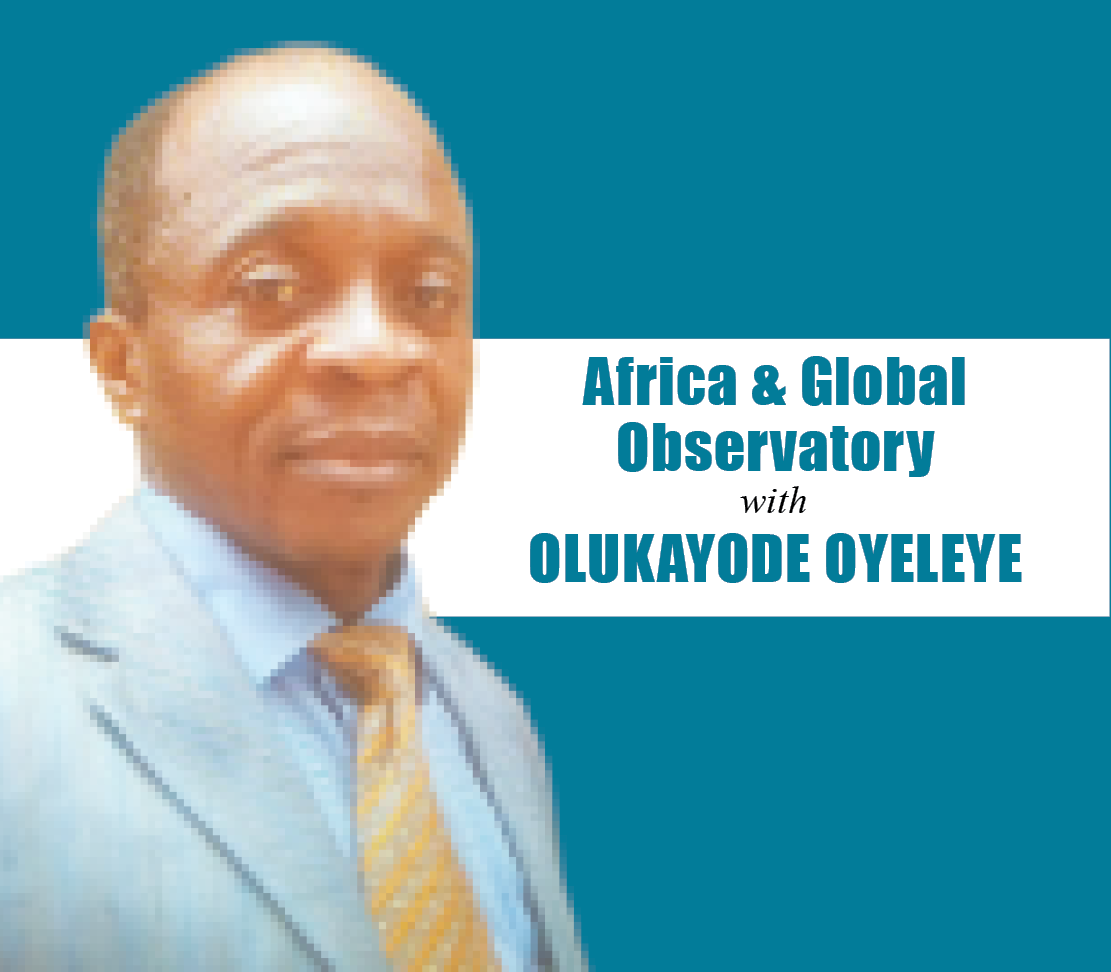 Dr. Oyeleye, a consultant, journalist and policy analyst, can be reached via:
oyeson2@yahoo.co.uk
Twitter: @OlukayodeOyele1
October 26, 2020963 views0 comments
NIGERIA, THE LARGEST COUNTRY in Africa by population, has experienced two weeks of unbroken street protests involving the youth who have been expressing their dissatisfaction with government in the handling of security and a few other social and economic issues. On security in particular, their grouse began with complaints against a notorious operational arm of the Police, accused of wanton extortion, torture, terror on, and killing of, innocent citizens. The police authorities found it difficult to dispute any of these allegations as victims have begun to come forward to buttress their claims. The Police high command's hurried response in disbanding the notorious arm and the equally rushed inauguration of a replacement without having dialogue with, or receiving inputs from, the public raised some suspicion. The protests which were gathering momentum came to an abrupt halt with the interference of the army officials who shot indiscriminately, not to disperse the protesters in Lagos, killing no fewer than a dozen unarmed protesters early last week.
Such mindless killing by using lethal force, history has shown, has the tendency to achieve unintended consequences. Rather than serving as a deterrent for others, Nigeria's experience of last week may spark off repeated protests within the country, and may encourage the youth in other countries of Africa to protest against the failures of their governments. There are many explanations for the inappropriateness of such a barbaric approach to silencing protesters who are essentially the youth. Foremost, Nigeria is a country that is experiencing a 'youth bulge' that could be turned into advantage by any discerning government or turned into an army of dissents, demonstrators and anti-state activists, depending on how well or how poorly the government engages with them.
The wealth of Nigeria in the form of human capital has been overlooked for a long while. Evidence-based governance would have shown the government that such a category of the populace is delicate and needs to be handled as such. Statista, a think tank, gave age structure in Nigeria in 2019 as people who are 65 years and older constituting 2.74 per cent of the population, those in the age bracket of 15 to 64 years making up 53.57 per cent and the remaining 43.69 per cent of the population being in the age bracket of 0 to 14 years. The global revision of the World Population Prospects in 2017 estimated Nigeria's adolescent and youth population of the age bracket of 10 to 24 years at 60 million or 30 per cent of the population then, disaggregated into 30.57 million males and 29.53 million females. The proportion of the youth within the total national population is easier to fathom from World Population Review's estimated current population of Nigeria as 207,741,364, based on projections of the latest United Nations (UN) data. As of August 2020, the report of the National Bureau of Statistics (NBS) indicated that 13.9 million Nigerian youth are unemployed. The age range these NBS unemployment statistics referred to will need to be put in appropriate perspective.
It is not difficult to situate the October 2020 unrest, which only found expression and a springboard in the anti-police protests. The unpreparedness of the government of Nigeria for the protracted protests was obvious. The eventual global spread of the protest was also least expected by the government of Nigeria. Nor was the government aware of any possible outrage arising in the aftermath of the easing of the Coronavirus restrictions. The idea of the 'new normal' arising in the aftermath of the Coronavirus pandemic seems surreal to those in power and its reality appears remote in their reckoning. But a July 2020 report from Verisk Maplecroft, a think tank, has warned that as economic impacts of pandemic unfold, the ranks of global protesters are expected to swell beyond the numbers seen in 2019, and unrests are expected to sweep across many emerging and frontier markets. According to projections in the data provided, 37 countries are expected to face significant spikes in unrest during the second half of this year 2020, driven by a painful post-pandemic economic recovery that will inflame existing public dissatisfaction with governments. Nigeria just had a foretaste of that prediction.
Underscoring the lack of awareness or understanding of this emerging scenario and the possible negative consequences of official missteps and inappropriate responses, Nigeria's government chose to deal with the situation with brute force rather than strategic thinking. The outcomes are swift and far-reaching as various organisations across the world have started to take on the Nigerian government, calling it to account for felling young Nigerians in their prime. The report disclosed that "economies facing a 'perfect storm' of risks are mostly concentrated in Africa and Latin America, including Nigeria, DR Congo, Venezuela and Peru. But investors in key emerging markets such as Bangladesh, Turkey and Egypt will also need to brace for a turbulent end to the year." It did not spare some bigger economies as it pointed out that "other major markets also at risk" include Brazil, Russia, Turkey and India.
Comparing the performance of 142 countries in the projections for the next six months in its Civil Unrest Index, Verisk Maplecroft identified 37 countries with both a low level of recovery capacity and high projected levels of unrest in the next six months. These include the important emerging markets of Nigeria, Pakistan, Bangladesh and Ethiopia, which face a 'perfect storm' of popular anger as protests driven by the pandemic's economic fallout inflame unrest over pre-existing grievances." In Nigeria, one of the pre-existing grievances was that of the oppressive, obnoxious and unprofessional arm of the Police that warranted public outcry and a demand for its dissolution. However, "several major markets, including India, Brazil, Russia, South Africa, Indonesia and Turkey, sit just outside the 'perfect storm' category. While risks in these countries are slightly less acute, they will remain significantly elevated."
Nigeria not only needs to watch out for more cases of flare up of civil unrests in 2020, it also needs to be ready to manage those arising from countries in its immediate neighbourhood, particularly as a step towards preventing the spread from them into Nigeria. In sub-Saharan Africa, the report alerted that the risk of protests in key markets to watch is expected to intensify amid economic decline, poverty, and inequalities in Nigeria, Ethiopia and DR Congo. The economic inequalities form part of the grouse of Nigerian youth who complain that politicians in a legislative arm of the central government earn obscenely huge monthly salaries estimated at $58,000 per capita whereas the government struggles to pay barely $60 minimum wage for civil servants and $106 for the junior police officers. This volatile climate only requires a spark to set off major unrest. An example of this has happened in Ethiopia, where recent mass protests, triggered by the killing of prominent Oromo activist musician Hachalu Hundessa, claimed 166 lives.
Nigerians might soon find reasons for regrouping to protest on another core issue – food insecurity. The hollowness of official assurances that Nigerian government is supporting food production will soon be widely recognised when the inability to guarantee adequate food supplies and the reality of food price inflation becomes widespread in impact. The Civil Unrest Index report suggests that, "in Nigeria and DR Congo, growing food insecurity is stoking anger." It added that, "although rice production in Nigeria is increasing, it is still insufficient to feed Africa's most populous country. Lagos has seen food prices rise by up to 50 per cent in recent months and it's a similar picture in DR Congo, where the rising cost of staples has led to unrest in Kinshasa and other cities, including the mining hub of Lubumbashi."
What cannot be glossed over or wished away is the disclosure that, "in the most vulnerable states, from Chile to DR Congo, Nigeria and beyond, the ranks of protesters marching against long-standing grievances will likely swell with millions of newly unemployed, underpaid and underfed citizens, posing a risk to domestic stability with few parallels in recent decades." The Nigerian experience in October 2020 should serve as a lesson from which political leaders should learn quickly and re-order their official priorities and policies to bring back the country from the brink. Repressive measures, creation of fear and panic or unleashing terror on those protesting against government's failures are unlikely to cow the populace into slavish fear or submission. The onus is on Nigerian government to realistically assess their shortcomings, positively engage the populace and apply global best governance practices. It is time to speedily implement policies that have positive impacts on people across the socio-economic spectrum through pragmatic reforms in remunerations that eliminate inequalities, create jobs, provide food, better infrastructure and guarantee public safety. The government of Nigeria still has time and opportunity to redeem its image by acting promptly and decisively in correcting the ills that trigger public outrage. The government needs to be transparent and closer to the populace, providing appropriate information on its activities on a regular and consistent basis. The government of the country can still make up for the lost time and redeem the image it has frittered away.