By Omobayo Azeez
Indicators of the Nigerian equities market maintained northward movement at the close of midweek trading session on Wednesday as investors recouped N18 billion gain.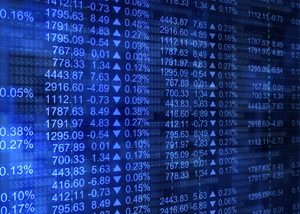 The Nigerian Stock Exchange All Share Index (NSEASI) inched up by 0.14 per cent as it gained 43.71 points to close at 6,779.15 basis points, thereby moderating year-to-date loses to -14.81 per cent, while market capitalization advanced to N12.924 trillion.
Market breadth for the session also closed in favour of the bulls as 24 tickers gained against 10 decliners, while 11 others closed on unchanged prices.
The gainers list was topped by the Nigerian breweries, gaining N3 t close at N52. Conoil trailed with N1.6 profit to close at N18.50.
The United Bank for Africa (UBA) and First Bank of Nigerian Holdings (FBNH) advanced by N0.55 to close at N 7.75 and N7.30 per share respectively, while Access  Bank Plc gained N35 to close at N10.20 per share.
Conversely, MTN Nigeria shed N2.85 to close N119.05 per share to lead other losing stocks. Dangote Cement, NASCON, WAPCO and OANDO shed N0.90, N0.85, N0.15 and N0.06 to close at N144, N14, N14.50 and N3.54 per share respectively.
However, activity level for the session was low as volume and value of trade plunged by 32.21 per cent 53.34 per cent respectively.
Trade in the top three equities, namely Access Bank, Zenith Bank and GTBank Plc amounted to 101.884 million shares worth N1.523 billion, thereby contributing 38.11 per cent and 49.44 to volume and value of trade respectively.
Access Bank traded 63.528 million shares worth N643.702 million, Zenith Bank and GUARANTY trailed with 24.094 million and 14.262 million shares valued at N451.631 million and N414.075 million respectively.
The session closed with a total of 267.314 million shares worth n3.053 billion traded in 4,074 transactions as against 394.347 million share valued at N6.543 billion that exchange hands at the floorof the nation's bourse in 4,405 deal the previous session.