Frontpage
Markets
Gains in MTN, DanSugar, FBN Holdings edge equities higher to give investors N28.8bn
September 22, 2020743 views0 comments
By Charles Abuede
Following the marginal gain and an uptick in the Nigerian equities market on the opening day of the week's trading, the market continued the trend on Tuesday as gains in MTN, Dangote Sugar and FBN Holdings stocks boosted market performance with investors coasting home with a gain of N28.8 billion from soft deals in the market.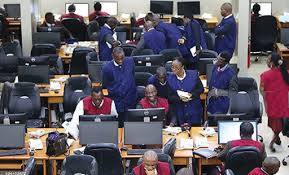 The two days of positive performance on the bourse is giving investors more confidence to anticipate that bargain hunting will persist in the days ahead to the close of the week.
Positive trading activities boosted performance as the All-Share Index (ASI) advanced by 31 basis points to reach 25,654.90 points following gains in MTN (+2.4%), Dangote Sugar (+0.8%) and FBN Holdings (+2.0%). This also led market capitalization to rise by N28.8 billion to hit N13.4 trillion, while YTD loss improved to -4.4 per cent.
In the same vein, the activity level advanced as volume and value traded rose 33.6 per cent and 158.8 per cent respectively to 262.1 million units and N4.4 billion.
The most traded stocks by volume were Zenith Bank, which traded a total of 45.9 million units; FBN Holdings, saw 24.1 million units of its share change hands; and TransCorp, with a total of 20.9 million of shares traded. In terms of value of traded stocks, MTN Nigeria with a value of N1.6 billion worth of its shares traded during the day's session led the pack. It was followed by Zenith Bank, which had its traded shares valued at N766.3 million. In third position in terms of value of traded shares was Presco with N626.9 million.
Poor sector performance 
There was a lackluster performance by sector analysis with five of six indices covered closing in the negative territory. The only sector with a gain was the AFR-ICT index which was up 1.2 per cent, following price accretion in MTN Nigeria (+2.4%).
The insurance index was the worst-performing indicator with a loss of 1.1 per cent following price decline in Cornerstone Insurance (-6.2%) and Linkage Assurance (-5.0%).
Similarly, banking and oil & gas indices posted respective losses of 0.6 per cent and 0.2 per cent, on the back of sell pressures in the shares of Union Bank of Nigeria (-6.5%), Access Bank (-0.8%) and Oando Plc (-1.7%). Losses in International Breweries (-2.9%) and Dangote Cement (-0.2%) contributed to dragging the industrial and consumer goods indices lower by 0.1 per cent respectively.
Investor sentiment weakens
Meanwhile, on the trading floor, investor sentiment as measured by market breadth (advance/decline ratio) fell to 0.5x from the 0.6x recorded previously as nine stocks gained against the 17 that lost. The top gainers were Red Star Express (+9.8%), Chi Plc (+9.7%) and TransExpress (+9.3%), while Union Bank (-6.5%), Cornerstone (-6.2%) and Link Assure (-5.0%) were the highest losers for the session.