Cash crop
Ghana cocoa buyers say a lack of funds curbs bean purchases
July 26, 20171.5K views0 comments
Ghana's industry body for cocoa purchasers said its members are struggling to pay farmers for their crops because the regulator isn't reimbursing buyers for the delivery of beans.
Purchasers are buying beans on credit from farmers in some instances, while others have stopped taking delivery from growers, which is causing stocks to accumulate on farms, Ayisi Botwe, executive secretary of the Licenced Cocoa Buyers Association, said by phone on Tuesday. The body's members usually account for about 95 percent of cocoa purchases from farmers in the world's second-biggest grower of the crop, Botwe said.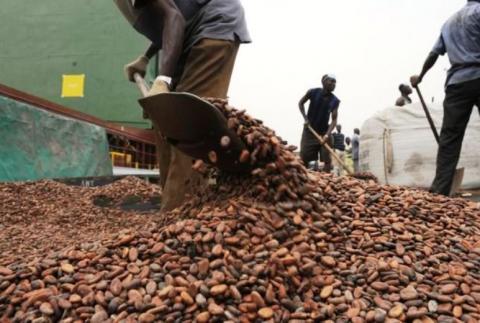 "The licensed buying companies are cash-strapped because there is no funding from Cocobod," Botwe said, referring to the regulator which is also known as Ghana Cocoa Board. "Our deliveries to the ports have not been paid for."
Cocoa buyers' complaints about payments follow after the regulator said in June it is 10 billion cedis ($2.3 billion) in debt after the nation missed its production target in the previous season and as a slump in prices is weighing on revenues from the current crop. The cocoa board issued the equivalent of $59 million in domestic bills in an April auction after the proceeds of a $1.8 billion syndicated loan that was raised in September got depleted.
The halt in payments lasted only for a week and reimbursements resumed on July 24 after the cocoa board obtained loans from local banks, Yaw Adu-Ampomah, the deputy chief executive officer of the regulator, said by phone on Wednesday.
"The money we have will clear what has piled up," Adu-Ampomah said. "If the money we have is getting exhausted, we can go back to the banks."
Some buyers haven't been paid since March, Nana Nyameah, a purchasing officer for Adwumapa Buyers Ltd., said in a July 21 interview in Yakisi, 29 kilometres (18 miles) from the western border with Ivory Coast.
Unpaid Deliveries
"Our bosses say Cocobod has not paid for the deliveries we've made to the ports," Nyameah said. "Things are really hard for us."
Ghana is nearing the end of the smaller of the two annual harvests as graded and sealed cocoa purchases since the start of the season in October reached 891,942 tonnes by July 6, the biggest crop in more than three years.
The regulator is expected to finalise a new syndicated loan of at least $1.3 billion in September for next season's purchases.
---
Report courtesy Bloomberg