Oyeleye
How big is Africa's economy (4)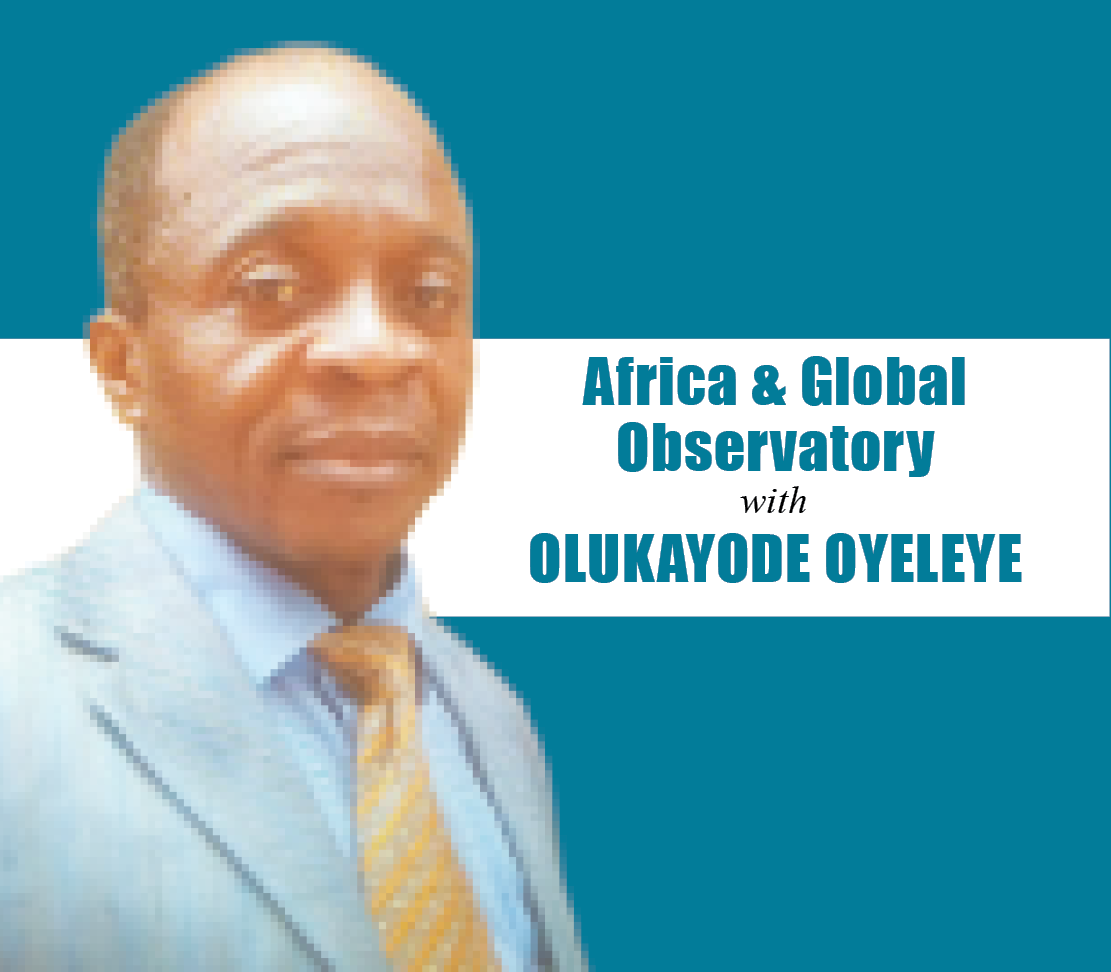 Dr. Oyeleye, a consultant, journalist and policy analyst, can be reached via:
oyeson2@yahoo.co.uk
Twitter: @OlukayodeOyele1
August 19, 2019674 views0 comments
THE STRENGTH OR weakness of any country in Africa has historical roots, dating back to few decades in some cases or much longer in others. This also depends on governance, nature of government, management of people and resources. In most cases, these have not been properly put in context and most African countries remain poor and economically unproductive. Reference to some leading global business operators will provide an insight into Africa's level of economic decadence. The state of Africa's economy presents issues that urgently require attention.
Some sample countries and corporations will suffice to provide needed insights and action points for the continent to move a bit faster in the direction of progress. The Democratic Republic of Congo (DRC) and Niger Republic present pathetic pictures of what a prosperous Africa should not be. Take the DRC. The sparsely populated country in relation to its land area has nearly 80 million inhabitants, fewer than 40 per cent of whom live in urban areas. It is the largest Francophone country in Africa, widely considered to be the richest country in the world regarding its endowment with vast natural resources and being home to a vast potential of untapped natural resources and mineral wealth estimated to be worth in excess of $24 trillion.
Occupying 80 million hectares of arable land and over 1,100 listed minerals and precious metals, the DRC has the potential to become one of the richest economies on the continent and a driver of African growth, if it can overcome its political instability and improve governance. But it hasn't.  With an unenviable attribute as one of the countries with the worst roads and rail system in Africa, rural agrarian people are largely disconnected from the urban markets and electricity supply remains poor despite the prospects of Inga Dam to supply most of Africa with electricity. DRC's economic freedom score is 50.3, making its economy the 157th freest in the 2019 Index of Economic Freedom.
Most news headlines from the DRC focus on recurrent conflict, and – most recently – on Ebola disease, particularly in the eastern part. The political instability and high inflation discourage international investors. Protection of property rights remains weak, and legislation to strengthen it is yet to be in place. The judicial system is weak, unreliable, and corrupt. Human rights abuses and banditry deter economic activity. Massive corruption in the government and weak rule of law remain prevalent. DRC with a GDP per capita and a Human development index (HDI) rating that rank among the world's lowest is one of the least developed countries in the world.  The country's revenues and expenses stood at $4.943 billion and $5.198 billion respectively by a 2018 estimate.
Niger Republic is a landlocked West African nation that straddles the Sahel, has consistently been ranked on the bottom of the HDI, with a relatively low GDP and per capital income. Economic activity centres on subsistence agriculture, animal husbandry, re-export trade, and export of uranium. Of Niger's GDP, 14 per cent is generated by livestock production (camels, goats, sheep and cattle), said to support 29 per cent of the population. An estimated 15 per cent of Niger's land that is arable is found mainly along its southern border with Nigeria. This requires rainfall which is variable and sometimes insufficient, and leading to difficulty in feeding its population. When this happens, the people must rely on grain purchases and food aid to meet food requirements. As one of the Sahelian nations in West Africa, Niger has faced several droughts which led to food shortages and, in some cases, famines.
Niger remains vulnerable and insecure in periods of drought, when rainfall remains low. In the past, drought has resulted in shortfalls requiring imports and food aid. To increase production and avoid cereal shortfalls, the government has invested in irrigation projects and an "off-season growing programme" of small-scale production and irrigation operations. Some manufacturing industries have been established, mostly at Niamey. They produce chemicals, food products, textiles, farm equipment, and metal furniture. There are many small craft industries in the principal towns. The UN ranked Niger as the second least developed country in the world in 2016 due to multiple factors such as food insecurity, lack of industry, high population growth, a weak educational sector, and few prospects for work outside of subsistence farming and herding.
The security crisis and low commodity prices are weakening Niger's public finances. A recent World Bank report made the following disclosure. With a poverty rate of 44.1 per cent and a per capita income of $420, Niger is one of the world's poorest nations. In 2016, it ranked second to last (187th out of 188 countries) on the United Nations HDI. Livestock remains an important sector of Niger's agricultural economy and is a major export. Cattle, sheep, and goats are raised for meat, milk, and hides. Going by the 2014 estimate, the population below poverty line was 45.4 per cent. 
Niger imports petroleum, augmenting it with locally mined coal, to generate about half of its electricity, and the remaining amount is imported from Nigeria. Niger imports 779 million kWh, according to a 2016 estimate. Its economy stood at the 151st freest in the 2019 Index of Economic Freedom. The persistent uranium price slump has brought lower revenues for Niger's uranium sector, although uranium still provides 72 per cent of national export proceeds.  As at 2017, revenues received by Niger was $1.68 billion, while the expenses were $2.235 billion, presupposing a country running budget deficit.
Other countries in the Sub-Saharan Africa with fairly and comparatively high revenues are South Africa, Angola and Kenya. For South Africa, the GDP which peaked at $400 billion in 2011 has since declined to roughly $385 billion in 2019. The revenues and expenses, considering the 2017 estimates, stood at $92.86 billion and $108.3 billion respectively. Progress in diversifying South Africa's economic base has been limited and uneven, indicating a need for regulatory changes that would encourage more dynamic private-sector development.  Unemployment rates have been persistently high as a result of labour market rigidity.
The oil-rich Angola had 28.4 million inhabitants by 2017 estimates. Oil production remains the economy's cornerstone and the supporting activities, contributing about 45 per cent to GDP and 90 per cent of exports. Angola's growth is therefore almost entirely driven by rising oil production. Lately, however, falling oil prices, the depreciation of the kwanza, and slower than expected growth in non-oil GDP have reduced growth prospects. Corruption, especially in the extractive sectors, is a major long-term challenge that poses an additional threat to the economy. Kenya, on the Eastern flank of Africa, has a market-based economy maintaining a liberalised external trade system, while operating a few state enterprises.
Kenya, it is presumed, has the potential to be one of Africa's success stories from its growing youthful population, a dynamic private sector, highly skilled workforce, improved infrastructure, a new constitution, and its pivotal role in East Africa. The World Bank data s of 2019 revealed that, to date, Kenya had an estimated GDP of $98.264 billion and per capita GDP of $1,991. Its revenue, by 2017 estimate, was $13.95 billion, while its expenses were $19.24 billion. All these – DRC, Niger, South Africa, Angola and Kenya – are Sub-Saharan Africa's examples of economies with little revenues.
By contrast, the global leading multinationals – the world's biggest corporations – listed based on market capitalisation, as at 2016, have their operations spanning through a broad spectrum of areas of specialisation, producing specialty products or rendering various services in specialised chemicals, personal care products, healthcare and pharmaceuticals, biotech, equipment, IT, semiconductors, computer hardware, software programming, specialty products, business and personal services, hotels, conglomerates, maritime, aviation, financials, energy, electronics, industrials and telecoms. They include Accenture, Alphabet, Amazon, Apple, Berkshire Hathaway, China Mobile, Emirates, Exxon Mobil, Facebook, General Electric, Goldman Sachs, Microsoft, Johnson & Johnson and Maersk, among others. By their operations, they brought to light the assertions of Jonathan Haskel and Stian Westlake, authors of a recently published book known as "Capitalism without Capital."
Haskel and Westlake, inadvertently drew sharp contrasts between the rich and poor entities, a logic that can be applied here. These multinationals, many of which produce only knowledge-based outputs (and some, physical outputs), have budgets that exceed those of many small countries. Moreover, these multinational corporations are sometimes referred to as transnational, international or stateless corporations, deriving at least a quarter of their revenues outside their home country. Many multinationals are based in developed nations.
The Fortune Global 500 List, containing the 10 largest multinational corporations in the world as of mid-2018 consolidated revenue, revealed Walmart as getting $500.34 billion, State Grid $348.90 billion, Sinopec Group $326.95 billion, China National Petroleum $326.01 billion, Royal Dutch Shell $311.87 billion, Toyota Motor $265.17 billion, Volkswagen $260.03 billion, BP $244.58 billion, ExxonMobil $244.36 billion), and Berkshire Hathaway $242.14 billion. These corporations don't employ millions of workers, yet not a single country in Africa could match even the least of them in terms of revenues. Accenture, one of the multinationals, has roughly 373,000 employees scattered across more than 200 cities in 55 countries. Yet it boasts of revenues that some small nations hardly get. It means the multinationals are by far richer and bigger in terms of economy than many countries lumped together. In 2017, South Africa's and Kenya's revenues stood at meagre $92.86 and $13.95 respectively. These pale into insignificance when compared with any of these corporations' revenues about the same period.
Further details about a comprehensive list of the world's largest and most powerful public companies as measured by revenues, profits, assets and market value can be gleaned from Forbes Global 2000. Various companies' ranking by market capitalisation, as done by PwC Global Top 100 could be helpful for further comparison. The unsettling realities about the disparities of income between multinational corporations and African countries are that almost entirely all of the former are in industrialised countries. These multinationals exist as revenue generators in addition to the governments' official revenues. Their existence creates the ambience for the formal sector to thrive. They are veritable incubators of great ideas and business prospects and they earn the respect and recognition by the governments of their home countries and abroad. If Africa is adjudged poor, it may be needless looking elsewhere for explanations after going considering these and foregoing scenarios. It means the prospects of Africa's prosperity and economic growth lies in thriving and successful private businesses, with favourable operating environment.