Agriculture
Commodities
How Nigeria's forest resources can sustain economic diversification
November 7, 2022493 views0 comments
By Onome Amuge
The global forestry and logging industry has witnessed significant growth, supported by an increase in demand and surge in commodity prices. The market rose from $883.81 billion in 2021 to $972.37 billion in 2022 at a compound annual growth rate (CAGR) of 10.0 percent. having increased at a compound annual growth rate (CAGR) of 0.8 percent since 2015.
The Business Research Company, an international market intelligence organisation, projected that the market is expected to reach $1.3 billion in 2026 at a CAGR of 9.3 percent. The growth, it explained, is mainly due to the rising demand for forestry and logging products, especially in developed economies including China, US, Germany, Canada, Sweden, Brazil and Russia.
In addition, increasing construction of wooden buildings, adoption of automated forestry management, and rising demand for luxurious furniture are expected to drive the market in the future, making timber one of the most sought-after woods in the world and a dominant commodity in the global forestry and logging market.
The Food and Agriculture Organization Corporate Statistical Database (FAOSTAT) ranked China as the world's largest timber and wood products importer and with the rapid development of China's economy, there is a growing demand for timber from industries of construction, paper making and furniture manufacturing.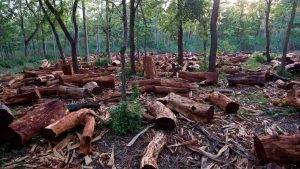 Despite the presence of a vast forest vegetation belt concentrated across many Nigerian states with the capacity to provide ready sources of valuable wood for the export market, Nigeria's resource has, in recent years, been inflicted by many challenges leading to the country losing significant revenue.
The Food and Agriculture Organisation disclosed that between 2000 and 2005, an estimated 55.7 percent of the country's primary forests consisting of timber were lost to illicit timber trade, unconstrained deforestation and felling of trees without a significant simultaneous replanting to boost economic sustenance. Global Forest Watch also reported that Nigeria lost 567,371 hectares  of its 10,048,732 hectares to deforestation as at 2006, while the country lost 14 percent of its primary forest between 2002 and 2020.
A report by the International Centre for Investigative Reporting (ICIR) disclosed that despite various laws prohibiting logging except with the possession of a licence obtained from the forestry department, official channels have been often ignored while trees are freely harvested albeit illegally without any official sanction.
"In Nigeria, where forestry matters are handled by state governments because they own all the forestry estates in the country, logging of timber, including rosewood, is banned or allowed only under licence, but traders have a free rein in the forests across the country because of poor regulations, monitoring and local corruption," the report stated, faulting the country's poor attention to its forest commodities.
Faced with these challenges, analysts opine that Nigeria's forestry productivity, especially timber, has failed to live up to its potential in the world market. They also point out that the country will continue to lose opportunities to generate substantial revenue from its forestry commodities and bolster its economic diversification plans.
To this end, the Nigerian Human Rights Community demanded that all foreigners and local perpetrators involved in illegal exportation of Nigeria's precious wood resources should be sanctioned and banned while forest control policies and laws should be thoroughly enforced by the authorities.
It further recommended that a presidential probe panel and judicial commission of inquiry should be set up in all the affected states to identify, punish and sanction all the foreign interests and their collaborators involved in the illegal timber business.
Orimoloye Faleyimu, Forestry Management lecturer and researcher at the Ondo State University of Science and Technology, recalled that the agriculture sector, inclusive of forestry, was the mainstay of the Nigerian economy in the 1950's and 1960's, contributing over 80 percent of the country's GDP before the discovery of crude oil.
According to Faleyimu, forestry as an agriculture subsector plays a major role in providing industrial raw materials (timber), incomes, as well as preserving biodiversity.
Citing market data, he noted that between 2011 and 2015, Nigeria exported $400.2 million worth of timber, behind Cameroon and Gabon who exported $745.9 million and $474.7million worth of timber, respectively.
Commenting on the challenges affecting the development of Nigeria's forestry, he said the practice of accepting forestry as a public venture is not ideal. He suggested that private firms and industries that derive their raw materials from the forest should be made to pay back some of their huge profits to forest regeneration programmes. He also recommended that 25 percent of the gross profit should be backwardly integrated towards forest regeneration or re-afforestation.
Faleyimu also pointed out that reforming laws and regulations will have limited impact unless one also reforms the institutions in charge of implementing them. These institutions, he said, must become more efficient, outcome-oriented, less corrupt and more transparent for any meaningful development to take place.
Wood Expo Nigeria (WEN), in its assessment of the challenges and vast opportunities in Nigeria's forest reserve, noted that successive governments have, over the years, established various policies, including the federal government's agenda on National Economic Recovery and Growth Plan (ERGP2017-2020), to diversify the economy.
The convergence forum for industry players in the country's forestry market, however, pointed out that the policies have failed to yield the expected economic result.
For Nigeria to achieve significant economic results from its forest reserve, the forum encouraged the Nigerian government to key into the whole wood story starting from seed collection, through planting and forest propagation, felling and milling of timber to the end products, like furniture, structural elements, and the entire building sector.
According to the forum, Nigeria possesses over 600 potential timber species out of which less than 30 are commercially exploited for international trade.
It noted that the industry could contribute significantly to local and international trade if the informal enterprises of small wood-based sectors engaged in the production of firewood, charcoal, chewing sticks, sculptured wood items and the likes operate in partnership with formal incorporations towards developing the national economy.
Wood Expo Nigeria further harped on the need to expand the frontiers of investment in forestry by providing appropriate institutional and legal framework for effective operation. The forum observed that there is an upsurge of private involvement in plantation forestry in Nigeria. It therefore encouraged the government to support industrial plantation development which is being powered mostly by private individuals.
The three tiers of government were also advised to introduce an integrated forestry policy system where land restoration is done in a manner that enables various stakeholders to operate in the forest within the ambit of the laws governing the use of forest estate. This, the forum explained, is a win-win system that has potential to reduce intra- and inter-communal conflicts by self-regulations using a combination of indigenous and traditional forest management systems as well as modern scientific approach.