Oyeleye
How significant is Africa to the West, to the world (3)?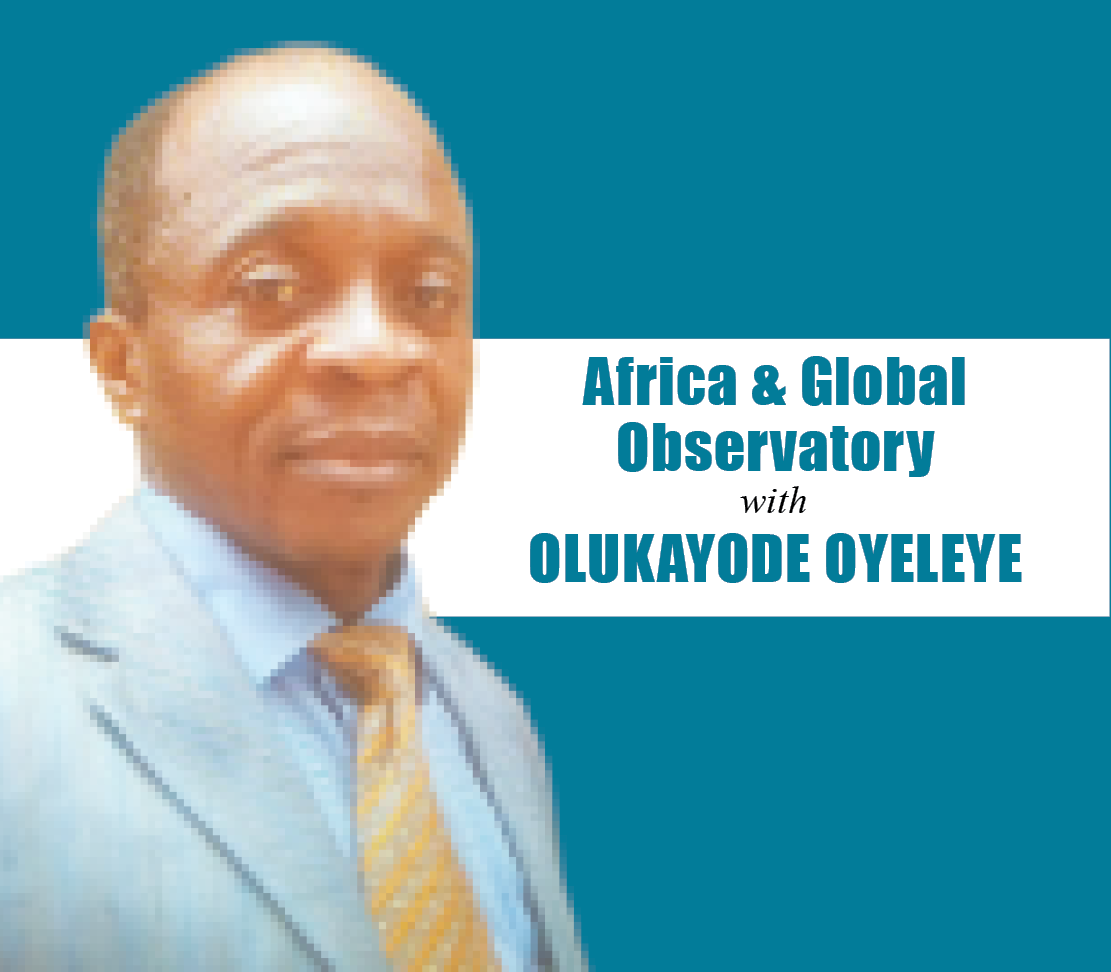 Dr. Oyeleye, a consultant, journalist and policy analyst, can be reached via:
oyeson2@yahoo.co.uk
Twitter: @OlukayodeOyele1
May 23, 2022803 views0 comments
A CONTINENT-WIDE NETWORK of professionals helping in manpower development, exchange and support has become an integral part of AU's sterling development interventions. The Technical Aid Corps, earlier developed and deployed by Nigeria to neighbouring countries 50 years ago has become a flagship African development intervention programme. We have seen a decade of continued growth and diversification of the economy of Africa in various countries in the manufacturing and service sectors. My own country is a shining example. It is now on record that the Democratic Republic of Congo has established one of the biggest cobalt and lithium battery production in the world five years ago in 2028 when it successfully launched the first Made In Africa ingredient for powering electric vehicles, cell phones and many rechargeable electronic devices. By this singular investment that was done in partnership with Tesla Automobile to the tune of $647 billion, DR Congo has placed Africa at the forefront in the pursuit of renewable energy, climate change mitigation and reduction of pollution from hydrocarbon. This has taken DR Congo steps further in addition to the conservation of its pristine forests from commercial scale logging, thus earning the country plaudits, recognition and a gold medal from the Forest Stewardship Council and
Tourism and trade have become two of the many props on which Africa's economy now stands. The tourism industry in Africa is now second to none. Kenya, South Africa, Ghana, Senegal, Morocco, Mozambique and Egypt have attracted millions of visitors from within and outside Africa that have spent as much as $80 billion in Africa compared with $24.7 billion spent in 2019 before the Coronavirus pandemic that depressed the industry globally and in Africa for many years. The good fortune of low mortalities during the outbreak compared to other continents was a great advantage for the tourism industry within Africa. A regional market known as African Continental Free Trade Area (AfCFTA) began operations 12 years ago. Since it became operational in 2021, AfCFTA has grown to become a global behemoth and a regional market platform comparable to Asia's Regional Comprehensive Economic Partnership (RCEP). Over this period, AfCFTA has recorded a cumulative $170 billion trade values over the 12 year period, now with annual market estimate of $20 billion in 2031. In the period under review, intra-continental trade has moved from 18 per cent since its inception to 65 per cent now as more countries now trade in greater volumes of high value goods. Electricity generation and supply have been Africa's major challenges as the continent's population increased and gradually but steadily urbanise. The demands for electricity and the need for environmental consideration and climate change mitigation became a continental issue. Specific success stories abound. Naivasha County has become a major renewable energy hub, with power supply rising from 2.8 MW of renewable energy to 1000 MW generated from biomass, supplying electricity to 10 per cent of Kenya's households. The county's added solar farm produces additional 44 MW of electricity for the neighbourhoods, thus practically solving the problem of rural and urban electricity problems in the area. Many countries of Africa can learn from this.
In 2027, the AU successfully resolved the outstanding and lingering crisis between Egypt, Sudan and Ethiopia on filling the Grand Ethiopian Renaissance Dam (GERD) as the parties have come to agreement on the rate and extent of filling the dam and the ratio for sharing the electricity output between the three countries in what has become one of the biggest dams in the world. We have successfully embarked on aggressive reforestation of Zambezi basin and Victoria Falls has been reenergised once again, with electricity supply in Zambia and Zimbabwe greatly improved. Lake Chad, which was about 90 per cent dried up as at 2020 has been refilled from the contiguous basins as far away as Libya, Sudan, Algeria and Central African Republic. The threats of climate change, deforestation, desertification, water scarcity and food insecurity have been tremendously reduced in the past decade. The efforts across the continent to renew water bodies and build a great green wall of trees have yielded appreciable results. More desert lands have been reclaimed in Niger, Chad, Sudan, Northern Nigeria, Namibia, Zambia and Cape Town region of South Africa with millions of economic trees planted since 2026 now serving as sources of fruits, shades and water conservation in these countries. These efforts have reduced crop failures, conflicts and heat waves earlier associated with droughts and unpredictable rains.
Dictatorships in African countries have become outmoded and largely eliminated as all countries of Africa now practise participatory democracy. The military aberrations of some 11 years ago in Algeria, Mali, Guinea Conakry and Burkina Faso have given way to democracy. In the past ten years, all the despots, sit-tight national leaders and dictators have bowed pressure to embrace and adopt global best practices in governance as they have organised elections without interference, allowing younger aspirants to contest and win in free, fair and credible elections. Former President Yoweri Museveni of Uganda was the first to kick off this laudable trend, choosing rather to retire into his country home while watching from the side lines as new players on the political turf take Uganda to greater heights. Former Prime Minister Abiy Ahmed would always be remembered for his statesmanship as he not only saved his reputation by ending the lingering war of attrition with the Tigray, Oromo and Amhara in 2025, but also subsequently restructuring Ethiopia's military to become detribalised and one of the best trained and best equipped in Africa, comparable to many military formations in the developed world. Even the President of Rwanda who had earlier vowed to remain in power till next year (2034) has reconsidered his decision and has relinquished the position seven years ago in 2026, thus paving way for a younger, dynamic, vibrant and democratic leadership that is now running the second year of its second term of five years.
Sahelian Africa that suddenly became a sanctuary for terrorists has been purged of the extraneous and strange development. As climate change, which has become associated with terrorism has been largely tamed in the Sahel region, Somalia now experiences relative improvement in supplies and security as Al Shabab has been disbanded, just as Mali that used to be a hotbed of terrorism and gold smuggling is now a stable economy and the fourth place by ranking in pure gold export in Africa. Mozambique, a country that experiences both drought and flood, has established early warning system for mitigating the impact of flood under extreme weather events such as cyclones or tropical storms. The invading terrorists in the Cabo Delgado province have disarmed and joined the normal civilian population, thus bringing relative peace and security to the oil-rich region of the country. We are both glad and excited to report that hostilities and internecine wars have completely ceased in South Sudan, Libya, Cameroon and Central African Republic. The Peace and Reconciliation Committee which we set up way back in 2024 has yielded tremendous fruits as investors' confidence has returned to those countries, with gas export from South Sudan and Libya to many neighbouring countries rising in leaps and bounds. Rare earth minerals from Central African Republic and South Western part of South Africa have added to the strategic importance of Africa in the on-going energy transition as these two countries now lead in their processing for powering the continent.
Now African economy is no longer dependent on South Africa, Nigeria, Egypt, Ethiopia and Kenya alone as more countries have experienced economic growth and expansion. Aviation industry has developed beyond expectations as many countries now have wide connections, with the largest regional airport in Lagos, Nigeria, connecting over 200 destinations within and outside Africa. African regional bank, the African Development Bank (AfDB), has undergone significant transformation to a bank with capital base $500 billion in 2031 from $208 billion in 2019. African economy has also made significant geo-economic gain as the Francophone countries that had just two regional Central Banks and were tethered to the apron string of France have been weaned and now operate autonomous Central Banks without an obligation to keep their foreign reserves in France as done for decades since their independence. Morocco has contributed tremendously to agriculture and food production in Africa by boosting phosphate export for fertiliser production and export to Cote d'Ivoire, Nigeria, Ghana, Kenya and Ethiopia. Mozambique, Ghana, Uganda and Nigeria have been major drivers of cassava transformation within the continent, through their improved yields and post-harvest processing into assorted products, especially flour.
The multi-billion dollars ambitious intra-African rail networks connecting 16 landlocked countries have come to near completion, with the rail lines already operational in Senegal, Burkina Faso, Niger, Chad, Sudan, Ethiopia, Algeria, Tunisia, Cameroon, Gabon, DR Congo and Mozambique. It has opened up many hitherto undeveloped parts of Africa since 2028 and has facilitated intra-African trade of $6 trillion within a space of four years of operation. In particular, it has given a big boost to the AfCFTA in no small way, facilitating free movement of goods, services and humans. This is apart from major turnaround maintenance and upgrading of major ports such as Dar es Salam, Mombasa, Port Sudan, Abidjan, Port Harcourt, Dakar, Cairo and Douala with modern automated port facilities. After the unfortunate event involving the blocking of Suez Canal by a big Evergreen cargo ship in March 2021, in which over 300 heavily loaded ships were stranded on Indian Ocean and Mediterranean Sea sides of the Red Sea for weeks, the AU resolved that never again would the continent be put in a vulnerable and embarrassing position. Understanding the immediate and future impacts of such a blockade on Africa's maritime economy, the AU heads of government resolved during at an extraordinary meeting in 2023 to prevent a recurrence of such an event. To avoid a diversion of big ships to other maritime routes, it was agreed that African major ports be upgraded to increased capacity, with improved port security to enable them handle emergencies by acting as holding areas when necessary. Ladies and gentlemen, with these arrays of accolades to our dear AU, I am confident that Africa has come a long way and has now become a major player in the evolving global economy.
Can we have any report that comes close to this in the near future? Whoever disagrees that these stories about Africa are possible in the next decade? With the right disposition, Africa should have better stories than this in some years ahead. No outsiders will help enact such realities. Africans have to get things done. And action towards such enviable achievements should start in earnest, now!