Finance
Money market
NBS: 18 bankers sacked daily between January and September
December 4, 2019944 views0 comments
An average of 18 people were sacked every working day between January and September 2019.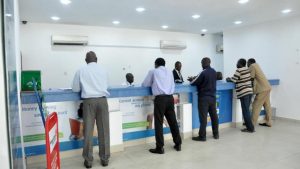 This is according to data made available by the National Bureau of Statistics (NBS).
According to the 'Selected Banking Sector Data: Sectorial Breakdown of Credit, e-Payment Channels and Staff Strength' report, 3,582 people were sacked between the first and third quarter of 2019.
There are 195 working days between January and September.
Between the first and second quarter, the staff strength of the banking sector reduced by 653 people and further declined by 2,929 between the second and third quarter.
Contract staff were the worst hit, declining by 3,083 between the second and third quarter.
However, the number of junior staff within the sector increased by 414 from 39,980 to 40,398.
The report covered commercial banks, merchant banks, non-interest banks and deposit money banks.
In July, Ecobank had been in the news for laying off some of its workers.
The staff had protested the dismissal benefits.
In response, the bank had said the people that were laid off were contract staff adding that it decided not to renew the contract of its third party recruitment agencies.
According to the report, the level of non-performing loans dropped from 9.3% to 7.5%.
The total loans issued by the banking sector increased by 4.8% to N16.6 trillion, the highest growth in 10 quarters.
This can be attributed to a recent directive by the Central Bank of Nigeria (CBN) that banks increase their loan to deposit ratio to 65%.
Loans recovered from the oil and gas sector were the highest from N738.15 million with the power and energy sector repaying N116.01 billion.