Commodities
Nigeria investors drown from lack of development
September 20, 20181.2K views0 comments
Premium bread makers want cheaper flour
As far as being optimistic about a turnaround in the Nigerian economy is concerned, his is an exceptional case. With a robust professional background of 25 years as a chartered accountant at different multinational firms, Kene Mbuba has experienced it out there and sees no reason to dismiss the potential inherent in the largest African economy with gross domestic product (GDP) growing by the year and attracting foreign investors.
"I still believe in Nigeria and I believe it's going to turn around. I think the issue we are having in Nigeria is that we have not got our policies right and even when we get them; we lack the political will to execute these policies. If we can fine-tune the way we do things in this country, I wouldn't have any reason to think of going outside the country. I'll rather be here and invest and make sure things work well," Mbuba told business a.m.
But, for how long can the former regional manager and head of business strategy and commercial operations at the Nigerian Bottling Company (NBC) sustain this optimism while his bread making venture staggers on the throes of outrageous cost of wheat, which constitutes 65 percent of its key ingredient, flour?
Mbuba, now the chief executive officer (CEO), Bakery Solutions Nigeria Limited started his post-white collar life pursuing his passion in the food industry in 2014, a time he says the economy was relatively stable. Of the basket of businesses that were hit by the recession that set in the following year, his was among the rugged ones that struggled for survival. But that was not without being bruised by the subsequent turn of events that saw currency devaluation and spiral increases in the prices of commodities, especially, imported raw materials and equipment.
With the price of flour rising from N6,500 to N11,500, his income statement has found it increasingly difficult to testify to a positive conclusion. "Business does not favour. In fact, favourable is an understatement. Wherever it is today, it is not even sustainable. The truth of the matter is that most of the bakery businesses you see are running at a loss and most businesses have also exhausted themselves," he bemoaned.
Mbuba is not alone in that struggle. Juliet Aigbe, a former proactive officer and software developer at Shell Petroleum Development Company (SPDC), Warri shares similar zeal, perhaps even greater than Mbuba. Upon exiting the oil and gas industry, she was resolute about conquering the world in the field of confectionaries. Needless to say, she loves baking. Specifically, cake baking is her hobby and she did that well enough for some time. And then she thought of mainstreaming like any successful start-up would; she saw a cash cow opportunity in investing in bread and gave it a try. The try gave birth to Boursse Bakery Limited.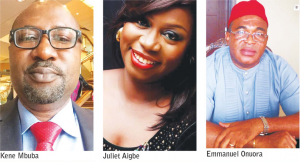 Aigbe said: "I took my time to do a business plan. I was actually able to get funding from friends and family and it was like a dream come true for me. So I put all the parameters in place and did my business plan. I even went round to see best practices in world class bakeries and local bakeries as well. It took me about two years to do that and at a point I thought I was even wasting too much time doing analysis, but I needed to understand the industry to know all the peculiarities and all. You know bread is a staple food, and cakes are like luxury; so I thought I could do a cash-cow with it and employ more people. And then you look at the numbers, it looks good."
Sadly, when she started in 2015, her first consignment of flour was at a rate very far from what was budgeted; affecting the company's working capital. For her, baking quality bread meant avoidance of enhancers or additives of any kind except approved by the National Agency for Food and Drug Administration and Control (NAFDAC). This also meant that the market price of bread were of margins that couldn't afford her company to pay the salaries of her 30-man staff. So, she continued to pump in money from bank lending, yet the outcome was still effectively a loss. Access to supply of flour was an issue and there were times when there wasn't even access.
"We had to toss our projections through the window. It wasn't working. I realised that the industry is fragmented," Aigbe told business a.m.
But for the intervention of his younger brother who ran a steady bread business in Abuja, Emma
nuel Onuora, the managing partner of Bumper House Nigeria Limited, Surulere would have bolted from the country upon retirement from the oil and gas industry. The trained petroleum engineer spent about 24 years as a production and safety engineer at both on-shore and off-shore operations and rose to a managerial level.
"It was my younger brother who has a bakery in Abuja that inspired me. We got talking and I was telling him that I needed to leave the country, but he said there was no need. I went to his bakery with my partner on three months understudy. We came back to Lagos afterwards, syndicated the loan and were able to get the loan at a very high interest rate of 27 percent. You could see that the rate is not suitable for any investor at all. So we got a consultant in the premium bread industry. We were asking questions along the line too and we were reading to know more about the industry. We got our equipment, built the factory an
d erected a structure strictly for the purpose of baking.
This whole preparation started in February 2016 and took us more than a year to finish everything. We started operations effectively in April. So we are basically over a year into the business. But honestly, if I knew what I know now, I wouldn't have gone into baking because it is a very strenuous business. We came in at a point when the industry was suffering all sorts of crisis. We ran our economy when diesel was almost close N300. We almost pulled out if not for the capital outlay deployed into the business," Onuora explained.
With a labour force made up of 60 staff, Onuora churns out between 5,000 and 6,000 loaves of bread daily and by month end, his company still doesn't break even, most times.
Of the myriad challenges of erratic power supply; exorbitant cost of powering alternative sources of energy; the enforcement of value added tax (VAT) on bread factories despite bread being a staple; and imposition of 15 percent extra tariff rate confronting the industry, 60 percent of these, Onuora says, would be resolved should the government review the constraints on wheat importation.
Yes, it may not necessarily translate to cheaper cost of flour immediately, but it would stem the incessant increases in the price of flour. It will also ensure that local flour millers do not have cheap excuse to hike flour price in the near term, Onuora believes.
The additional levy on wheat importation came to being in 2012 as a government tool to discourage importation and increase local production capacity.
Since then, various efforts have gone into the development of Nigeria's wheat sub-sector, with the most recent being budgetary allocations and interventions by flour millers. About N2.9 billion was budgeted for the nurturing of wheat production between 2016 to 2018 under the Federal Ministry of Agriculture and Rural Development (FMARD).
For the 2016/2017 wheat farming season, about N1.4 billion was earmarked under the same ministry to support cultivation activities in the country and N1.5billion respectively for 2017/2018 season.  The 2016/2017 intervention
 fund stands apart from the N61 billion explicitly allocated to the promotion and development of wheat value chain in the 2017 budget.
However, the farmers, immersed in this production effort cannot point to evidence of impact made by the application of this fund during these periods. Key industry stakeholders like the Premium Breadmakers Association of Niger
ia (PBAN) cannot see the effort trickle down to availability of cheaper flour, neither can the millers themselves boast of satisfactory supply of their demand locally.
 Wheat farmers across the nation, struggle under poor production conditions to produce 60,000 metric tonnes of the 4.63 million tonnes of local demand, leaving the produce itself on the edge of uncompetitive pricing with cheaper cost of imported substitutes. In fact, last April, there were projections that the production could be ramped up to about a million tonnes on the threshers donated to farmers by the Flour Millers Association of Nigeria (FMAN).
According to Aigbe, "even if the wheat is not quality enough, which is relative, let us have our own Nigerian type of wheat and bread and change our appetite as a people and do test-run of these things. Government has things like FIRO for test. It should utilise it and engage data by bakery owners to build their capacities. You don't just slam a tariff and not have a back-up plan. The masses will continue to suffer. If government says don't import wheat, produce it."
Surprisingly, business a.m. investigation reveals that the case with wheat is not merely insufficient production as there are sizeable amount of wheat lying in some warehouses for the past two years from lack of off-taking.
Oluwasina Olabanji, the executive director, Lake Chad Research Institute (LCRI) hinges the gap between this crucial demand and passive supply on high pricing.
He insists that government cannot continue to encourage importation of wheat when it has the potential to produce. "We should encourage local production; there is no doubt about that. We have to start somewhere. In fact, two years wheat produced by our farmers are still with them because there are no off-takers. But the price is the issue. The only off-taker of our local wheat is the millers. So when they compare the price of our local wheat and the imported, they get discouraged that the price of our local wheat is higher than that of imported wheat. So they are more comfortable with the importation of wheat than buying locally and if that is to be encouraged, then it will discourage our farmers from producing local wheat," he explains.
Notwithstanding, he admits that there has to be a balance for the difference between the shortage in production and the high cost of importation.
If support for farmers in the area of input is guaranteed, Olabanji said efforts can then be pushed in the direction of having an agreement on suitable price between the flour millers, the farmers association as well as stakeholders li
ke PBAN.
He said: "We did in 2013/2014. There was guaranteed minimum price and everybody abided by it, but if there is no support for farmers and you say they should sell at a price, they will not agree. In 2013/2014, government subsidised fertilisers or inputs generally for farmers. But recently, these subsidies are no longer forthcoming to farmers."
According to Olabanji, discussions were on with the flour millers over the matter while an innovation platform where all the stakeholders can interact has been established.
Wheat is an irrigated crop planted from the 15th of October to 15th November and blossoms under interrupted chilly temperature mostly in the northern Nigeria. But due to such setbacks as insufficient cultivation fields, poor access to efficient irrigation facilities, dearth of procedural agronomic knowledge by farmers, lack of mechanized and modernized farming techniques, the average productivity of Nigerian wheat hovers over three tonnes per hectare, which in certain instances plunges as low as two tonnes or even 1.5 tonnes per hectare.
The temperate crop is only second to rice on the agenda of the federal Agricultural Promotion Policy (APP) designed in 2016 to prioritize improving productivity of a number of domestically raised crops including maize, fish, dairy milk, soya beans, poultry, fruits, vegetables and sugar.
Industrial consumers largely prefer importation in the bid to bridge the internal demand gap. With increasing demand for wheat based food, Nigeria's wheat imports which stood at 4.6 million tonnes in 2017, are forecasts to expand by 9 percent to 5 million tonnes next year and double by 2030, according to the U.S. Department of Agriculture.