Banking
Finance
Frontpage
Nigeria's forex illiquidity: CBN's Emefiele shifts strategy to export, meets CEOs of multinational firms
August 26, 20201.4K views0 comments
By Phillip Isakpa & Charles Abuede
Godwin Emefiele, Nigeria's development-focused central bank governor, appears to want to spread that agenda further to driving the country's exports as he unveiled plans to meet chief executives officers of multinational companies in Nigeria.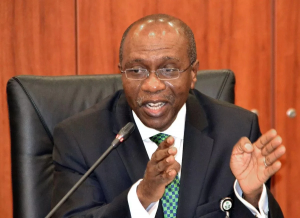 Emefiele wants to discuss with them and get a buy-in on his plans to see a revamp of Nigerian exports.
But analysts have been quick to say Nigeria's current forex illiquidity is driving the new push that Emefiele is trying to champion.
The governor, who is in his second term in office, has largely positioned himself as a development central banker, which has seen him deploying large scale funds to support different areas of the economy that traditional monetarist central banker would often leave to the fiscal authorities.
At times, such large scale funds interventions in areas such as agriculture, industries, power sector, and now aviation and media, have been interpreted by analysts as evidence of profound weakness in the fiscal management of the economy by the central government.
The Central Bank has for the past five years failed to meet monetary policy targets it sets for itself, including keeping inflation at single digit, moderating exchange rate, and keeping interest rate under control.
But Emefiele disclosed to the Bankers' Committee during a meeting with members that the apex bank was ready to encourage the revamping of Nigeria's export sector through deliberate policies that would boost investment and also create jobs in the economy.
According to Emefiele, the CBN in a collaborative effort with the Federal Ministry of Trade and Investment would ensure the facilitation of a fresh start of Nigeria's (Africa's largest economy) export market. This, he revealed, while decrying the state of affairs where much of Nigerian produce of export quality were waiting to be tapped.
This new push is not without foundation, also seen by many analysts as driven by the huge funds outlay that the CBN has committed to agriculture over the years under the governor's 'development agenda'. With foreign exchange illiquidity biting hard, and the Central Bank having lost its ability to defend the naira with poor foreign reserves accretion in the face of dwindling earnings from oil and Diaspora remittances, the apex bank appears caught in a thicket.
At the meeting Emefiele reiterated that the country had no choice but to diversify its economic base, a call many would see as being 20 years past its shelf life, away from heavy reliance on crude oil, and alluding to President Muhammadu Buhari's charge for Nigerians to produce what they eat and eat what they produce.
The decision by the CBN to meet with company executives came few days after the apex bank issued a directive on guidelines aimed at restricting the abuse of forex in the international trade market, with the meeting therefore expected to come up with a roadmap on how best to revitalize the export sector in order to earn foreign exchange for the country, as well as generate jobs for millions of Nigerians.
It would be recalled that the central bank chief had earlier initiated a campaign tagged 'Produce, Add Value and Export' (PAVE), especially for agricultural produce.