Companies
Norrenberger acquires 60% controlling stake of The Infrastructure Bank
March 21, 2023160 views0 comments
By Cynthia Ezekwe
Norrenberger, an asset management firm, and an integrated financial services group, has taken over a controlling equity stake of 60 per cent in The Infrastructure Bank (TIB), having concluded the acquisition arrangement which began in 2019.
The  independent financial services group which  provides bespoke financial solutions to its individual and institutional clients, disclosed this in a statement made available to Business A.M.
Ibrahim Aliyu, chairman, Norrenberger Group, disclosed  that the Central Bank of Nigeria (CBN) approved the acquisition of a 60 per cent controlling stake in the bank on Friday March 10, 2023, while noting that the transaction followed established protocols and the necessary regulatory procedures.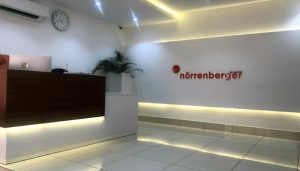 Aliyu explained that the admission of private capital in TIB Plc's equity as permitted in its establishment Act has created the first Public-Private Partnership (PPP) spectacle of reform and innovation in the infrastructure finance space in Nigeria, and  would position the institution for greater engagement.
"In line with its establishing Act, the Bank has the mandate to raise and manage funds for infrastructure development projects in the country. Thus, the Bank provides custom-made financial solutions to projects in its focus sectors namely Transportation, Power & Renewable Energy, Mass Housing and District Development, Urban Infrastructure and Municipal Finance projects,'' he said.
According to Aliyu, the Infrastructure Bank Plc, formerly known as Urban Development Bank of Nigeria Plc was established in 1992 under Decree 51, as Urban Development Bank Ltd, with the mandate to foster the rapid development of infrastructure across the country.
"The bank is a private sector-led, but government-sponsored Development Finance Institution (DFI), whose previous ownership structure comprises the three tiers of government,  the Nigeria Labour Congress, and the private sector block, " Aliyu added.
The Norrenberger group chairman stated that the  takeover marks a milestone toward Norrengerger strategic infrastructure mission,  as it looks forward to leveraging the acquisition to bring about new opportunities and growth that will be beneficial to Norrenberger, the infrastructure space and the general public.
 Lamis Dikko,  the chairman of The Infrastructure Bank, noted that the transaction brings a win-win for everyone as the company looks forward to a brighter future as part of the Norrenberger group.
" Norrenberger has differentiated itself through excellent service delivery, and we will continue in that culture. I believe that the new umbrella under which The Infrastructure Bank will be operating will act as a springboard for us and our mission," Dikko added.