Companies
Rapid, careful, consistent response critical in corporate crisis management, says Emekekwue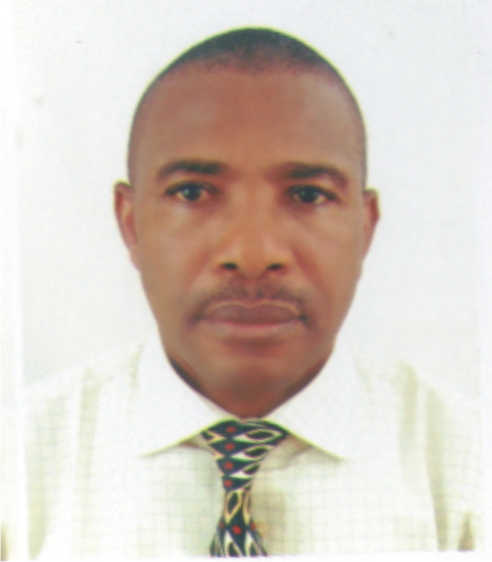 Ben Eguzozie is business a.m. regional lead based in Port Harcourt, providing regional and national  coverage for economy, business and finance
You can contact him on ben.eguzozie@businessamlive.com with stories and commentary.
November 12, 2021219 views0 comments
Important for retaining shareholder value

Crisis inevitable, but timely information provides data-driven response
Rapid, carefully thought-out and consistent response across channels is critical to retaining shareholder value in corporate crisis management scenarios, Obi Emekekwue, former director and global head of communications and events management at the African Export-Import Bank (Afreximbank) has said.
Emekekwue said a corporate crisis can be one of the most difficult situations to navigate, and if not quickly resolved, can disrupt operations, damage the corporate entity's reputation, destroy shareholder value, and trigger other threats.
But as the corporate crisis manager finds out, with proper preparations the crisis can be surmounted.
A major aspect he can deploy to mitigate the corporate crisis, he opined, is by supplying timely information that can provide data-driven response.
In a lecture titled: "Crisis Survival in Today's World: The Communication Conundrum", Emekekwue stated that crisis was inevitable and requires rapid, carefully thought out and consistent response across channels to set things in the right perspectives, because it can disrupt operations, damage reputation, destroy shareholder value, and trigger other threats.
The lecture, targeted at professional public relations (PR) experts, business communication specialists, publicists, among other managers of crisis, was the second edition of the Jacksonites Professional Development Series, organised by the Alumni Association of Mass Communication Department of University of Nigeria, Nsukka, Enugu State.
Emekekwue, with over 35 years professional experience in corporate strategic communications, media, public relations, international civil service and event management, stated that it is critical to define what constitutes a crisis and what does not, as certain organisational problems may not be crisis-related; and that having a well-prepared, timely, and often practiced response plan in place is the best defence against crisis.
According to him, information is the most important factor in crisis management because it allows for data-driven preparedness, reaction, and post-crisis analysis, adding that media monitoring is necessary to be prepared to spot crises early and swiftly.
He further stated that the greatest approach to navigate and manage the negative impact of a crisis on a company and its institutions is through good communication.
Obi Emekekwue, who is now president of Delreeve Konsult Limited, spent 18 years at the United Nations, and led communications teams to bring visibility to the global institution. He graduated from the Department of Mass Communication at the University of Nigeria, Nsukka (UNN) in 1982 and holds a Master's in International Relations and a Postgraduate Diploma in International Law and Diplomacy from St. John's University, New York, USA.
He underscored the importance for all corporate organisations and their communication personnel to put together an effective communication strategy that allows them to prepare for crises, to move quickly or to avoid pitfalls.
For Kingsley Osadolor, effective communication and creativity is key to crisis management. He recalled the recent building collapse in the Ikoyi area of Lagos, Nigeria which resulted in a large number of casualties.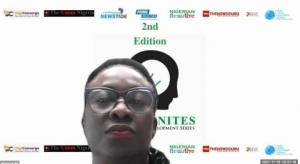 While the company did not handle the crisis effectively, Osadolor credited the building's structural engineering consultant company, which promptly issued a press release stating that they had previously withdrawn their services, since they could no longer guarantee the integrity of the current structure.
The chair of the steering committee, Chinedu Mba of Algonquin College, Ottawa, Canada, in her opening remark, said the theme for the lecture session was carefully selected to reflect the pressing need of the society.
"We select seminars that are a reflection of the pressing needs in the ecosystem; and these are needs that are begging to be addressed, because we are closely connected to the environment, and by this, I mean the town on the gown," she said.
She stated that the session was timely and relevant because communication was a critical aspect of relationship management; and that crisis, like change, is an intrinsic part of life because everyone faces a crisis.
"I'm delighted by the number of attendees. The session would benefit both individuals and professionals. I also thank the sponsors and partners who made the event a success," Mba said.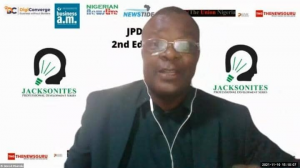 The seminar was moderated by Marcel Mbamalu the editor-in-chief and publisher of Prime Business Africa.
Ugo Onuoha, the vice chairman of the steering committee, in a closing remark, appreciated the guest speaker, Emekekwue, the moderator, Mbamalu, members of the steering committee, sponsors and partners, as well as all participants for attending the second Jacksonites Professional Development Series. The session was attended by participants across the globe.