By Onome Amuge
Oil palm (Elaeis guineensis) is a perennial crop which grows abundantly in tropical regions. It is globally renowned for its numerous resourcefulness as almost all the parts can be utilised for many applications.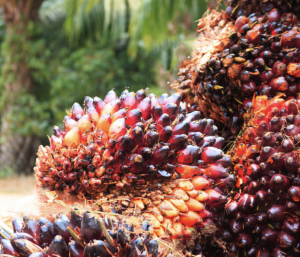 The Southern region of Nigeria is regarded by climatologists as a tropical region which makes it a natural habitat for oil palm. As a result, the major oil palm producing states are located in the southern region and they include: Abia, Akwa Ibom, Anambra, Bayelsa, Cross River, Delta, Edo, Ekiti, Enugu, Imo, Ogun, Ondo, Oyo and Rivers.
Economic statistics of the 1900s into the late 1960s show that the Nigerian economy was basically dependent on agriculture products for export, employment and supply of raw materials to domestic and international industries. As such, oil palm alongside cocoa, rubber and groundnut served as major sources of the nation's revenue.
A 2007 report by the Food and Agriculture Organisation (FAO) disclosed that in the 1960s to the early 1970s, Nigeria was the highest producer of palm oil, accounting for 43 per cent of the 1.5 million tonnes produced globally during that period.
However, various studies have proved that the reputation of agriculture after the discovery of crude oil in commercial quantities and the oil boom of the early 1970s, impacted negatively on food and cash crop production and exportation, leading to a daunting downturn in oil palm development.
A 2019 analysis by the United States Department of Agriculture (USDA) disclosed that Indonesia's remarkable 42.50 million tonnes of annual oil palm generation (58 per cent of global production) made the Southeast Asian country the highest producer in the world. Malaysia, another Southeast Asian country, was ranked second, generating an estimated 19 million tonnes per annum (28 per cent of global production); Thailand occupied the third spot with 2.8 million tonnes of annual production (four per cent) to cement the region's global dominance; Colombia was ranked fourth with 1.53 million tonnes (two per cent) of oil palm produced, while Nigeria recorded 1.2 million tonnes (one per cent) of annual production to gain recognition as the fifth highest producer in the world. In the same year, Nigeria's local palm oil consumption volume was estimated at over 1.5 million tonnes, indicating a shortfall in supply and a production rate representing a meagre one per cent of global output.
The above analysis shows that Nigeria's position as a world leader in oil palm production is a yesteryear accomplishment, being that the most populous black nation has fallen off its lofty oil palm heights to become not just a negligible producer in the global sphere but also, a major importer of the same product which production it once dominated, while Indonesia and Malaysia produce over 80 per cent of global production.
Factors that resulted in Nigeria's oil palm relegation
Several studies and interactions with small and large scale practitioners and stakeholders indicate that the industry has been faced with a myriad of challenges which have adversely led to the plunge of the oil palm industry in Nigeria.
Irina Romanova, a research analyst in a 2007 research term paper titled, "Oil boom in Nigeria and its consequences for the country's economic development", disclosed that between 1960 and 1973, Nigeria's oil output exploded from about five million to over 600 million barrels while government oil-revenues in turn accelerated from 66 million Naira in 1970 to over 10 billion in 1980. The new found wealth, he opined, resulted in Nigeria's deviation from agriculture to crude oil as a main source of economic empowerment and revenue generation.
However, the challenge appears to be much deeper than the discovery of crude oil as an alternative source of income. A report by the World Bank showed that the oil palm slump was a combination of neglect and outright misappropriation of the funding required for the growth and expansion of oil palm farming in the country.
According to the report, in 1965, the World Bank channelled nearly $2 billion into over 45 projects in Southeast Asia, Africa, and parts of Latin America to support the growth of the palm oil industry. Indonesia received $618.8 million, Nigeria received $451.5 million, while Malaysia got $383.5 million. From 1975 to 2009, Nigeria remained the second-largest recipient of funding from the World Bank for palm oil investments. Unfortunately, the fundings did not yield the desired result.
The Nigerian civil war between 1967-1970 is also blamed for the precarious state of the oil palm industry. It was gathered that the civil war resulted in the destruction of smallholder oil palm plantations as well as wild and semi wild palm plantations in many regions where oil palm production was high. This led to a disruption in oil palm production and the nation thereafter struggled to meet the rising global demand and consumption, while Indonesia and Malaysia gradually took control of the international market.
Recently, the Oil Palm Growers Association of Nigeria (OPGAN), Rivers State chapter, during a stakeholders' meeting held in Port Harcourt, disclosed that research has not been given adequate attention due to poor funding of the National Institute for Oil Palm Research (NIFOR) which has the mandate for oil palm research to enable the sub-sector contribute its quota to the country's economic diversification. The association also identified the absence of inclusive budgeting and delay in the release of funds, stating that it affects project delivery and impact with long term negative implications for the oil palm industry. Other challenges listed by the association include; lack of improved planting materials, shortage of storage facilities, processing facilities and fertilisers.
Joe Onyiuke, the association's president, lamented that smallholder oil palm farmers have not been giving adequate attention to increased productivity in a climate-resilient way. He added that the contractual arrangement between big oil palm companies and smallholder farmers had continued to be exploitative and hadn't yielded adequate and sustainable benefits for smallholder farmers who make up a larger percentage in the oil palm sector.
The National Palm Produce Association of Nigeria (NPPAN) noted that importation, illegal smuggling of palm oil and the influx of banned adulterated crude palm oil (CPO) into the Nigerian market discourages local production. NPPAN further disclosed that indigenous companies lose about $500 million annually as a result of this.
Iyare Harrison, general secretary, NNPAN asserts that land ownership is a major constraint as oil palm cultivation occupies large hectares of land and it is getting difficult to get these lands as residential areas and industries are gradually encroaching on available spaces leaving little space for oil palm production. He added that the majority of these parcels of land are communally owned, which makes it difficult to acquire them on lease for a more extended period of time during which the plants would have matured and started yielding. Poor road access to the farms, he explained, is another problem hindering the oil palm sector.
Harrison noted that operators at the processing phase suffer infrastructural challenges such as poor road networks, dilapidated nature of some of the oil processing mills which makes milling unsustainable in many cases, owing to frequent breakdowns, as well as the epileptic power supply from the national grid which affects some of the oil-processing machines (millers) that depend on electricity.
Billy Ghansah, agriculture coordinator, Okomu Oil Palm Company, believes that oil palm production has not really declined as speculated.
"If you look at the statistics, production has not really dropped. However, population and market demand has more than tripled. Nigeria produces almost the same amount of oil palm as in the 1960s which is not enough even for domestic purposes not to talk of export," he explained.  The major problem, he noted, is that many of the farmers are producing from trees which are very old and in dire need of replacement.
Evaluating the oil palm export and domestic value
In 2019, the export value of palm oil stood at over $15 billion. Indonesia amassed $11.01 billion while Malaysia gained $6.57 billion, a massive boost to any nation's revenue.
Research and market survey predicts that the global market demand of the palm oil sector will experience a 5.7 per cent compound annual growth rate (CAGR) from 2019 to 2024, reaching a total production of 107.6 million tonnes by 2024, an indication that the global demand for oil palm is on a steady rise, a massive boost for top producing countries.
The Central Bank of Nigeria in one of its assessments of the oil palm industry noted that the country would have been earning approximately $20 billion annually from the cultivation and processing of palm oil and consequently retained its market dominance if it had sustained reasonable levels of investment in its production.
Asides its prosperous export value, oil palm is a highly resourceful crop with virtually every part possessing economic value. Additionally, the oil palm has an enormous capability to create numerous value chains and entrepreneurial opportunities.
In the southern region of Nigeria economic activities around oil palm is, without doubt, a significant source of income and employment. An estimated five million persons across the palm oil belt are directly involved in oil palm cultivation and processing (Oil palm fact sheet).
The International Institute for Sustainable Development (IISD) rates palm oil as the most consumed and valuable edible oil in the world, providing ingredients for numerous edible, personal and industrial products beyond the capacity of any other crop.
The oil palm by-products are also used in the manufacture of a variety of products such as detergent, grease, soaps, pharmaceuticals, lubricants, paints, industrial chemicals, agrochemicals, shampoo, cosmetics, margarine, cooking oil, lacquer and several other products.
More so, the oil palm has proven to be a valuable feedstock for biodiesel and serves as an alternative to mineral oils used in power stations.
Restoring the oil palm industry back to base
The petroleum sector which hitherto served as Nigeria's dominant revenue has been knocked off balance by dwindling global demand, which to an extent, has shrunk the country's earning power, creating the realisation that the country urgently needs to resort to alternative revenue sources.
A recent evaluation of the country's gross domestic products (GDP) by the National Bureau of Statistics (NBS) confirmed that the agriculture sector contributed 30.7 per cent in Q3 2020. The figure denotes that the agricultural sector, of which oil palm is an integral facet, is a potential alternative revenue source in need of rigorous exploitation.
Isaac Okemini, managing director, AMC Consulting Ltd, enjoined the government to create and empower large ticket entrepreneurs who possess the capability to power the growth in the oil palm industry. Okemini noted that the government cannot run the industry alone and must define the direction the industry will go by getting dedicated and committed investors interested in the industry. He also suggested the urgency to establish a national palm oil Council to drive investments and foster the industrialisation of the crop and its value chain development.
The Oil Palm Growers Association of Nigeria called on the government to deliberately dedicate a minimum of 60 per cent of the agriculture budget to capital projects, including a dedicated oil palm development fund. The association also recommended a partnership between the government and the private sector to promote research-farmer's linkages through increased funding to NIFOR and other research institutions.
Martin Ike-Muonso, CEO, ValueFronteira Limited, a business research/analytics firm, suggests that the oil palm industry should be urgently prioritised because it is one of the agricultural sub sectors that can massively employ young people as a result of its diverse value chain.
Ike-Muonso stressed that the current size of concessionary financing that is available to the oil palm sector should be increased while the Anchor Borrowers' Programme (ABP) should be sustained and extended to benefit smallholder oil palm farmers. He also entreated state governments to create and allocate reserve areas of no fewer than 15,000 hectares in each state for the cultivation of oil palm. The creation of the reserve areas, he stated, will make it easier for interested investors to access land for palm production with minimal hassles.
He further suggested the repositioning and financial empowerment of NIFOR to be able to meet the regularly increasing demand for high yielding seedlings and nurseries.
"Without farmers planting high yielding oil palm trees, the net impact on overall outputs will still be less than optimal," he added.