Analyst Insight
How Saudi Arabia is building its $2tn fund
October 23, 20171.6K views0 comments
Saudi Arabia is stepping up plans to turn its sovereign wealth fund into a global giant. This week, it's holding a coming-out party of sorts for the Public Investment Fund, which is central to the government's effort to diversify the economy away from oil, under a plan known as Vision 2030. The Saudis are hosting the titans of investing and finance at a summit that aims to raise the profile of the PIF, which could eventually control more than $2 trillion, according to Crown Prince Mohammed bin Salman. That explains why many eyes will be on, and private jets winging toward, the Saudi capital.
1. Who's coming to the kingdom?
HSBC Holdings Plc's Chief Executive Officer Stuart Gulliver, BlackRock Inc. chief Larry Fink and SoftBank Group Corp. Chairman and CEO Masayoshi Son are expected to meet the Saudi ministers of finance, energy, and commerce and the head of the kingdom's sovereign wealth fund, according to a draft agenda.
2. What is the fund up to?
The fund's deal-making has quickened as it seeks to increase the proportion of foreign holdings to 50 percent from 5 percent. The PIF, for example, is starting a $500 million energy-efficiency company and built a $2.4 billion stake in a Riyadh-based dairy farm and food processor. It also established a $1.1 billion fund to support small and medium-sized businesses and is spearheading a $4.8 billion project to redevelop the Jeddah waterfront on the Red Sea — all in the past few months. In May it agreed to commit $20 billion to an infrastructure investment fund with Blackstone Group LP and to invest as much as $45 billion in a technology fund run by SoftBank. These deals followed a $3.5 billion investment in U.S. ride-hailing company Uber Technologies Inc. in June 2016.
3. Hasn't the fund been around for decades?
Yes, it was set up in 1971 to support projects of strategic significance to the Saudi economy and until this year focused mainly on its home market. It holds about $130 billion of assets in listed Saudi companies, including stakes in Saudi Basic Industries Corp., the world's second-biggest chemicals manufacturer, and National Commercial Bank, the kingdom's largest lender.
4. What are the expansion plans?
The kingdom plans to transfer ownership of Saudi Aramco, the state-owned oil company, to the PIF. An initial public offering of a small Aramco stake — probably just under 5 percent — will provide investment cash. That sale could raise about $106 billion, according to the Sovereign Wealth Fund Institute. Transferring Aramco to the PIF would allow the government to get its revenue from investments, rather than oil, according to the Prince, and along the way transform the PIF into the world's biggest sovereign fund.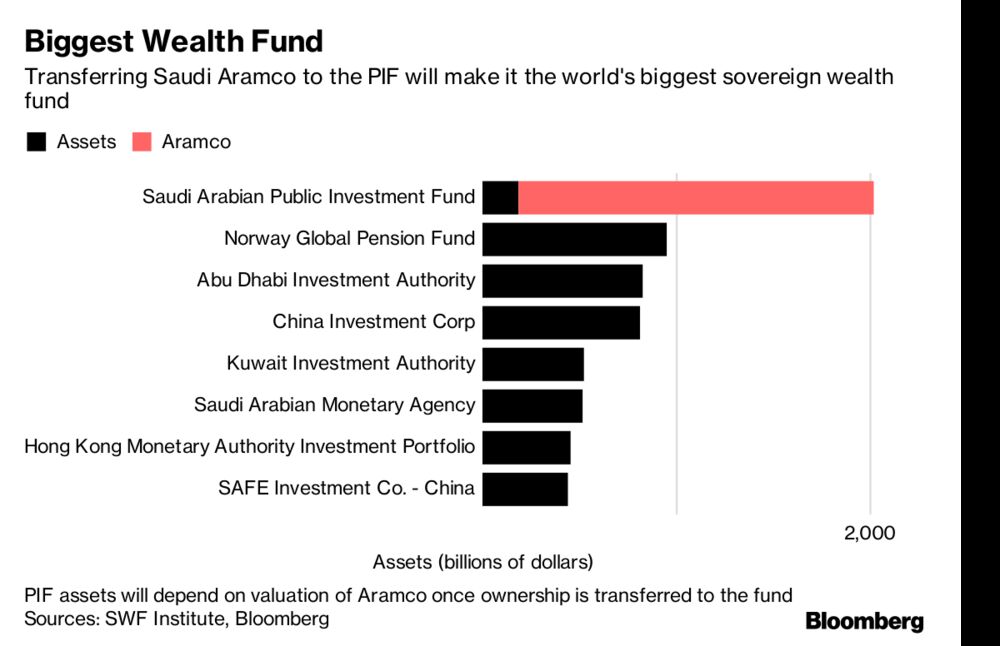 5. Where does the $2 trillion figure come from?
The bulk of that is based on Aramco's value. While the Aramco holding would vault the PIF ahead of Norway's $850 billion sovereign wealth fund, currently the world's largest, most of the PIF's assets will be illiquid until the Saudis sell Aramco shares. For this reason, some analysts say the $2 trillion figure is misleading. Aramco could have a market value between $1 trillion and $1.5 trillion now that the government has slashed the oil producer's tax burden to attract investors, analysts at Sanford C. Bernstein & Co. and Rystad Energy AS said in March. But other industry experts say Aramco is worth no more than half, and maybe as little as a fifth, of $2 trillion, based on oil reserves and cash-flow projections under different tax scenarios.
6. When will the IPO happen?
Saudi oil minister Khalid Al-Falih last week said both the domestic and international portions of the IPO are on track for 2018. But people familiar with the situation said in early October that the kingdom was considering delaying the international portion of the Aramco offering until at least 2019, though a domestic share sale in Riyadh could still happen next year. Another option could involve a domestic-share sale next year and a private offering to one or several cornerstone investors, the people said. "Even in the unlikely event that a stake sale does not happen, we would expect PIF to be funded," said Aqib Mehboob, an analyst for Saudi Fransi Capital in Riyadh. "The government has deep reserves, is rapidly introducing policies to extract revenue, reduce subsidies and has been very successful in tapping international debt markets, so clearly has the ability to support the fund."
7. Who runs the fund?
The managing director is former Saudi Fransi Capital CEO Yasir Al-Rumayyan, who joined in 2015. Since then, the fund has more than doubled the number of employees. People familiar with the matter said this year it hired Greg Bankhurst, formerly the head of Qatar Investment Authority's real estate arm, as chief development officer and named Rashed Sharif, who led Riyad Bank's investment-banking unit, as head of domestic investments.
The Reference Shelf
QuickTake explainers on Saudi Arabia's modernization strains, its plans for Saudi Aramco, Crown Prince Saudi Prince Mohammed Bin Salman and the conflict with Qatar.
Bloomberg stories on the PIF deals with Blackstone and SoftBank, and another on Saudi Arabia's cities in the sand.
Bloomberg's interview with then Deputy Crown Prince Mohammed bin Salman and a Businessweek cover story on how he is preparing Saudi Arabia for the end of oil.
Bloomberg Markets examined how Saudi Arabia was prolonging the world's reliance on oil in its May 2015 issue.
The International Monetary Fund studied Saudi Arabia's push to diversify the economy and boost employment.