Martin
Science, technology, innovation and subnational revenue growth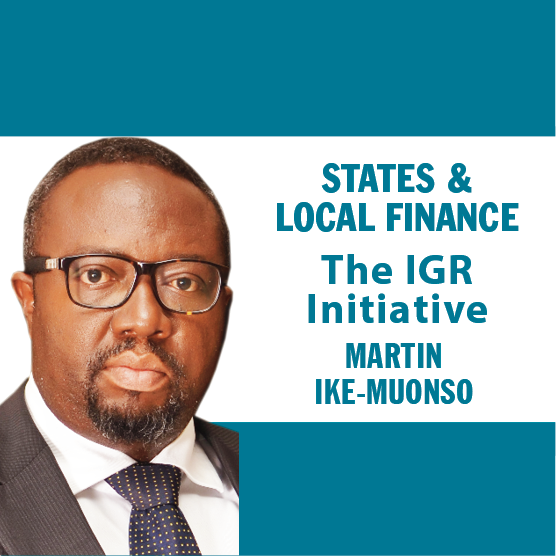 Martin Ike-Muonso, a professor of economics with interest in subnational government IGR growth strategies, is managing director/CEO, ValueFronteira Ltd. He can be reached via email at martinoluba@gmail.com
October 2, 2023296 views0 comments
Although not readily apparent, a symbiotic relationship exists between science and technology innovation and subnational revenue growth, which is exploitable in Nigeria. The dynamic loop of this symbiosis starts by turning innovative ideas into income-generating assets and extracting internally generated revenue from them. Again, the mobilized revenue finances scientific research and technological innovation development. Governments enable researchers, startups, and entrepreneurs to bring their innovations to the market by allocating resources and implementing funding programmes. Understanding the importance of subnational revenue in the commercialization process can guide policymakers and stakeholders in making informed decisions to foster innovation and economic growth. For instance, one key influence on the commercialization process is the availability of adequate funding, which the independent revenue of subnational governments can provide. State and local governments also facilitate this process by fostering a conducive environment for innovation and supporting the commercialization of innovative solutions. These efforts promote economic growth and job creation and boost independent revenue streams, which are reinvestable in fostering scientific research and technological innovation.
We illustrate this symbiosis further using two examples. The first is perhaps where a subnational government establishes innovation hubs and other supporting infrastructure, including research labs and coworking spaces, to foster collaboration between researchers, entrepreneurs, and investors. Such supportive ecosystems and financial resources attract startups and investors interested in commercializing research outcomes. Collaboration provokes successful spin-offs, technology transfers, and job creation, driving opportunities for the government to earn various fees, fines, and personal income taxes as part of internally generated revenue. A second case, albeit very similar to the first, is when a subnational government introduces research grants targeted explicitly at startups engaged in technological innovation. In turn, these startups apply for these grants to fund their R&D activities, prototype development, and market validation. Subnational government funding of these grants supporting the commercialization efforts of startups would enable them to overcome financial barriers and accelerate their path to the market. Again, that facilitation process reinforces the dynamic cycle of innovation commercialization, generating independent revenue for the government.
Although not exhaustive, the two cases presented above show the criticality of subnational government funding for the innovation commercialization process. Government funding enables researchers and innovators to develop prototypes, conduct market research, seek intellectual property protection, and scale up their operations. Subnational governments leverage independent revenue sources to fund such activities. There are at least three deployable approaches. The first is providing grants and funding programmes designed to support research and innovation initiatives. Researchers, startups, and small businesses receive assistance in bridging the gap between research outcomes and commercialization. The second includes tax incentives encouraging businesses and investors to support R&D and technological innovation. Such incentives at the subnational level encompass significant waivers and reductions in fees and tariffs charged by the state and local governments. By reducing the financial burden on businesses, they receive a boost to further invest in commercialization. The third is to facilitate collaboration between the public and private sectors. Subnational governments can facilitate such partnerships by providing financial support, infrastructure, and access to research facilities. In return, private entities contribute their expertise, resources, and market knowledge to commercialize their research outcomes.
Other ways in which subnational governments can intervene include research and development (R&D) spending or public sector investment, establishing technology transfer offices (TTOs), and setting up technology incubators and accelerators. Substantial investments in R&D activities are essential to lay the foundations for innovation, generating and supporting R&D projects, infrastructure development, and recruiting skilled researchers. By investing in R&D, subnational governments create an environment conducive to innovation and commercialization. Additionally, by establishing and maintaining Technology Transfer Offices (TTOs) within research institutions, subnational governments facilitate the transfer of technology and knowledge from academia to industry. A vital element of the facilitation process is to provide resources, expertise, and support to researchers and entrepreneurs, helping them navigate the commercialization process. There is also an angle of establishing and supporting technology incubators and accelerators for commercializing research outcomes. This package provides startups and innovators with resources, mentorship, and networking opportunities.
Innovation commercialization promises to revolutionize subnational governments' internally generated revenue (IGR) landscapes. Route-to-delivery is by facilitating the transition of innovative ideas, products, or technologies into marketable goods and services. In doing so, it unleashes many economic opportunities that can significantly bolster the subnational IGR. First, innovation commercialization promotes economic diversification. Subnational governments can reduce their dependence on limited revenue sources by nurturing a culture of innovation and supporting local businesses in bringing novel solutions to the market. This diversification enhances financial resilience and mitigates the risks associated with overreliance on a single industry or revenue stream.
Moreover, the innovation commercialization process generates a ripple effect on employment. As new businesses emerge and existing ones expand to accommodate innovative ventures, job opportunities increase. A burgeoning workforce translates to higher income levels among residents, contributing to significant tax revenues for subnational governments. Furthermore, successful innovation commercialization initiatives often attract domestic and foreign investments. Investors are attracted to places with a history of innovation and a friendly business climate. This influx of investments stimulates economic growth and expands the tax base, allowing subnational governments to harness the financial benefits of thriving entrepreneurial ecosystems. Innovation commercialization has emerged as a catalyst for both economic and revenue growth at the subnational level, ushering in a brighter and more prosperous fiscal future for these regions.
The innovation commercialization process nurtures entrepreneurship and ignites the growth of small and medium-sized enterprises (SMEs). As innovative ideas metamorphose into thriving businesses, they become potent engines of economic activity. They generate employment opportunities, elevate residents' income levels, and significantly contribute to the local economy. This, in turn, amplifies tax revenues for subnational governments, which can be reinvested in vital public services. Moreover, successful innovation commercialization initiatives often yield new and transformative products or services that stimulate heightened consumer spending and retail activities. This uptick in economic vibrancy translates to increased sales tax revenue, further enriching the IGR landscape.
Commercializing innovations at the subnational government level is not merely an opportunity but a strategic imperative for revenue generation and economic growth. To harness and monetize innovations within their domains effectively, subnational governments must embark on a carefully orchestrated journey with several key steps. First, creating a robust innovation ecosystem forms the foundation for innovation commercialization. Subnational governments should cultivate environments that encourage creativity and entrepreneurship. Establishing innovation hubs, research institutions, and partnerships between universities and local businesses is essential. This dynamic ecosystem fosters a culture of innovation that attracts talent and ideas that can be transformed into revenue-generating ventures.
Understanding local needs and opportunities is of paramount importance. Subnational governments should conduct thorough needs assessments and market analyses to identify areas where innovation can have the most significant impact. Subnational governments can align innovation with pressing needs by tailoring innovation efforts to address specific local challenges, ensuring that the resulting solutions resonate with the community and drive revenue growth. Moreover, investing in research and development (R&D) is non-negotiable. Subnational governments should allocate resources to support R&D initiatives, fund research projects, and incentivize local universities and institutions to engage in innovative research. This investment advances the frontiers of knowledge and generates a pool of creative ideas and technologies that can be commercialized for economic gain.
Second, the protection of intellectual property rights is paramount. Subnational governments must ensure a robust intellectual property framework that safeguards the rights of innovators and incentivizes them to commercialize their ideas. This includes working with local scientists and innovators to obtain patents, copyrights, and trademarks. A secure and fair intellectual property environment encourages innovators to invest in bringing innovations to the market and fostering revenue generation. Additionally, through grants, low-interest loans, or equity investments, subnational governments can provide the necessary capital to kickstart and scale innovation-driven ventures. Access to funding is often a critical factor in the success of innovation commercialization efforts.
Streamlining regulatory processes is a vital step. Subnational governments should work with federal regulatory institutions to simplify regulations and create a business-friendly environment that reduces bureaucratic hurdles for startups and innovators. Quick and efficient licensing, permitting, and regulatory procedures are essential to encourage innovation-driven enterprises to flourish. Furthermore, it is crucial to promote collaboration. Subnational governments should foster partnerships among businesses, research institutions, and government agencies. Public-private partnerships are potent drivers of innovation commercialization. Collaborative efforts can leverage the strengths of various stakeholders, accelerate innovation, and create a supportive ecosystem for revenue-generating ideas. Education and skill development play a significant role. A skilled workforce is essential for successful innovation commercialization.
Subnational governments should ensure that necessary infrastructure is in place to support innovation and technology-based businesses. Adequate infrastructure is the backbone of successful innovation and commercialization. Practical marketing innovations are vital. Therefore, states and local governments should develop marketing strategies and provide support mechanisms to help innovators reach broader audiences. This includes creating platforms, offering resources, and guidance on practical market innovations. A well-executed marketing strategy can significantly impact the success of innovation commercialization efforts.
Supporting exports and global expansion is also critical. Subnational governments should assist innovators in exploring international markets by offering export incentives, facilitating trade missions, and providing access to global networks and partnerships. Expansion beyond local borders can unlock new revenue streams and promote economic growth. Continuous monitoring and progress evaluation are essential. Subnational governments should regularly assess the impact of innovation commercialization initiatives. Tracking metrics, such as job creation, revenue generation, and economic growth, are critical in gauging the success of startups and innovation-driven projects. Regular evaluation allows governments to fine-tune their strategies and effectively allocate resources.
Finally, subnational governments in Nigeria will benefit significantly from promoting technology innovation commercialization. Subnational governments facilitate market expansion and consumer choices through new products and services resulting from their investments in innovation and commercialization. By nurturing innovation ecosystems, they catalyze local entrepreneurship and creativity, leading to the emergence of revenue-generating startups. These businesses create jobs, stimulate economic growth, and contribute significantly to local tax revenues. Moreover, technology-driven innovations can enhance infrastructure, attract investments, and bolster tourism—all of which augment internally generated revenue.