Commodities
Sesame seed producers seek CBN's special intervention to boost production
August 25, 2021352 views0 comments
By Onome Amuge
Stakeholders at the international conference on sesame seeds have enjoined the Central Bank of Nigeria (CBN) to facilitate a special intervention  programme on the value chains of the country's leading export earning crop.  This was among the key recommendations issued by the sesame stakeholders at the recently concluded international conference on sesame seed held in Kano State.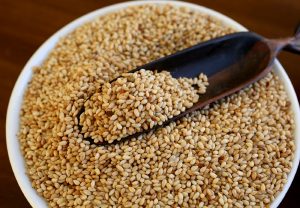 The stakeholders led by Sheriff Balogun, national president of the Sesame Seed Association of Nigeria (SSAM), commended the CBN for its role in the promotion of agricultural activities across the country to curb importation. They, however, urged the apex bank to urgently establish a special programme that would attend to the value chains of the commodity ranked the highest non-oil foreign exchange earner for the country in the past few years.
According to the communique issued by the association, the special intervention programme would enable the sesame seed  producers to achieve the one million metric tonnes production target within the next two years.
Highlighting other recommendations to boost production, the association called for a revamp of the traditional method of exporting raw commodities, noting that value addition for commodities meant for export should be encouraged for improved quality and market value to keep in tune with international trade standards. The association also recommended exploitation of the diverse uses for sesame to ensure the development of appropriate products to suit the end-user.
Another major recommendation by the association is the establishment of more processing plants by private and public sectors to improve the quality of sesame seeds processed in the country and enhance its value in the international market.
Also emphasised in communique is the provision of mechanised tools, including planters, harvesters, and tractors to enhance profits for the farmers as fewer crops would be lost along the way.
The stakeholders also called on the government to create policies that would encourage seed promotion, while also enjoining the private sector to provide more investment in seed production.