Analyst Insight
Spider-Man comes to Sony's rescue to shake sequel fatigue
July 7, 20171.6K views0 comments
Sony Pictures Chairman Tom Rothman downplays forecasts that the new "Spider-Man" movie will open with sales of $100 million or more this weekend. But it sure needs to.
The Culver City, California-based unit of Sony Corp. is in seventh place at the box office, a lowly spot the studio hasn't occupied since 2000. And "Spider-Man: Homecoming," Sony's sixth film about the Marvel superhero, represents the company's best chance to create a mega hit and lay the foundation for action films scheduled out to 2019.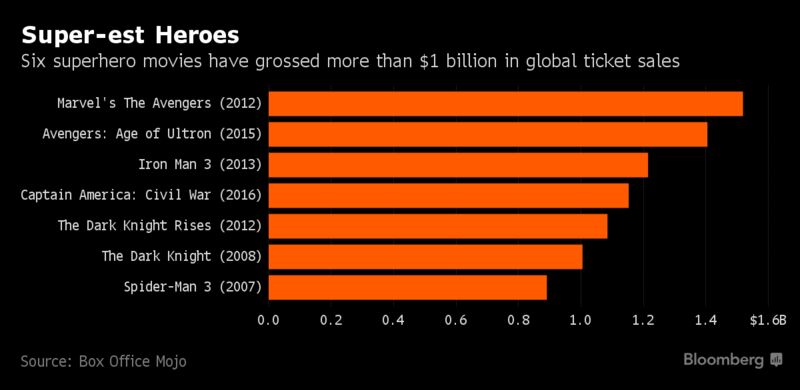 "It's as important as any film they have released in the past 10 years," said Jeff Bock, senior box office analyst at Exhibitor Relations Co. "It is the last major franchise they have."
After starting 2017 with a $1 billion writeoff and the departure of Michael Lynton, who led the Tokyo-based company's U.S. film, TV and music businesses, Sony's entertainment unit needs to start making hit films again. Last year's "Ghostbusters" revival failed and was followed by disappointments including the star-studded "Passengers." Rothman, 62, came in more than two years ago after a hacking scandal toppled former studio chief Amy Pascal.
"Spider-Man: Homecoming" marks a chance to get back in the right direction. The picture starring 21-year-old Tom Holland could debut with sales of $122 million in North America this weekend, analysts at BoxOfficePro.com said. Sony is offering a more conservative $80 million.
Sony shares slid 0.3 percent to close at 4,245 yen in Tokyo on Friday.
Rothman, who came to Sony from 20th Century Fox, has reason to be cautious. Many studios' well-known series have failed to meet expectations this year and U.S. moviegoers are showing signs of fatigue with superhero sequels. While "Spider-Man" has been one of the most popular film characters from the comic book world, the most recent movies haven't measured up.
The first "Spider-Man" in 2002, starring Tobey Maguire and directed by Sam Raimi, was an unqualified hit, garnering upbeat reviews and global sales of $822 million on a production budget of $139 million, according to Box Office Mojo. By the last picture in 2014 — the second featuring Andrew Garfield — reviews had turned mixed, the budget had swelled past $265 million, according to the Hollywood Reporter, and ticket sales totaled $709 million.
Marvel's Role
For this go-round, Sony turned to Walt Disney Co., recruiting the president of its successful Marvel division, Kevin Feige, as a producer. The company agreed to weave Spider-Man into a larger Marvel storyline featuring many superheroes, while Disney won rights to use the character in movies of its own. Disney retained merchandising rights and could benefit from toy sales linked to the movie.
And costs have come down: the budget for the new film was $175 million, according to Sony.
"It was very much run like a Marvel Studios production," Feige told reporters in April.
Success would put future Sony superhero films on firmer ground. These include a 2018 release based on the character "Venom," featuring Tom Hardy, along with an animated Spider-Man. The studio also plans a feature with female leads based on Black Cat and Silver Sable. As part of the deal with Disney, Feige will produce a Spider-Man sequel due out in 2019. Pascal, a producer on "Spider-Man: Homecoming," will be part of that effort, too.
The new Spider-Man continues a story introduced in last year's Disney movie "Captain America: Civil War," which brought in $1.15 billion in worldwide. It will extend through next year's "Infinity Wars" and possibly another Avengers movie.
Holland's introduction "began a trajectory of excitement that started over a year ago," said Paul Dergarabedian, senior analyst at ComScore Inc.
Peter Parker
"Homecoming" finds Spider-Man's alter-ego Peter Parker in high school in Queens, living with Aunt May, played by Marisa Tomei. Joined by Robert Downey Jr. as billionaire Tony Stark/Iron Man, Spider-Man takes on the evil villain Vulture, played by Michael Keaton. "Spider-Man: Homecoming" generated 93 percent positive reviews, according to aggregator Rottentomatoes.com, the second best in the series.
That will be good news to Sony Chief Executive Officer Kazuo Hirai, who has been at the Culver City studio a lot this year after naming Anthony Vinciquerra to replace Lynton as Rothman's boss. Hirai has been publicly emphatic Sony is committed to its entertainment group.
Sony's Slate
While stuck in seventh place, Sony has had a modest success this year with the heist movie "Baby Driver" and could have a hit with the "The Emoji Movie," due July 28. The first of a new series of Stephen King adaptations, featuring Idris Elba and Matthew McConaughey in the "Dark Tower," is scheduled for next month. Other remakes are also on the horizon, such as "Flatliners" and "Jumanji: Welcome to the Jungle."
And the studio is contending for future rights to the "James Bond" movie series. Sony generated $3.17 billion in worldwide box-office sales with the previous four spy films, going back to 2006's "Casino Royale."
With parent Sony Corp.'s diverse businesses spanning electronics and video games, as well an entertainment, a single movie won't make or break the company. But "they really need a win here," said Paul Sweeney, Bloomberg Intelligence analyst.
To compete in the global film market, Sony will "have to have a recurring number of tentpole franchises that you can bring out every year," Sweeney said. "Two or three bankable franchises that you can go back to every couple years and you try to get lucky with some of the other ones."
---
Courtesy Bloomberg